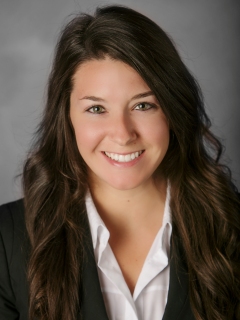 Recognized globally as the "Gateway City," Atlanta boasts the largest economy in the southeastern U.S. and the tenth largest in the country.1 Hartsfield-Jackson Atlanta International Airport has been the busiest passenger airport in the world since 1998. Fortune 100, 500, and 1,000 companies headquartered in Atlanta include UPS, Coca-Cola, Georgia-Pacific, Home Depot, Delta Air Lines, the Southern Company, and AT&T. Atlanta also sits within 500 miles of 40% of North America's manufacturing and distribution centers2 and ranks among the top markets with the lowest average tax burden for businesses. The city's relatively low cost of living makes it a popular relocation destination as well.3 Taken together, these factors have fortified performance trends for Atlanta's hotels.
Economy Update
The table below lists Atlanta's top employers, which are spread between the transportation, travel, retail, corporate, education, and government sectors.
TOP 10 MAJOR EMPLOYERS
CLICK HERE FOR A LARGER VIEW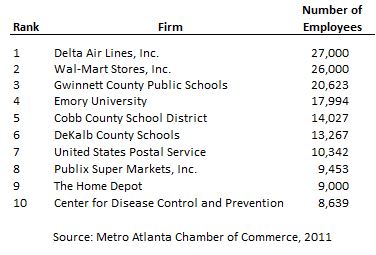 Delta Air Lines is the market's top employer, and, with an economic impact of more than $32.5 billion, Hartsfield-Jackson Atlanta International Airport serves as the epicenter of the city's economy.

The following table illustrates historical and projected employment, population, and income dynamics for the overall Atlanta market.
HISTORICAL & PROJECTED EMPLOYMENT, HOUSEHOLDS, POPULATION, AND
HOUSEHOLD INCOME STATISTICS
CLICK HERE FOR A LARGER VIEW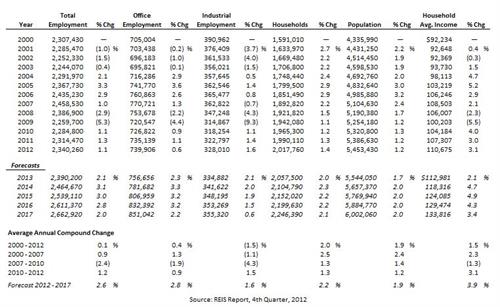 Atlanta's population grew from 2007 through 2010; unfortunately, so did unemployment, and household average income decreased as a result. The past two years, however, reflect a modest recovery in both employment and income, making for an optimistic outlook for growth on par with levels prior to the recession.

The following table shows unemployment levels in Atlanta, the MSA, the state of Georgia, and the U.S. from 2002 through 2013.

UNEMPLOYMENT STATISTICS
CLICK HERE FOR A LARGER VIEW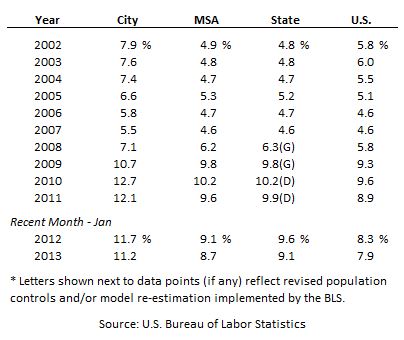 The city's unemployment levels steadily decreased from 2002 through 2007, with AT&T's acquisition of Bellsouth and Delta's acquisition of Northwest Airlines creating thousands of new jobs. Emory University and Georgia State University announced $2.6-billion and $1-billion growth plans, respectively, during this time as well. The recession reversed this trend, with many companies conducting layoffs in an effort to remain viable; AT&T alone eliminated approximately 12,000 jobs. Though unemployment levels remain well above the national average, the most recent comparative period shows continued, albeit modest, improvement, indicating that the market is on the way to recovery.

Office Space Market Update

The following table details Atlanta's office space statistics, which are among the most telling indicators of commercial demand for area hotels.

OFFICE SPACE STATISTICS – MARKET OVERVIEW
CLICK HERE FOR A LARGER VIEW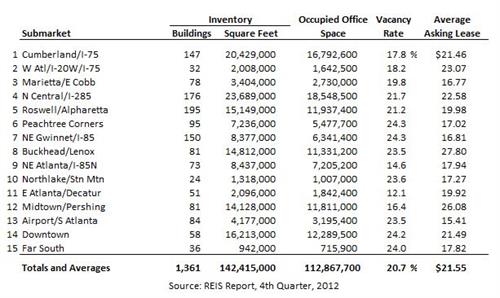 The North Central/Interstate 285 submarket offers both the highest square-footage of office space and the most occupied square feet among Atlanta's submarkets. Office vacancy is lowest in the East Atlanta/Decatur submarket. Atlanta's 20.7% vacancy rate in the fourth quarter of 2012 is significantly higher than the national average of 17.1% in the same period. Furthermore, Atlanta's average asking lease rate of $21.55 is much lower than the national average of $28.47, evidence that the Atlanta office market is underperforming when compared with its major metropolitan counterparts.

The following table illustrates historical and projected office space statistics for Atlanta from 2000 to 2017.

HISTORICAL AND PROJECTED OFFICE SPACE STATISTICS – GREATER MARKET
CLICK HERE FOR A LARGER VIEW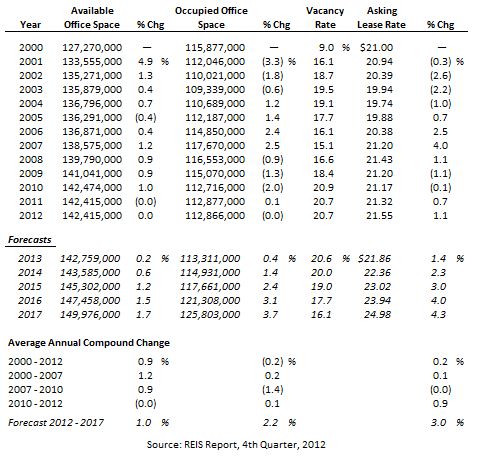 Company closures and contractions citywide caused year-over-year decreases in office occupancy from 2008 through 2010. However, a slight drop in office space supply in 2011 stemmed a positive trend, allowing for the first increase in average asking lease rate in two years. While vacancy remained stable, average lease rates increased in 2012. Slow growth is expected in available office space, office occupancy, and asking lease rates in 2013, with more normalized growth rates forecast for the years beyond.

Convention Market Update

Atlanta is one of the top convention destinations in the country and home to two convention centers. The Georgia World Congress Center (GWCC), a 3.9-million-square-foot facility in the heart of Downtown Atlanta, hosts more than one million guests each year. The table below illustrates convention statistics at the center since 2005.

CONVENTION STATISTICS – GEORGIA WORLD CONGRESS CENTER
CLICK HERE FOR A LARGER VIEW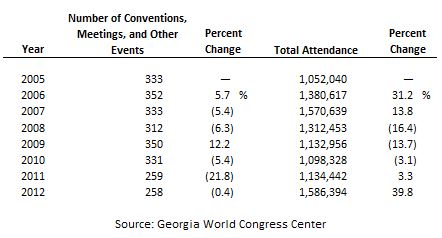 The number of events held at the GWCC declined substantially in 2010 and 2011; however, the number of events held stable as total attendance spiked in 2012, a sign that the center is attracting larger events.

The 150,000-square-foot Georgia International Convention Center (GICC) connects directly to Hartsfield-Jackson Atlanta International Airport via an Automated People Mover (APM) train system. Convention statistics for the GICC from 2006/07 to 2010/011 are detailed in the following table.

CONVENTION STATISTICS – GEORGIA INTERNATIONAL CONVENTION CENTER
CLICK HERE FOR A LARGER VIEW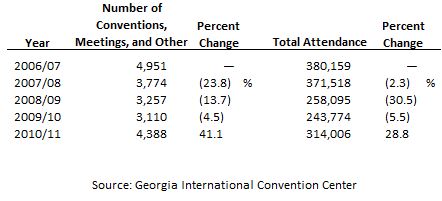 As illustrated by the figures above, 2010/11 registered a significant increase in the number of events and overall attendance. This was due in large part to the opening of a SpringHill Suites by Marriott in December of 2009 and the 403-room Atlanta Airport Marriott Gateway hotel in August of 2010. Both hotels are adjacent to the center and accessible by the APM.
Hotel Construction Update

HVS research revealed 14 new hotels or hotel expansions in the pipeline for Atlanta, as detailed below.
Hyatt Hotel on Cumberland (Vinings)
Embassy Suites Expansion (Marietta)
Balmoral Court Hotel & Spa (N Fulton/Cherokee County)
Buckhead Boutique Hotel (Buckhead)
Buckhead Hotel (Buckhead)
Airport Hotel (College Park)
Luxury Hotel (Midtown)
12th Street Midtown Hotel
& Office Development (Midtown)
Hilton Garden Inn/Homewood Suites (Midtown)
Wyndham Morris Brown (Vine City)
Hard Rock Hotel (Downtown)
Villa Christina Expansion (Perimeter Center)
New Hotel (Midtown)
Toyoko Inn Atlanta (Downtown)
While many new hotels are expected to enter the market in the coming years, the impact should be minimal. Major corporate demand generators, leisure attractions, the education and healthcare sectors, numerous events and conventions, and the Hartsfield-Jackson Atlanta International Airport have allowed for this absorption in strong submarkets such as Buckhead, Perimeter Center, Downtown, and College Park. The majority of new projects are planned in areas that have historically absorbed new supply relatively quickly.

Outlook on Market Occupancy and Average Rate

The impact of the recession on Atlanta's hotel market was made worse by the amount of new supply Atlanta received in 2007, 2008, and 2009. The ramping up of these hotels put pressure on existing hotels, but those that were able to withstand the supply increases are experiencing improved occupancy, and demand increases should fuel this trend of growth in the near future. Furthermore, very little supply growth occurred in 2011 and 2012, allowing submarkets in greater Atlanta to absorb new supply and improve RevPAR through rate growth. In 2011 and 2012, occupancy and rate increased, particularly in strong submarkets such as Midtown, Downtown, Buckhead, and College Park. As the economic health of the nation improves, so does the outlook for Atlanta's hotel market.

Recent Hotel Transactions

The following table details hotel transactions in Georgia over the last two years.
REVIEW OF HOTEL TRANSACTIONS
CLICK HERE FOR A LARGER VIEW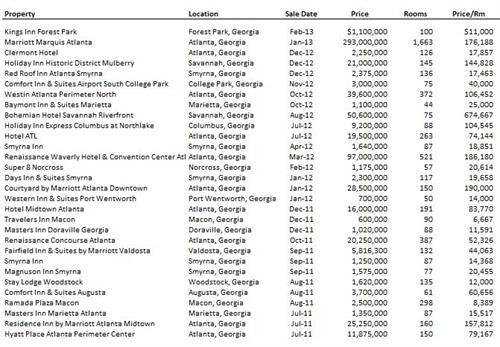 Thirty hotel sales occurred in Atlanta and surrounding markets between July of 2011 and February of 2013. Values improved significantly during this period, moving from an average of $44,000 per key in 2011 to $110,000 per key in 2012. While per-key value ranges widely across properties and markets in and around Atlanta, overall values reflect an upward trend as net operating income improves, allowing hotels to realize higher values.

Brokers' Outlook

A recent survey of hotel brokers active in the Atlanta market revealed that going-in cap rates for limited- and select-service hotels range anywhere from 7.5% to 12%, with most deals transacting nearer to an 8% cap rate. Full-service hotels are also experiencing going-in cap rates around 8% on average. Brokers report that these cap rates have returned to pre-recession levels as cash flows and RevPAR normalize to historic positions. Going-out (exit) cap rates are generally higher than going-in cap rates, depending on hotel renovations or major property improvement plans (PIPs). The going-out cap rates have averaged around 10% for limited-service hotels and around 9% for select- and full-service hotels. The average room rate multiplier reported for the Atlanta market was 3.0, with hotels experiencing an average marketing exposure period of eight months.

Occupancy in Atlanta is expected to either remain flat or grow minimally at 1% to 2% in 2013. The outlook for rate growth is considerably more optimistic, with brokers anticipating an average increase of 6% as hoteliers work to increase revenues through rate versus lowering prices to fill rooms.

The climate is also becoming more hospitable to hotel transactions. Competition has pushed sales of large, full-service hotel assets in Atlanta's urban markets; however, second-tier markets have not attracted as many investors. Brokers report normal risk levels associated with transactions and recommend that now is the time to sell across all hotel property types.

Conclusion

Interviews with market participants confirm that Atlanta hoteliers are pursuing a path of growth through increased rates, an approach that has proven viable in other metro markets. As business activity continues to recover and economic health returns to the market, hotels should continue to benefit from increased demand. This in turn should raise hotel values, transactions, and performance to pre-recession levels in the coming years, helping Atlanta regain its place among the nation's foremost hotel markets.

______________________________

1 GDP of $272.4 billion in 2010
2 http://www.metroatlantachamber.com/docs/global-commerce-/english.pdf?sfvrsn=0
3 http://www.census.gov/compendia/statab/cats/prices/consumer_price_indexes_cost_of_living_index.html. Table 728. Cost of Living Index--Selected Urban Areas: Annual Average 2010
Kristin Rinaudo is a Director with the HVS Atlanta office. Kristin's hospitality-industry experience extends to hotel market and feasibility studies, appraisals, valuations, destination studies, and various other consulting engagements. She has a range of geographical experience, with primary focus on Florida and the Caribbean, and has recently worked on proposed hotels in the U.S. Virgin Islands, St. Kitts and Nevis, and Belize. Kristin graduated Florida State University (FSU) with dual degrees in Psychology (magna cum laude) and Real Estate. At FSU, she was awarded the Teel Scholarship in Real Estate, the ICSC Undergraduate Award, the Florida Bright Futures Scholarship, and the FSU 21st Century Scholarship. Please contact Kristin at