The East Texas economy is headlined by a few cities located along two major interstates. The network of interstates and highways has made this region favorably situated for many industries and sectors including logistics, trade, manufacturing, and distribution. Though some East Texas markets have been affected by the downturn in oil and gas prices, growth in other sectors has buoyed these areas and mitigated any significant downturn.
Interstate 20 Markets: Longview, Terrell, and Tyler
Interstate 20 runs the east/west length of Texas and ends in South Carolina, connecting the Dallas/Fort Worth Metroplex to Shreveport, Louisiana; Jackson, Mississippi; Montgomery, Alabama; and Atlanta, Georgia. The commerce associated with this interstate primarily affects the Texas cities of Longview, Terrell, and Tyler.
Longview
Longview, Gregg County's largest city and county seat, is known for its strong industrial sector. Education and health care, however, have contributed largely to the city's recent growth. This economic expansion is representative of the diversification occurring in smaller markets across Texas.
The Good Shepherd Medical Center (GSMC), located in Longview, is the region's premier healthcare center. A $45-million renovation of Longview Regional Medical Center, completed in late 2015, added 100 hospital beds, 8 operating suites, and 12 intensive-care unit beds, as well as 28 labor, delivery, and postpartum beds. The expansion also added a new neonatal intensive-care unit and a new oncology unit.
LeTourneau University, a private Christian university located in Longview, offers more than 90 graduate and undergraduate academic programs across various fields. University founder R.G. LeTourneau was a leader in agricultural engineering, which is still a focus at the institution. LeTourneau University and other Longview area colleges and universities support the local economy by providing an educated workforce. This support led to the city being awarded the "Certified Retirement Community" designation in late 2007 by the Texas Department of Agriculture through its "Go Texan" initiative.
Longview's hotel landscape has undergone rapid changes over the past several years. The market is dominated by upper-midscale, midscale, and economy hotels. The opening of the Hilton Garden Inn, which offers nearly 8,000 square feet of meeting space, is the first and (presently) only upscale property in the city. The ongoing conversion of the Holiday Inn Express Hotel & Suites Longview to a full-service Holiday Inn is another shift in Longview's hotel industry makeup. The conversion brings the addition of roughly 8,000 square feet of meeting space to the existing 2,000 available at the hotel.
Most of this development is occurring along the north side of Longview, where the newer hotels have helped attract demand. Furthermore, the Longview lodging market has been affected by the downturn in oil and gas. Regional oil wells have stopped production given the decreases in year-over-year prices since 2012. Despite this lack of energy-related business, the outlook for the area is cautiously optimistic as hotels adapt to the growth in other sectors, which are providing potential new sources of demand.
Terrell
Terrell is the smallest market among those considered here. It is also the closest to the Dallas/Fort Worth Metroplex. Despite its size, the market has a strong industrial sector and is the go-to hotel market for Canton, which houses the largest flea market in the United States. Known locally as "Canton Mondays," the First Monday Trade Days event occurs on the first Monday of every month and sells out Terrell hotels for the entire weekend-long flea market. This sizable leisure demand, combined with growing retail and industrial sectors, supports a positive economic outlook for Terrell.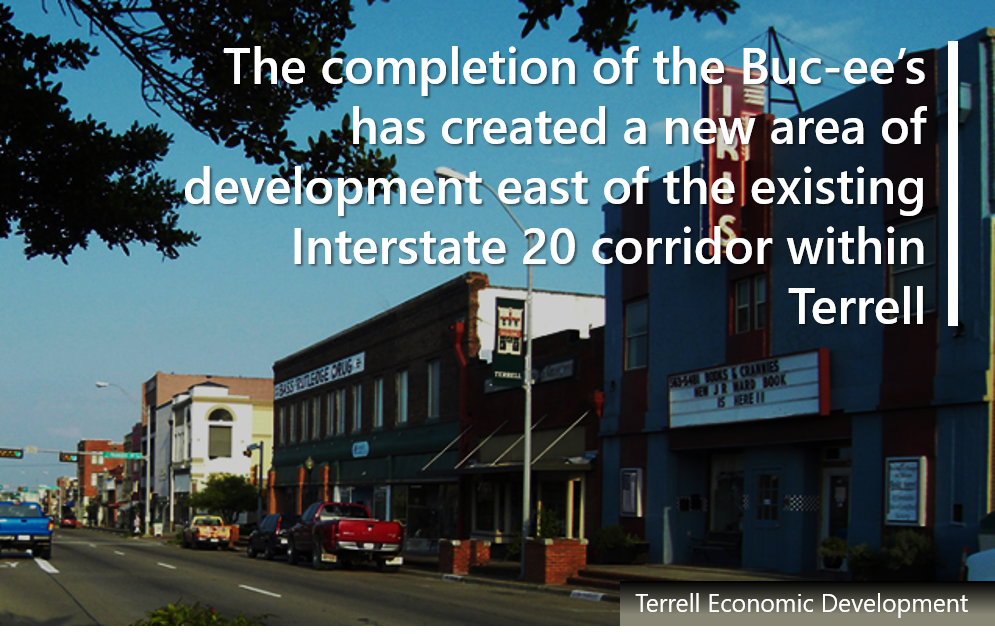 Terrell's economy is predominantly driven by manufacturing and distribution. Trinity Valley Community College, Southwestern Christian College, Terrell State Hospital, the Terrell Municipal Airport, and Terrell's proximity to the Metroplex have helped attract The Goodyear Tire & Rubber Company, Walmart, and AutoZone, all of which have distribution centers in the area. Darden Restaurants, which owns such brands as Olive Garden, Yard House, and Longhorn Steakhouse, among others, operates a regional warehouse and production facility in Terrell that is responsible for all group locations within Texas and five surrounding states. Madix, Terrell's largest employer, produces retail shelving and displays. In 2015, Madix added 60,000 square feet to its warehouse facilities, with an additional $8-million investment upcoming to expand its distribution facilities by 100,000 square feet in 2016.
Ongoing retail development within Terrell is focused along Interstate 20. The Tanger Outlet Mall has drawn consumers to Terrell for discounts on such brands as Nike, Levi's, Bass, and Lane Bryant. Buc-ee's, a Texas-based gas station and convenience store, opened a new location with nearly 200 gas pumps along Interstate 20 in 2015. This single Buc-ee's location could generate more than $20 million in taxable revenue in its first year of operation, according to initial estimates, and local officials report that its construction has spurred interest in further retail development along the highway.
The completion of the Buc-ee's has created a new area of development east of the existing Interstate 20 corridor within Terrell. According to local officials, site work is underway for a Fairfield Inn & Suites by Marriott in the area. Further development interest nearby includes a mixed-use project between Interstate 20 and U.S. Highway 80.
Recent hotel conversions and renovations include the Comfort Inn & Suites' conversion to a Quality Inn & Suites. Growth within the retail and industrial sectors, as well as high-quality new supply, should continue to bolster this lodging market in the near term.
Tyler
Tyler, Smith County's largest city and county seat, is also the largest city along either of the two interstates between the Dallas/Fort Worth Metroplex and Texas' eastern border. Similar to Longview, Tyler has strong healthcare and education sectors and is in the process of expanding its regional accessibility.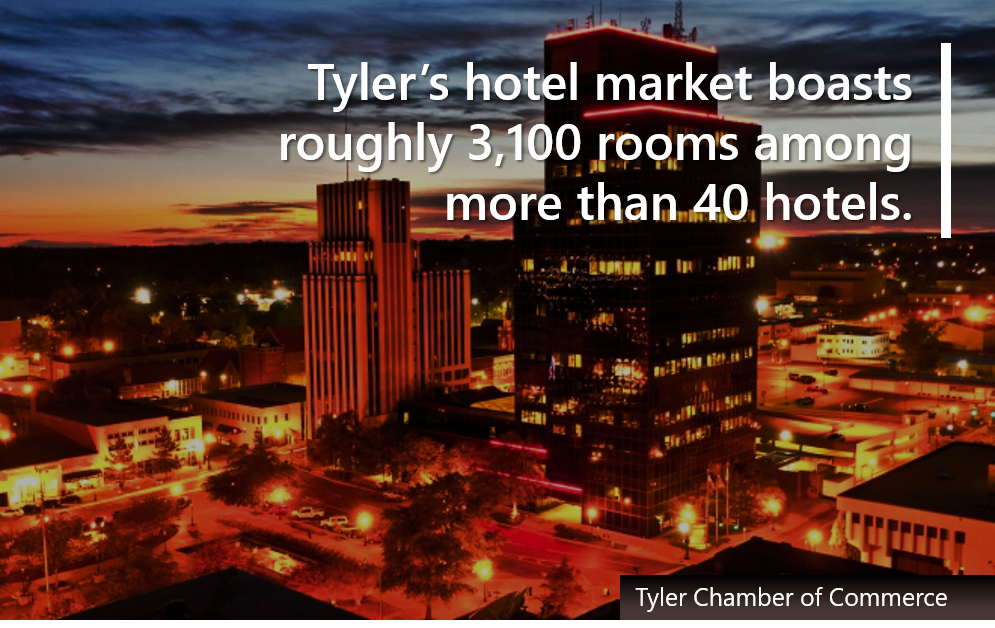 The Trinity Mother Frances Health System and East Texas Medical Center (ETMC), both headquartered in Tyler, operate a variety of healthcare facilities throughout East Texas. A $67-million, 85,000-square-foot Academic Center at UT Health Science Center at Tyler was completed in 2013. In late 2015, Fresenius Medical Care announced plans to build an $11-million, 80,000-square-foot facility in Tyler that would serve as headquarters for the group's western U.S. operations.
Tyler is home to Tyler Junior College, Texas College, and the University of Texas (UT) at Tyler; collectively, these schools enroll more than 20,000 students. According to local officials, Fresenius chose Tyler because of the pipeline of medical-management students at Tyler Junior College. UT Tyler has been one of the fastest-growing schools in the UT system, expanding to roughly 9,000 full-time students in 2015 from about 3,000 ten years prior.
The Lindale Relief Route, as it is known, is the first of three phases to improve transportation into and out of Tyler. Phase I construction, expected to commence in July, will extend Loop 49, connecting Interstate 20 to the City of Lindale upon completion. The remaining phases, now in the planning stages of development, are expected to extend Loop 49 around the eastern side of Tyler and then widen the entire roadway to four lanes. Initial cost estimates for Phase II and III are over $200 million.
Tyler's hotel market boasts roughly 3,100 rooms among more than 40 hotels. Four hotels have opened since 2014, but development has slowed considerably this year. With the exception of the Homewood Suites by Hilton scheduled to open in October, no supply will enter the market in 2016. The downturn in the energy sector prompted United Airlines to cancel its flights to/from the Tyler Pounds Regional Airport in February 2016, cutting into corporate travel to Tyler. Despite stable occupancy, average rate in the market has decreased significantly this year. However, local hoteliers expect the hotel market to rebound by mid-year 2017.
Interstate 30 Markets: Greenville and Texarkana
Interstate 30 extends from the Dallas/Fort Worth Metroplex to Little Rock, Arkansas, through Greenville and Texarkana, Texas. In addition, an expansion is underway to extend the interstate north to Jonesboro, Arkansas.
Greenville
Local officials refer to Greenville as the "Interstate 30 East Gateway to the Dallas/Fort Worth Metroplex," a lengthy but appropriate descriptor. The Greenville economy is largely centered on the defense, industrial, retail, and healthcare sectors.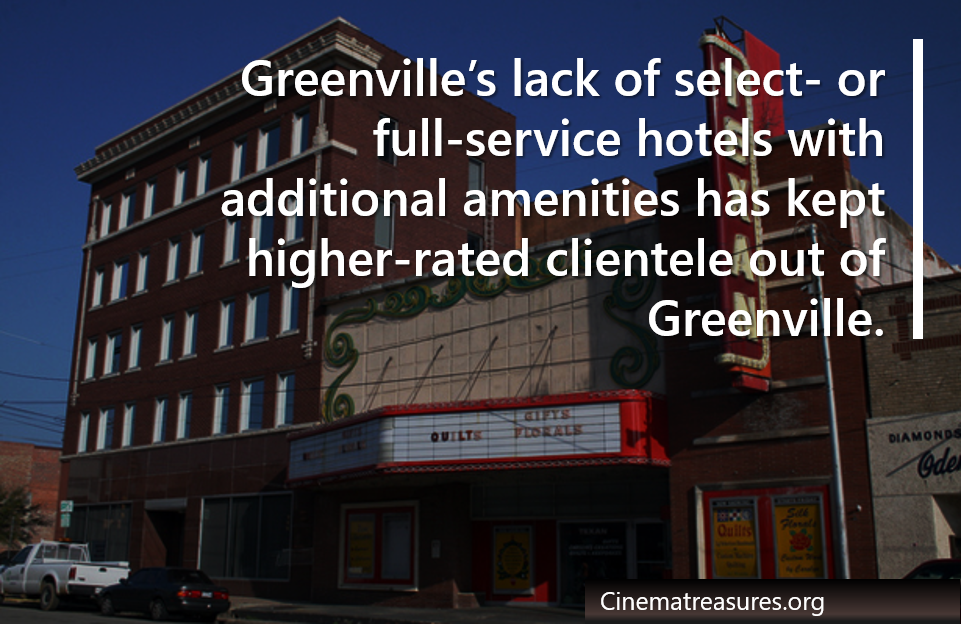 Greenville's three major industrial and business parks house a collection of local and national companies. One of the largest employers, L-3 Communications, opened its Greenville facility in 1951; it develops and integrates aircraft technologies for the U.S. military. The company, which has roughly 6,500 employees, is expected to add between 400 and 500 more jobs by the end of 2016. In 2013, Fritz Industries Inc. opened a manufacturing and office facility in the former Newell-Rubbermaid plant, representing a $37.5-million capital investment. In addition, Raytheon, one of the nation's largest defense contractors, operates a plant in Greenville that focuses on its sonar systems and equipment.
Interstate traffic promotes the local economy, having catalyzed retail development in Greenville over the past few years. Visitors from nearby communities that lack a similar depth of retail establishments continue to patronize Greenville. Given the boost in business, Greenville Promenade Mall was able to add such anchors as Ross and Marshall's upon completion of the renovations to its façade in 2016. Additionally, the early 2015 announcement of the construction of a Buc-ee's travel center in nearby Royse City should further increase traffic along Interstate 30. Other retail projects in the area include the expected opening of Academy Sports and Hobby Lobby by the end of June and December 2016, respectively.
Local healthcare entities include Hunt Regional Medical Center, which offers comprehensive services and state-of-the-art medical facilities. In March 2016, a new transitional health clinic was opened at the medical center to decrease the need for readmission because of poor recovery efforts at home.
Greenville's hospitality industry is dominated by limited-service hotels, and the market's lack of select- or full-service hotels with additional amenities has kept higher-rated clientele out of Greenville. The Washington Hotel and the Beckham Hotel, neither of which is currently in operation, were purchased recently. According to local officials, the investors intend to use the properties to continue the ongoing revitalization of Downtown Greenville that started with the Texan Theater. No plans have been finalized for either project, but it is expected that at least one of the two historic hotels will be turned into condominiums, with the other potentially becoming a boutique hotel. Otherwise, no new hotel supply is anticipated in the area.
Texarkana
The city of Texarkana extends across the Texas-Arkansas border and forms the core of the Texarkana, Texas–Texarkana, Arkansas Metropolitan Statistical Area, encompassing all of Bowie County, Texas and Miller County, Arkansas. The Texarkana market is diversified among the military, healthcare, and industrial sectors. Moreover, significant accessibility improvements are occurring throughout the area.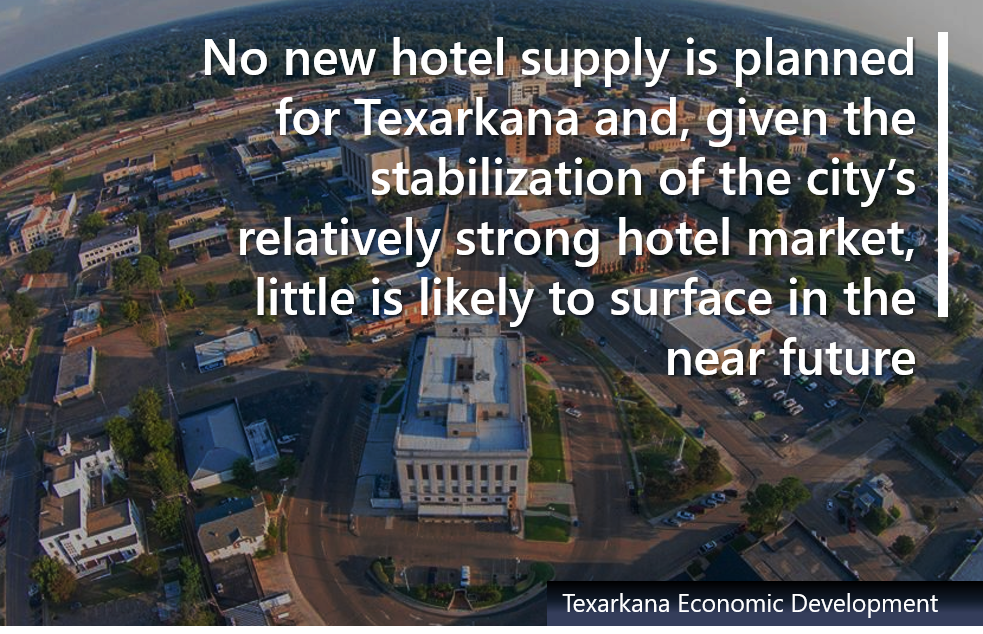 The Red River Army Depot & Tenants (RRAD) is a major economic foundation for the region. The depot occupies approximately 18,700 acres and is host to ten tenant organizations. Federal budget cuts forced the RRAD to layoff or furlough 10% of its employees in 2013. Nonetheless, the depot, where army vehicles are retooled, continues to be a stable source of demand.
Most of Texarkana's healthcare institutions are located on the city's Texas side. The CHRISTUS St. Michael Health System, which sits on a wooded, 129-acre campus, offers comprehensive medical services and facilities. According to local officials, no plans for expansion are in place at any of the area hospitals, despite heavy discussion.
The International Paper Company's Texarkana Mill produces bleached board for packaging, hot- and cold-drink cup stock, and folding cartons. The TexAmericas Center, located 18 miles west of Texarkana and outside the gates of the Red River Army Depot, is a privately held industrial park that has been transformed from former military land and buildings. As the center gains tenants, it is expected to broaden the economic base of the region in future years.
The most significant development for this market is the extension of Interstate 69 from South Texas through to Indianapolis, Indiana. According to local officials, a leg will start in Carthage, Texas, and run roughly parallel to U.S. Highway 59 north through Texarkana. Texarkana's location, access to rail lines, and the area's multiple interstates make it ideally suited for distribution, and this expansion will further enhance the area's excellent regional accessibility. Discussions of further highway development that could influence the area include the extension of Interstate 49 through to Fort Smith, as well as various improvements to Interstate 30, though these projects are in the early stages of development.
According to local officials, no new hotel supply is planned for Texarkana and, given the stabilization of the city's relatively strong hotel market, little is likely to surface in the near future. Demand for this region is highly related to the retail, education, and healthcare sectors. The location between Dallas and Little Rock is also a major benefit to the area lodging market. Expansions and improvements to area transit, as well as the continued strength of the government and industrial sectors, should continue to bolster the Texarkana lodging market.
Outlook
The diversification of East Texas markets has aided in the region's economic growth over the past few years. The education, healthcare, and industrial sectors, especially, combined with the leisure demand brought in by the region's interstates, have helped strengthen local economies of East Texas cities.
This economic diversification comes at a time when energy prices, the traditional cornerstone of Texas economies, have been falling. Of the cities along Interstates 20 and 30 discussed in this article, Longview and Tyler have taken the hardest hits from the energy downturn. Oil wells in both Longview and Tyler have historically operated during periods of peak production, and energy companies have maintained regional offices in the cities. The expansion of economic drivers, however, and the increased amount of vehicular travel encouraged by lower prices at the pump have helped offset decreases in hotel demand associated with the downturn of the energy sector.
Most experts expect energy prices to ascend again, and the combination of the diversified economic base and the resurgence of the energy sector should bolster East Texas economies and hotel performance. This scenario supports a positive outlook for the region's hotel industry in the long term, making it fair to say (with a touch of irony) that not even a temporary drop in oil prices can mess with Texas.