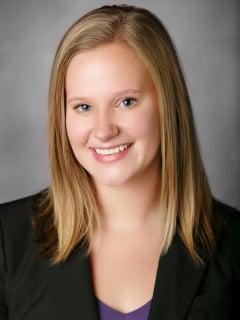 About an hour's drive from the capital city of Denver, Colorado Springs sits at the base of Pikes Peak, Colorado's most iconic "fourteener" (a mountain peak with an elevation of at least 14,000 feet but less than 15,000 feet) and the second most visited mountain in the world. The city's economic drivers, tourist attractions, and hotel demand generators range widely, from the renowned military installations to the five-star Broadmoor resort, from the Cheyenne Mountain Zoo to the U.S. Olympic Training Center. Colorado Springs' hotel industry underwent a long-wrought recovery from the last recession, with new supply, government sequestration, and a devastating forest fire causing setbacks.
The winds changed in 2014, with an influx of visitors that drove performance upward and triggered a series of major renovations, brand changes, and new development. Continued demand growth in 2015 and the year-to-date period for 2016, along with the construction of two new water-park hotels and the potential construction of a new downtown hotel, testify that a recovery has taken hold in Colorado Springs.
Economic Drivers
The military has been a dominant economic force in Colorado Springs for more than a half century. Installations include Fort Carson, NORAD, Peterson Air Force Base, Schriever Air Force Base, and the U.S. Air Force Academy, which together generate approximately 40% of the area's economic activity. The military presence has proven both blessing and bane, as the sector's stability provides a foundation during economic downturns, while the ill effects of budget cuts and government sequestration slowed the city's recovery.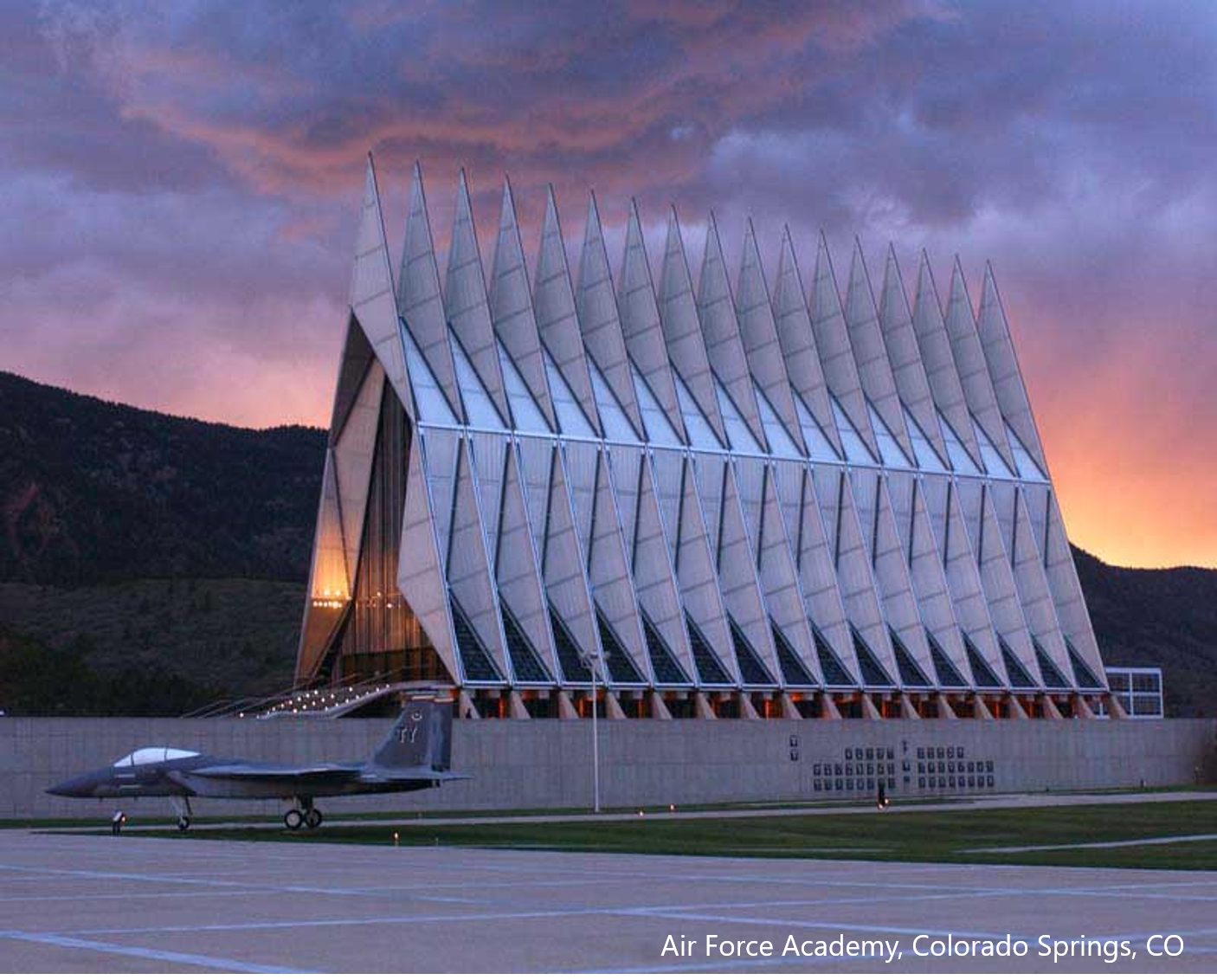 The local economy has expanded over the past 25 years into the broader industries of aerospace, software engineering, manufacturing, health care, and tourism. With attractions including Pikes Peak, the Garden of the Gods, the Royal Gorge Bridge and Park, the Olympic Training Center, and the U.S. Air Force Academy, tourism in particular has helped Colorado Springs regain its economic footing. The city was awarded $120.5 million in Regional Tourism Act (RTA) funding in December 2013 to boost tourism through the City for Champions project, which includes the construction of the U.S. Olympic Museum, the Air Force Academy Gateway Visitor Center, and the Sports Medicine and Performance Center.[1]
The 72,000-square-foot Sports Medicine and Performance Center at the University of Colorado-Colorado Springs (UCCS) is expected to open in the spring of 2017. The 60,000-square-foot U.S. Olympic Museum is scheduled to open in early 2018. The 32,000-square-foot Gateway Visitor Center at the Air Force Academy will follow, with completion scheduled for the fall of 2019. The City of Champions is anticipated to attract approximately 1.2 million visitors each year and have an economic impact of $6.5 billion over the next 30 years.
Airport Traffic
Annual passenger levels at Colorado Springs Airport have been declining nearly every year since 2008, as illustrated in the chart below. Reportedly, bigger planes, more flights, and fewer cancelations helped boost passenger traffic through May 2016, versus the same period last year.
Passenger Traffic Stabilizes at Colorado Springs Airport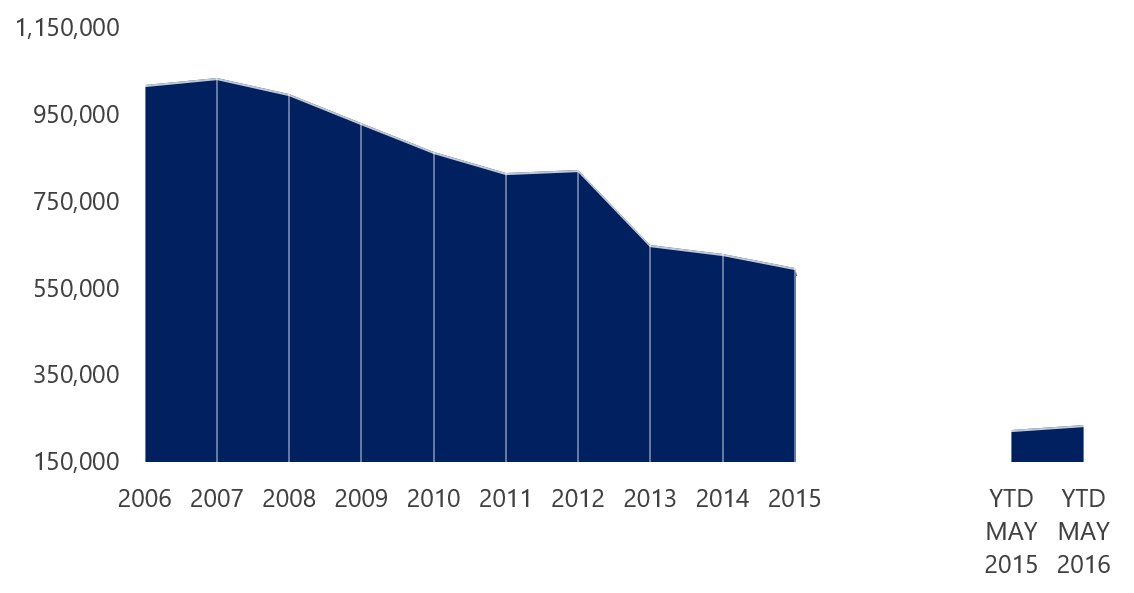 Source: Colorado Springs Airport
Denver International Airport (DIA) is relatively close by and offers more flights to more destinations at generally lower prices; hence, many traveling to or from the Colorado Springs area will fly into Denver and commute the 80 miles by car. Beginning in May 2012, new flights and routes from Frontier Airlines helped reverse the Colorado Springs Airport's five-year trend of declines; however, Frontier halted all service to Colorado Springs in April 2013. In November 2013, Alaska Airlines began daily service to and from Seattle, and in May 2014, Allegiant Airlines initiated service twice weekly to and from Phoenix-Mesa Gateway Airport; these additional flights helped alleviate some of the negative impact caused by Frontier's departure in 2013. In early 2016, Frontier Airlines announced that it would return to the Colorado Springs Airport with a daily flight to Las Vegas starting in April and a daily flight to Phoenix starting in June. Local officials note that marketing the airport remains a challenge given the proximity of DIA.
Despite depressed passenger levels at Colorado Springs Airport, the adjacent Colorado Aerospace Park is expanding. Sierra Completions, a subsidiary of Sierra Nevada Corporation, is constructing an $88-million campus that will house 2,100 employees within five years. The facility is expected to boost activity at the airport, anchor the area's emerging commercial aerospace industry, and generate a $5-billion impact on the state's economy.
Hotel Construction Update
In the nearly three years since January 2013, four hotels have opened in Colorado Springs, as detailed in the chart below.
Four Hotels Open Since January 2013 in Colorado Springs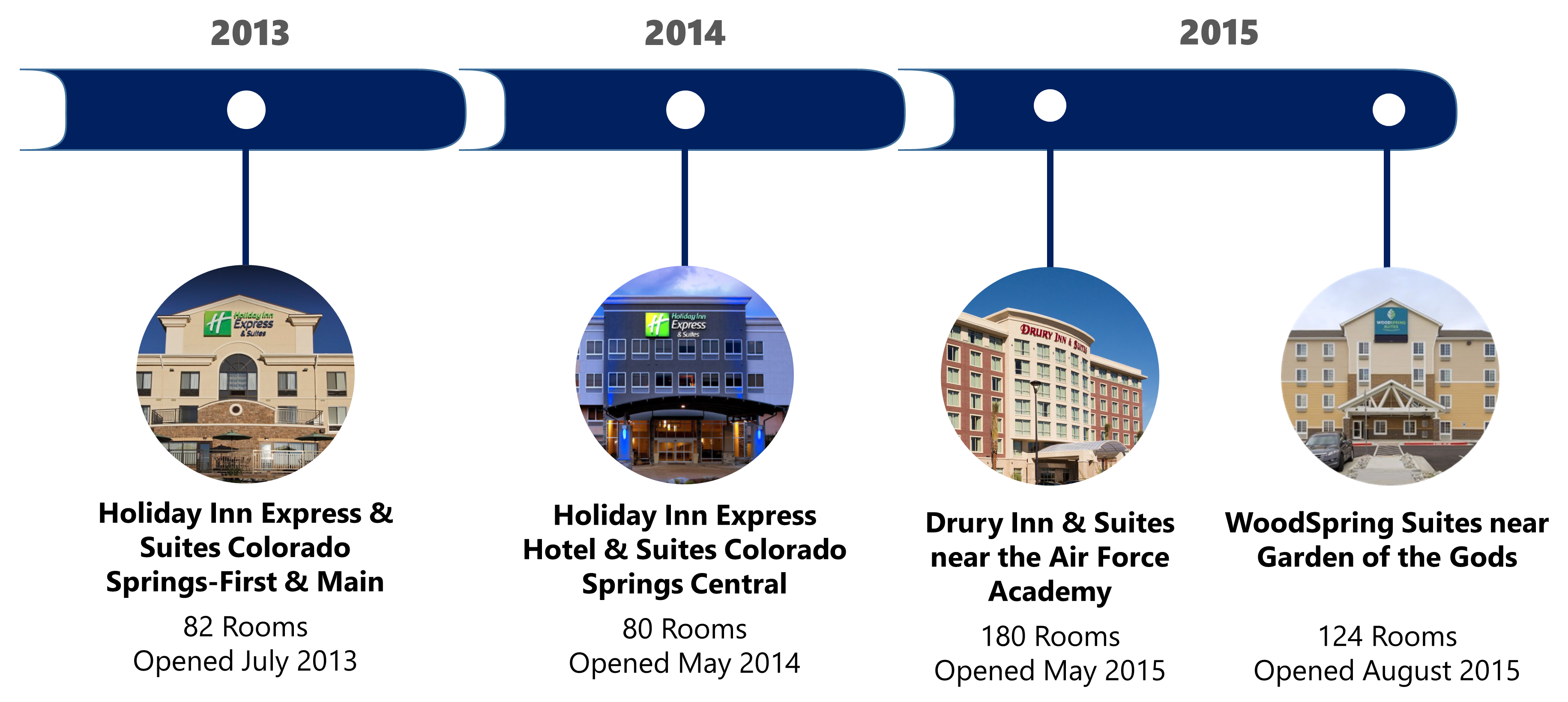 Source: HVS
Very few new hotels have come to Colorado Springs in recent years, though several hotel projects are now under development. The partially completed, 300-room Renaissance Hotel and Conference Center, located on the northern end of the city at InterQuest Marketplace, sat dormant from 2009 to 2015. Flintco, Inc. purchased the hotel in 2011 in a foreclosure sale and sold the property to Great Wolf Resorts, Inc. for $18 million in July 2015, according to El Paso County records. Great Wolf Resorts has plans to complete a 311-room hotel and construct an adjacent water park, with both expected to open in late 2016.
Another proposed development, the Colorado Grand Resort & Hotel, comprises a 165-room hotel and 60,000-square-foot water park. The project is planned for Polaris Pointe, a 200-acre retail center on Colorado Springs' north side. The developer, Northgate Properties, expects to begin construction by the end of this year. Although the project was speculative as of June 2016, an 80-room Fairfield Inn & Suites by Marriott was reportedly being planned on a 2.1-acre site located at 4107 Tutt Boulevard, near Security Service Field; an anticipated opening date was not provided by the brand.
Finally, a 176-room Hilton Garden Inn is proposed for development on a 13,500-square-foot site located at 123 North Cascade Avenue, which is located in Downtown Colorado Springs. The ten-story hotel is has been estimated to cost approximately $20 million; the property is anticipated to include a restaurant, 7,000 square feet of retail space, and 5,000 square feet of meeting space. The developer, New Vision Hotels, expects to break ground in the fall of 2016.
Recent Hotel Transactions and Conversions
Several hotels in Colorado Springs have recently sold, while some others have changed brands. The most recent confirmed transaction, the DoubleTree Colorado Springs, sold for $12.4 million in February 2016. GF Management is planning a $7-million, property-wide renovation, which is expected to begin in November 2016. In October 2015, the 292-room, bank-owned Antlers Hilton was purchased by Perry Sanders and John Goede for $23.2 million. The owners have since removed the Hilton flag and have begun to reposition the property as a high-end, independent, four-star hotel. In August 2015, Hospitality Properties Trust purchased the 96-room Residence Inn by Marriott for $5.93 million and rebranded the property as the Sonesta ES Suites.
Although it did not change ownership, the Colorado Springs Marriott completed a multimillion-dollar, property-wide renovation in April 2016. In July 2015, the 117-unit Drury Inn & Suites on North Academy Boulevard sold for $5.2 million to Academy Lodging LLC.[2]
The hotel changed names to the Plaza Inn following the sale; however, the property will reportedly be branded as a La Quinta Inn within the next year. The 111-room Comfort Inn South on Harrison Road was converted to a Quality Inn following its sale to CPE Holdings for $4.4 million in February 2015. Notably, the 88-room Comfort Inn on Aerotech Drive was also converted to a Quality Inn in early 2015.
Hotel Market Outlook
Colorado Springs' LART fund lodging tax, which collects 2% of the previous month's hotel revenues, provides evidence of the growth or decline of overall hotel activity in the city. The following chart shows the Lodger's Tax revenues since 2007.
Lodger's Tax Revenues from 2007 to YTD 2016, Reflects Summer/Winter Seasonality

Source: City of Colorado Springs
The Waldo Canyon Fire, which erupted in June 2012, displaced hotel guests along with residents, also causing the cancelation of meeting and group events. The exodus was severe enough to drag down lodging tax revenues in 2012 overall, though revenues increased through most of 2013. Increased government travel and the lack of a natural disaster in the area, as well as improving economic conditions, resulted in strong revenue growth in 2014 and 2015. Data for early 2016 illustrate continued growth in lodging-tax revenues, which reflects improving economic conditions nationally and, more specifically, local hoteliers' focus on commanding higher average rates. It is important to note that talks are currently underway to increase the city's hotel lodging tax from 2% to 4%. If the proposal moves forward, City Council members would potentially vote on the measure in the spring of 2017.
While the predominance of government and military operations in Colorado Springs provides a steady amount of hotel demand, the low government per-diem rate poses an obstacle for area hotels. The per-diem allowance decreased from $88 to $84 in 2010/11 and dropped to $83 in 2011/12. The $83 per-diem rate was extended into 2013, disappointing local hoteliers who were hoping for an increase. However, Colorado Springs received $2.00 increases in each fiscal year thereafter The market's seasonality makes the pressure on rates more difficult to manage, as midscale hotels try to balance low-rated government demand with higher-rated leisure demand during the peak summer months. The following table illustrates the difference in per-diem government rates between Colorado Springs and Denver.
Government Lodging Per-Diem Rates (October-September)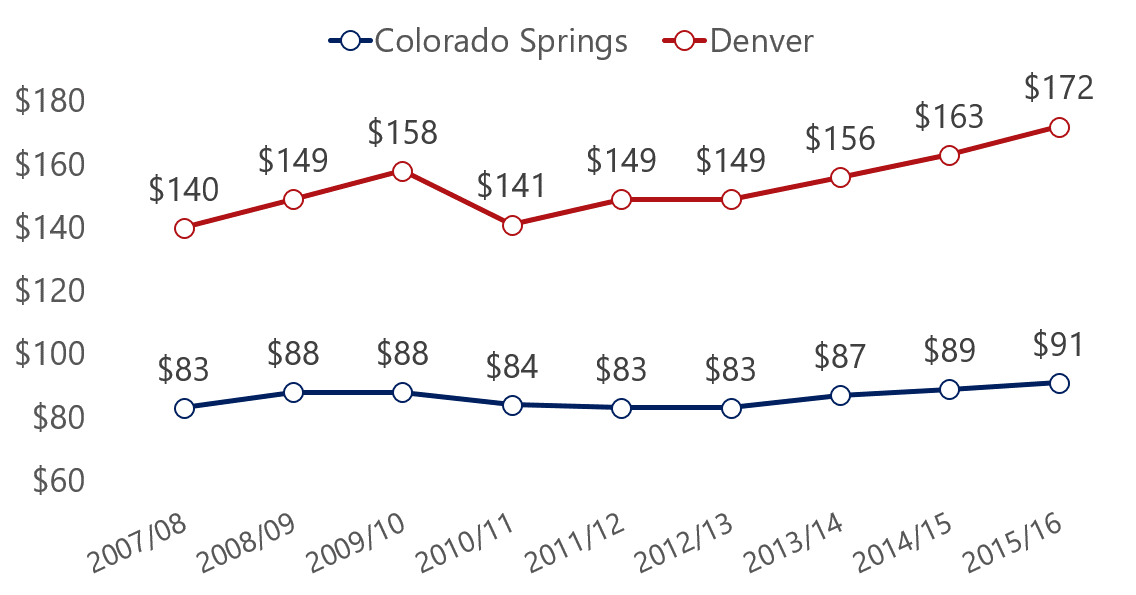 Source: General Services Administration
Although Denver hotels typically achieve rates around $30 higher than those in Colorado Springs, the $2.00 per-diem increases in 2014/15 and 2015/16 for the local market were relatively small compared to the $7.00 and $9.00 increases that Denver received. Average rate and demand levels in the market are expected to improve in the near term as new developments, two water parks, and the City for Champions projects are likely to induce significant new demand.
Conclusion
While military installations are an imposing feature of the area's economy, industries in the city range across aerospace, software engineering, manufacturing, and health care. This is important from the perspective of local hoteliers, because while rumors of military and government downsizing continue, the diversification of economic drivers in Colorado Springs promises additional demand—and at higher rates—for local hotels. This has already begun to manifest, as evident in the latest lodging-tax revenue figures for 2016.
Tourism is upfront, evidenced by the massive RTA investment in the City for Champions project and the two new water-park hotels, which are expected to open in the next few years. As demand rebounds, hoteliers should be in a better position to command higher average rates, though overall rate growth, again, will be weighed down by the relatively low government per-diem allowance. Nevertheless, ongoing development and construction projects, the funding secured for the City for Champions venues, and the upward trend in lodging-tax revenues provide for a positive outlook for the Colorado Springs hotel market in the long term.
---
[1] According to El Paso County records.
[2] A proposed fourth venue, a downtown sports and events center, is under further review due to funding concerns and resistance from area residents.