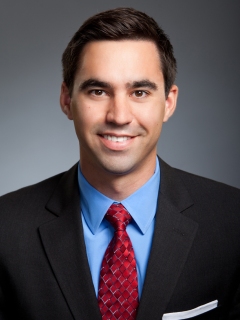 Houston is a city of DOERS, per the latest ad campaign presented by Chevron and released in advance of Super Bowl LI, held in Houston on February 5, 2017. The ad incites the can-do spirit of a city without limits. A city that is a global leader in energy and healthcare, that consistently ranks near the top for fastest growing major metro areas, and that once put a man on the moon. While the "We choose to go to the Moon" days are gone (but not forgotten), Houston's reputation as a tough, resilient, city of DOERS remains.

Nowhere is this more evident than in Downtown Houston. Long known as an office market with very few walkable retail areas, residential communities, or attractions, the downtown area has been revitalized over the last ten years, starting in 2008 with the creation of Discovery Green, a twelve-acre urban park adjacent to the convention center. Since 2015, more than 1.5 million square feet of Class-A office space has opened, as well as over 1,500 new residential units and approximately 1,800 new hotel rooms.
Houston Hotel Performance
This period of explosive growth was initially fueled by the relatively high price of crude oil and the significant exploration and production activity in the Eagle Ford Shale play from 2010 through mid-year 2014, which propelled lodging fundamentals to peak levels in 2014 and 2015.
As illustrated in the following table, RevPAR began to shift over the past year.
Soft Demand, Increased Supply, Poor Rate Integrity Characterize
Downtown's Lodging Performance in 2016

Source: STR
Despite the downturn in the energy sector, RevPAR improved approximately 2% in 2015, based on data collected from the Texas Comptroller of Public Accounts. RevPAR increases were bolstered by strong performance gains in the Luxury and Upper-Upscale segments, which realized increases of nearly 5%. However, the Upper-Midscale and Upscale segments posted declines, due in large part to weakening corporate demand and the entrance of new supply in those chain scales.
Market RevPAR declined by approximately 10% through the first three quarters of 2016, as new supply outpaced demand and hoteliers attempted to maintain market share by dropping rates.
Hotel Supply in Houston
The outlook for 2017 from local hoteliers remains guardedly optimistic. While the worst appears to be over (oil prices reached their low point in February 2016), the new supply wave that began to enter the market in late 2016 has another 500 rooms to deliver in 2017, not counting the 1,000-room Marriott Marquis that opened at the beginning of the year.
The sheer volume of new supply can be challenging for investors trying to understand this submarket; although, the hotel supply pipeline is not quite as daunting when broken down. Downtown Houston's existing supply can be generalized as 10% Luxury, 60% Upper-Upscale, 20% Upscale, and 10% Upper-Midscale. All the new hotels that opened in 2015 and 2016 were Upscale or Upper-Midscale, which represented only 15% of the total inventory at year-end 2014. These hotels were targeted to fill a previously underserved niche for primarily middle-management corporate demand that either did not travel or were pushed to less-expensive submarkets.
The increase of hotel supply at lower price points, coming online amid a down market, has likely facilitated a shift in travel from full-service hotels to these less-expensive options. This has resulted in rate discounting at full-service properties that lack the ability to maintain average rate integrity through differentiating factors, be it location, service, or some other value proposition.
Upper-Upscale Hotels Dominate Supply in Downtown Houston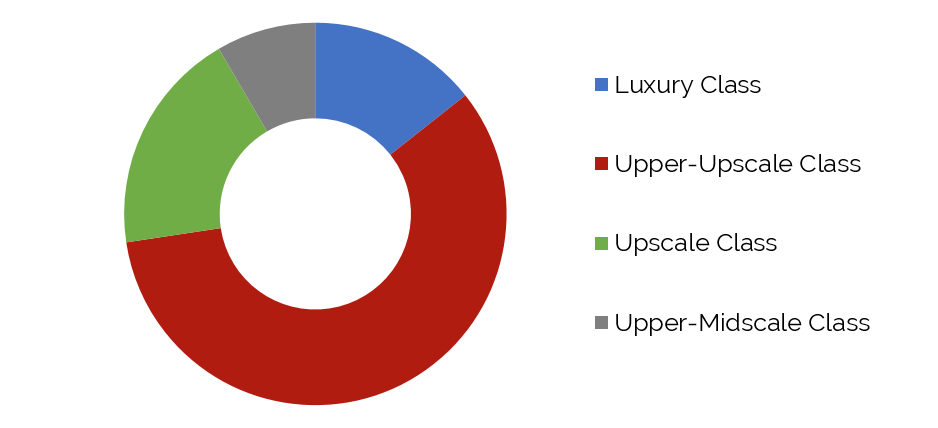 Source: STR
As a percentage of rooms, the new hotels slated for 2017 represent nearly 25% of existing supply; however, all of this new supply is categorized as Upper-Upscale or Luxury, with the bulk of it taking the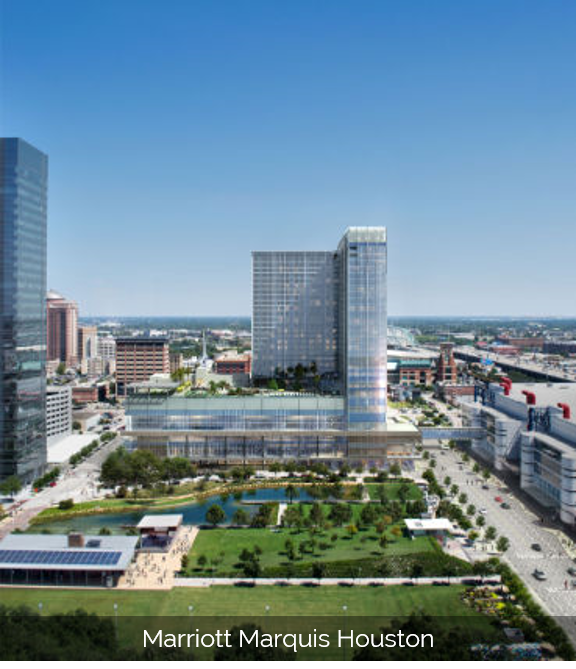 form of the 1,000-room Marriott Marquis that opened at the start of this year. The Marquis features 100,000 square feet of in-house meeting space, the Marriott sales force, and a notably improved convention rooms package that can now target conventions with 3,000+ attendees on peak room nights.
While the new convention hotel is expected to positively affect the market over the long term, the near-term outlook remains cautious because meeting and group demand takes time to build. Many groups want to see how the property will look and feel prior to booking, and groups can be shy to book events near the property's opening for fear of missing construction deadlines and being forced to change accommodations at a later date.
Luxury Hotels Downtown
There is a noticeable dearth of luxury hotels in Downtown Houston. Full-service, luxury hotels typically run slim profit margins and are costly to build. Furthermore, developers have had to compete for land with office developers who could build 1,000,000-square-foot skyscrapers and with residential builders who received significant city incentives to develop apartments.
This need began to be addressed in 2014, with the opening of the adaptive-reuse JW Marriott hotel. Prior to the JW Marriott, the last luxury hotel to open in Downtown Houston was the Four Seasons, in 1982. The planned 2017 opening of the Hotel Alessandra will be the first new-build luxury hotel to open since the early 1980s. Thus, while Downtown Houston's luxury hotel supply is expected to grow by approximately 25%, the addition will be much needed for Downtown and will help test the rate ceiling of the submarket.
Conclusion
While new supply may challenge hotel performance this year, over the long term, the new hotels will help serve specific niches in the Downtown submarket that were previously underserved. Furthermore, the opening of the Marriott Marquis should help raise Houston's status as a top-tier convention city. Additionally, near-term lodging performance will be bolstered by Super Bowl LI.
The Super Bowl, while only really affecting the host market for a week or two, can have a significant impact on annual occupancy and rate numbers. In many cases, the event has raised annual RevPAR by several dollars over what it would have been. The long-term effect of hosting a Super Bowl, however, can not be as easily quantified, as it is a tremendous opportunity to show off the city of Houston and the DOERS that have made Downtown one of the most dynamic and exciting submarkets in the city.