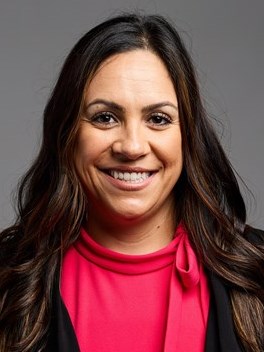 Known for its iconic pink-sand beaches, the island of Bermuda is nestled in the North Atlantic Ocean, just 650 miles east off the coast of North Carolina. Most associate the island as part of the Caribbean, but Bermuda is actually located hundreds of miles to the north. Less than a two-hour flight from New York, Bermuda is an ideal tourist destination with mild temperatures and a unique culture, growing in popularity among younger, experiential travelers and hotel investors.

The following article provides an overview of economic drivers, market dynamics, and future hotel growth in Bermuda, where there is a surge of international hotel brands gaining representation, as the island springboards on positive momentum created by the 35th America's Cup.
Growth as a Tourism Destination
A comprehensive review by the Bermuda Tourism Authority (BTA) verified that the island's total air arrivals for 2016 increased to 244,491 travelers. When compared with the 219,814 travelers to arrive in 2015, the year-over-year increase is 11.2%. Among the 162,321 visitors who said their purpose of visit was vacation, that group spent an estimated $222.1 million on the island in 2016, a 23.2% jump (or $41.8 million) from the year before.
Vacationer arrival and spending data continue to show positive trends into 2017. In the first quarter of 2017, visitor spending was up an additional 30.5% to $26.3 million, representing an increase of $6.1 million. Through May 2017, vacation air arrivals increased 18.5%, compared to the same five-month period in 2016, with particularly robust growth from the United States and Canada. Bermuda has experienced 17 consecutive months of year-over-year growth in leisure air arrivals, dating back to January 2016. At the time of our research, June 2017 was expected to be the 18th consecutive growth month given increased visitation during the America's Cup.
Air Arrivals by Purpose of Visit
Source: Bermuda Tourism Authority
Helping to fuel growth is a steady increase in airline-seat capacity over the past two years, particularly from New York's John F. Kennedy Airport, where seat capacity forecasts indicate a further jump in capacity of 23% for 2017. Boston is following the same pathway as New York, expected to climb 18% in seat capacity for 2017, compared to 2016. American Airlines and JetBlue have been at the forefront of the increased capacity.
The U.S. generates 75% of Bermuda's air travelers, with signs pointing to further growth in 2017 given the added seat capacity. Visitors from Canada and the United Kingdom are a distant second and third, generating 10% and 9%, respectively. The U.S.'s East Coast remains Bermuda's top source market for vacation arrivals, specifically New York and Boston, which accounted for 52% of all U.S. vacation air arrivals in 2016.
The following chart illustrates visitor air-arrival statistics categorized by country of origin since 2010.
Visitor Air Arrivals by Country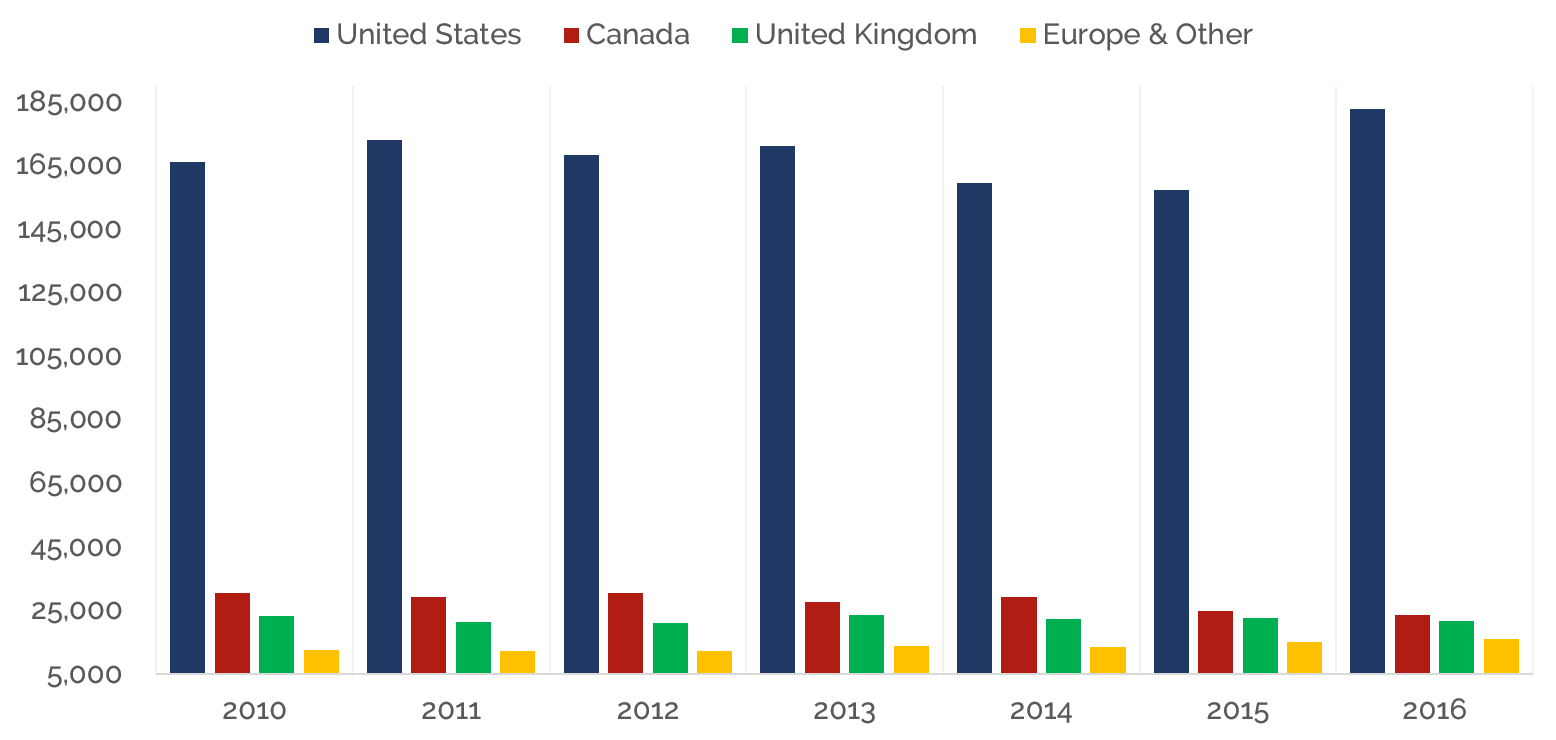 Source: Bermuda Tourism Authority
Another notable change in 2016 was the average age of the Bermuda leisure visitor, showing a younger demographic than in years past, which is a strong signal to the viability and sustainability of the island's tourism industry. Seventy-six percent of the leisure visitor growth in 2016 represented travellers under the age of 45.
Bermuda Hotel Supply
According to the BTA, as of December 2016, Bermuda offered 42 hotels, spanning 2,334 rooms, with most belonging to the upper-upscale and luxury classes. The two largest hotels are the 593-room Fairmont Southampton and the 400-room Fairmont Hamilton Princess. Per the STR Destination Report on Bermuda for May 2017, hotel occupancy reached nearly 55% year-to-date through May 2017, up an eighth of a percentage point from the prior year.
Bermuda, like most island destinations, is subject to a level of seasonality, which is opposite the typical seasonality patterns in the Caribbean. Arrivals (and Bermuda hotel occupancy levels) decline significantly in the winter months given the large share of visitors from the U.S. who rank warm weather as an important vacation criterion and are more likely to choose the warmer Caribbean destinations in the winter. Bermuda's occupancy peaks between May and August and benefits from a long shoulder season (averaging six months of the year). Average monthly annualized occupancies over the last four years are estimated in the following graph.
Hotel Seasonality in Bermuda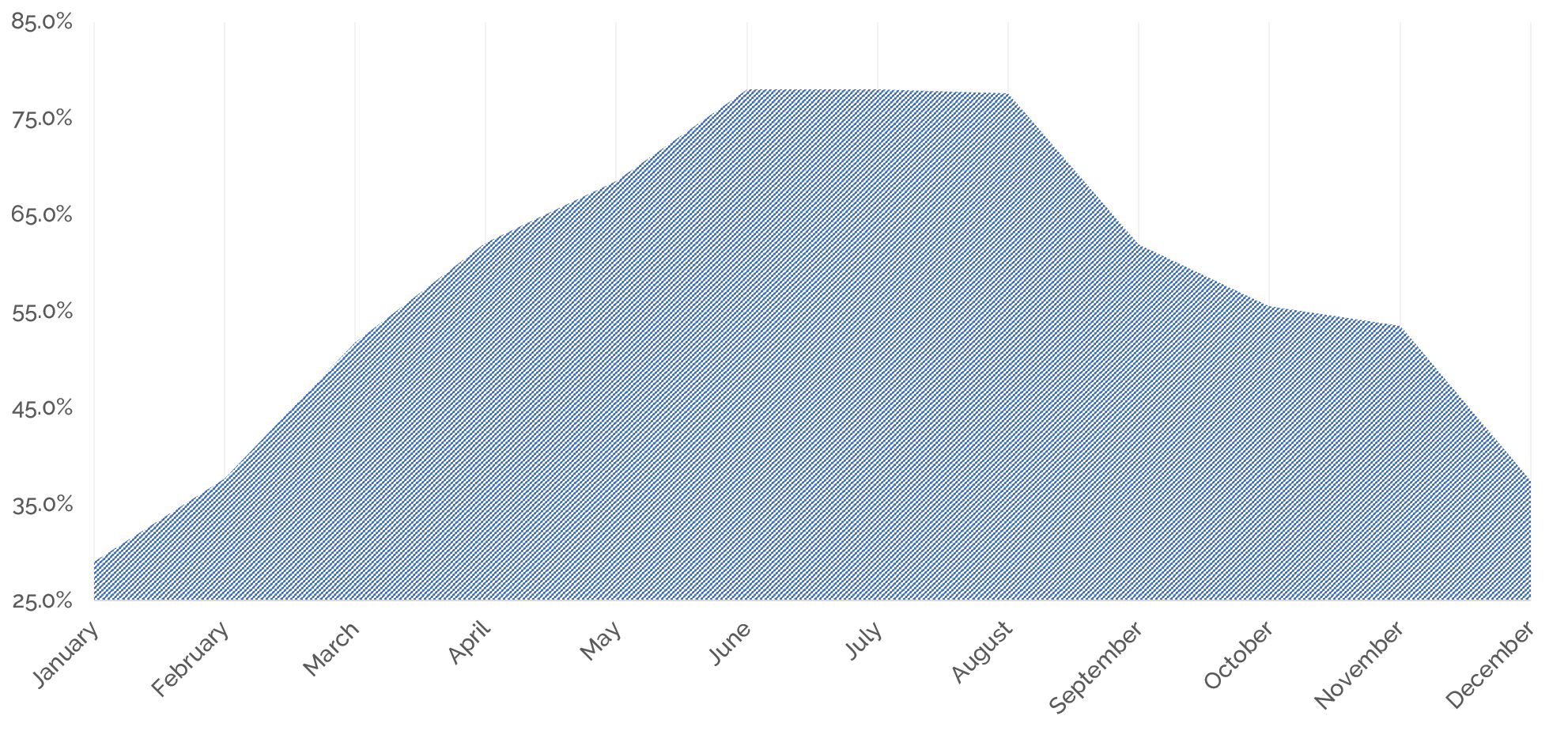 Source: Bermuda Tourism Authority, HVS Research, STR, Inc.
Hotels are the most popular choice of accommodation among the majority of both leisure and business guests, having hosted nearly 75% of Bermuda's travelers for an average length of stay at 4.69 days per the year-to-date May 2017 period. Although hotels are the first choice of tourists traveling to Bermuda, the vacation rental market is showing signs of strength in popularity, as well as longer lengths of stay, averaging 10 to 12 days. Per the BTA, the island has approximately 466 rental units available that can accommodate nearly 2,000 guests. The number of guests staying in vacation rentals increased 73% year-to-date through May 2017, compared to the same period in 2016.
New Hotel Development
Hotel development activity indicates promise for the future of the island's tourism product, as more hotel brands show interest in Bermuda. Most recently, The Loren at Pink Beach, a 37-room property that opened in April 2017, was the first new hotel in Bermuda in nearly a decade. While many projects are still under consideration or in the pre-development phase, several luxury hotel projects have broken ground or are close to that stage in Bermuda. Notably, international hotel brands are gaining representation.
• The independent Azura hotel is currently under construction along the south shore. Phase I of the development includes a boutique, luxury resort with 46 hotel rooms and 18 villa residences. The first phase of the project is slated for completion in early 2018.
• A Ritz-Carlton Reserve is under construction at Caroline Bay. Phase I, which will include an ultra-luxury hotel component and residences, is slated to open by April 2019. A superyacht marina on this site has already been completed.
• A 122-room St. Regis resort, comprising a hotel component and 28 luxury condominiums, has broken ground on the east end of Bermuda. This development is scheduled for completion in 2020.
• Plans to resurrect Ariel Sands with a hotel and residential component are currently in the works. Michael Douglas, owner of the site, is in the process of finding a partner to bring the project back to fruition. Though no timeline for development has been finalized, there has been great interest in the project.
Bermuda is on pace to add 1,500 hotel rooms to its island-wide inventory over the next decade.
The Impact of the America's Cup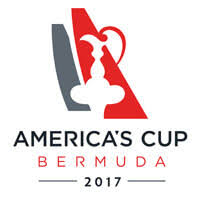 Successfully hosting the 35th America's Cup in 2017 and the Louis Vuitton America's Cup World Series in 2015 put Bermuda on the world stage as an international sailing destination. Bermuda was seen on television in more than 162 countries during 50 hours of sports programming, with an additional 159.5 million impressions on social media during the weeks-long event. The media exposure put Bermuda on a strong footing to attract new visitors, and the near flawless execution of the event elevated the small country into conversations about hosting future events. Now, Bermuda is working on new regulations and legislation to attract superyacht owners and superyacht events to Bermuda more regularly. Fueled by the America's Cup, superyacht visits to Bermuda are up 106% thus far this year. Building on this reputation, Bermuda will host the ITU World Triathlon Series in April 2018, 2019, and 2020. PricewaterhouseCoopers is expected to release a comprehensive report in October of this year to illustrate the total impact of the America's Cup on Bermuda, including on its tourism industry.
Looking Forward
Bermuda tourism is moving forward with a new brand identity and a bright future. The outlook for the island is optimistic for 2017 and beyond as the BTA continues its initiatives to promote Bermuda as a tourism, events, and meetings destination after the success of the America's Cup. Further growth in airline capacity from the U.S. market is anticipated, and a new state-of-the-art airport terminal building is currently under construction, with a planned opening in 2020. In addition, the presence of several international hotel brands will only help raise Bermuda's prominence as a tourism destination. A new law, expected to pass the Bermuda Parliament soon, will provide incentives to stimulate and reward investment in the island's tourism infrastructure.
About CHICOS
Caribbean Hotel Investment Conference & Operations Summit (CHICOS)
is the annual event that brings together international investors and operators, as well as leading hotel investment decisionmakers, including governmental representatives and international industry and opinion leaders, to discuss the markets, developments, and opportunities for hotel growth in the Caribbean region. Now in its seventh year, CHICOS is the only investment conference of its kind held in the region.
About the Authors
The authors wish to thank the Bermuda Tourism Authority for its contributions to this market report.

Special Collaboration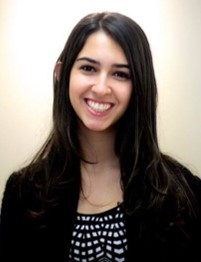 Tara Tempesta is a Marketing Communications Coordinator at LHL Communications, a hospitality-focused marketing, branding, and media-relations advisory. Tara is a rising senior at Boston University's School of Hospitality Administration, pursuing a concentration in Event Management. She is currently an Events Marketing intern at Discovery Communications, having previously interned with Legends Hospitality at One World Observatory in the Private Events department.
[email protected]