An HVS Quarterly Hotel Market Update
The reverberation from the sharp declines in mainland China visitor arrivals post-2014 echoed into the first quarter of 2016, negatively impacting hotel markets across the region, especially in Hong Kong and Macau. Given that both cities are less than an hour away from mainland China, they suffered from the new restrictions placed on Chinese citizens. For Hong Kong, this included a limit to one visit per week from neighbouring Shenzhen, and for Macau, a stricter control over gaming activities to reduce corruption. However, the market appears to have bottomed out and growth is beginning to stabilize.
Hong Kong
A series of political incidents during 2014 to 2015 caused a slump in Chinese tourist arrivals, leading to a difficult recovery period for the tourism industry, which, until then, had all its eggs in one basket. However, since the first quarter of 2016, Hong Kong is gradually picking up its visitor arrivals pace, albeit not at the levels witnessed in 2014. In the second quarter of 2017, total visitor arrivals to Hong Kong registered 13.6 million, a 1% year-on-year (YoY) increase. The top six feeder markets demonstrated positive YoY changes, except Taiwan with a YoY decline of 1.1%.
Mainland China continues to be the largest feeder market recording 10 million arrivals with a 0.8% increase compared with the same period last year. This represents a 74.2% overall share of visitor arrivals. An emerging trend among Chinese travellers can be seen through their travel choices which, while fuelling growth, may also be a potential limitation. Given increasing disposable income levels and a desire for more diverse travel experiences, mainland Chinese are becoming more adventurous with their travel choices. Over the past years, this directly benefited the growth of their arrivals in rival destinations such as Japan and South Korea and markets further afield, after having visited the more familiar environment of Hong Kong. With the growth of infrastructure in second- and third-tier cities and better high-speed rail links in mainland China, Hong Kong is hosting new groups of Chinese travellers from these areas. Therefore, the number of travellers coming from mainland China is stabilizing, however not reaching back to the peak in 2014 with 12 million travellers.
Among the major feeder markets, the Philippines registered the highest YoY increase of 15.8% with 250,000 arrivals, a 34,000 increase from the same period last year. Accounted for 1.9% and 2.5% of the market share, Japan and South Korea both recorded a remarkable 11.9% and 7.0% YoY increase, respectively, with 263,000 and 337,000 arrivals. Meanwhile, USA recorded a positive but relatively lower increase as well through a 1.3% YoY with 316,000 arrivals. However contrary to the trend seen, India faced a drastic 17.3% YoY drop with a total of 27,000 decrease of travellers to 129,000. A major reason for this decline can be explained by the visa restriction proposed by the Hong Kong immigration authorities, making it difficult for Indians to visit without reviews and approvals. Originally intended to prevent an abuse of the asylum system, this proposal had since discouraged a great number of Indian tourists and businessmen from coming to Hong Kong. Additionally, Indian banknotes demonetisation implemented in November 2016 to reduce corruption had trimmed many Indian travellers' budgets. Overall, after years of recovering, the market is slowly catching up at a steady pace; demonstrating a rebound from the bottom.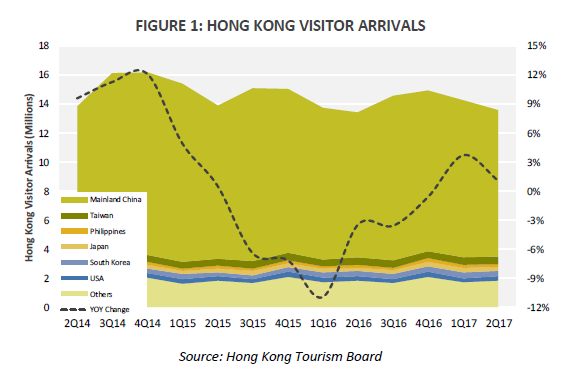 In the second quarter of 2017, 6.5 million of visitors to Hong Kong stayed overnight, a 3.7% increase from the same period in 2016. Overnight visitor arrivals recorded a YoY growth of 14% to 4.2 million. Overnight visitor arrivals exhibit a similar trend to total visitor arrivals.
Comparably, mainland China continues to account for the biggest share of overnight visitors at 64.3%.
As a result of eliminating parallel trading, the Chinese government replaced multiple-entry permit with a once-a-week restriction for Chinese citizens. The result was successful in incentivizing mainland Chinese to stay in Hong Kong for a longer period, which achieved a 4.5% YoY increase—an addition of 180,000 visitors—to 4.2 million in total in the second quarter of 2017.
As the second largest market with 4% market share, South Korea recorded an 8.8% YoY increase to
259,000 overnight stayers. Although comparatively not as strong, USA also contributed to growth with
0.8% to 226,000 Americans staying overnight in Hong Kong. The two strongest growth markets, Japan
and the Philippines, posted strong performances for the quarter with a remarkable 18.6% YoY increase to 166,500 overnight visitors and a significant increase of 11.8% YoY with 207,000 travellers, respectively. Conversely, Taiwan's overnight visitors declined by 3.6% with only 215,000 arrivals and India followed suit with a drop of 13.5%, leading to only 95,000 overnight visitor arrivals.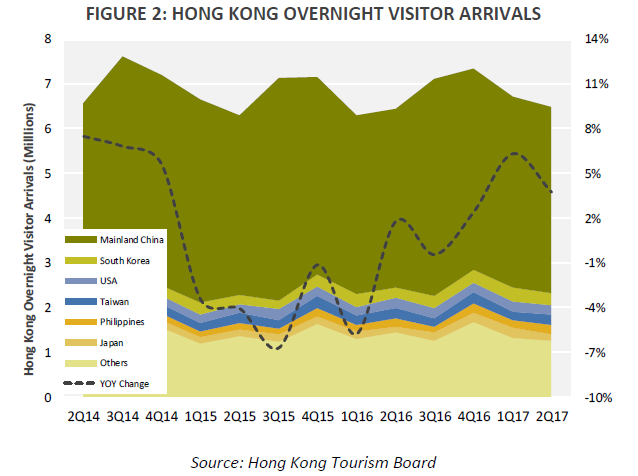 Hong Kong Hotel Market Performance
Overall in the second quarter of 2017, the Hong Kong hotel market experienced a growth in occupancy
rates by 1.6 percentage points to 86.6%. However, gains in occupancy were offset by a 2.2% decline in
average rate to $1,187, resulting in a 0.2% decline in RevPAR to $1,029. High-Tariff A-Hotels experienced
the same trend, where while occupancy increased slightly by 1.0 percentage point to 82% from last year, average rates continued to suffer a decline to $1,940, likewise closing RevPAR 4.2% lower YoY at $1,616. However, Hong Kong's hotel market supply continued to grow. In quarter two of 2017, this supply grew to 89,900 rooms, having increased by 4.1% YoY. In particular, the Unclassified category of hotels expanded at a significant 12.8% YoY increase to 5,615 hotels, attracting visitors with a variety of hotel options at both lower and higher price points. Supply from both High Tariff A and B categories also registered positive changes at 3.2% and 6.5%, respectively. Overall, hotel supply has grown from developments that commenced during the boom years, especially in 2014. However, with the slowing demand from mainland China, the number of new projects from developers may slow. Hong Kong's hotel supply is expected to soon stabilize over the next few years at a lower growth rate, with signs of oversupply.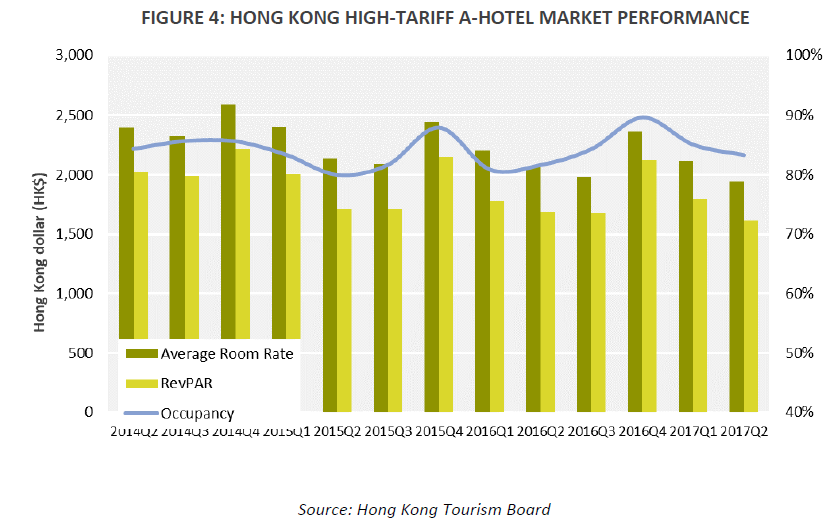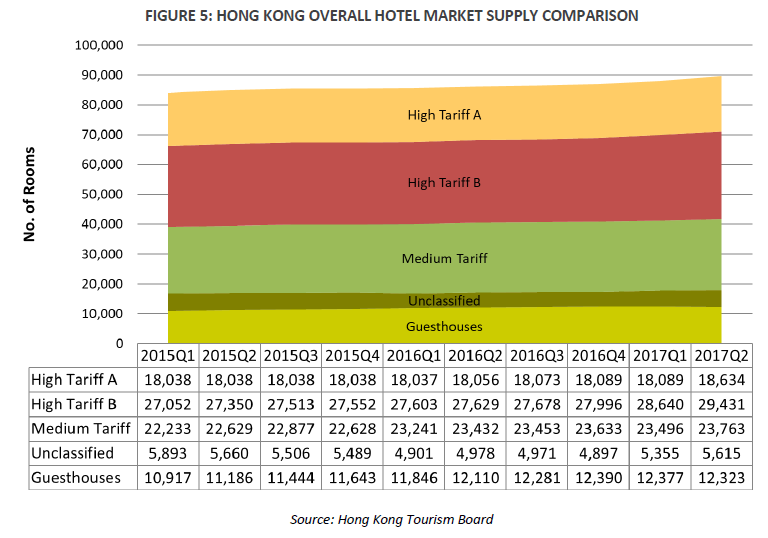 Macau
In the second quarter of 2017, Macau posted a significant YoY gain in visitor arrivals at 5.4% with 7.69 million visitors. One of the key source markets, South Korea, contributed heavily to the rising number of visitors. The number of South Korean tourists heading to Macau jumped by 47% to 204,000, an addition of 70,000 travellers, compared to the same period last year. This was aided by the automated immigration clearance services adopted in December 2016 which streamlined the process for Koreans visiting Macau, further extending the number of Korean travellers. Additionally, the success of promoting Macau as a tourist destination by the Macau Government Tourist Office (MGTO) to South Koreans helped with achieving this result. Promotions included sending officials to promote in South Korea, hosting tourism fairs in South Korea's largest indoor and outdoor theme parks, and collaborating with South Korea's Munhwa Broadcasting Corporation to produce a featured show about Macau. More significantly, Korean entertainment shows and TV shows started shooting scenes in Macau, which created an influential attraction for many Koreans to visit. An increase in low cost and direct flights made it more accessible for travellers to visit Macau as well.

Out of the 7.69 million visitors, mainland China accounted for 65.2% of market share, recording a 4.5% YoY increase with 5 million travellers, surprisingly. The Chinese government enforcing stricter rules for visas to Macau in order to suppress corruption, contributed to the decline of Chinese travellers, especially high-rollers, crossing the border to gamble. Therefore, the increase in Chinese visitors this quarter implied that Chinese travellers are now visiting Macau with a different purpose, rather than solely gambling. An-hour-away neighbour of Macau, Hong Kong is responsible for 20.7% of the overall visitor arrivals, also recorded a 6.4% YoY jump with 1.6 million travellers. Conversely, Macau registered a 1.6% YoY decline of 265,000 Taiwanese travellers. Surpassing Japan, the Philippines eventually became the fifth major feeder market in Macau with its YoY growth of 7.0% or 85,800 travellers. Other countries also recorded a significant surge, including Russia at 16.5% with 6,539 travellers, Indonesia at 14.2% with 52,500 travellers, and Japan at 13.6% with 72,900 travellers.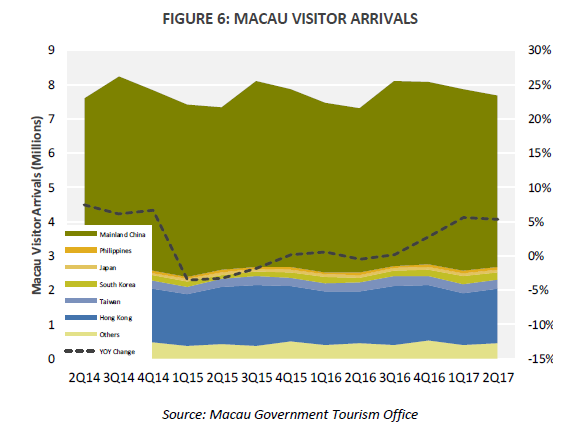 Although overall visitor arrivals from China's YoY change is only at 4.5%, the overnight YoY increased 15.8% to 2.8 million this year. The restriction on Chinese travellers' frequency of visits to Macau could be a large contributor to this surge, which prolonged travellers' average length of stay. Similar to the overall visitor arrivals trends, Korea achieved the strongest YoY growth of an impressive 81.0% from 70,600 to 128,000 travellers in the second quarter of 2017. All the major feeder markets experienced impressive YoY growth as well, with Hong Kong reaching an 8.7% increase of 786,000 visitors, Taiwan at 0.7% with 135,000 travellers, and Japan at 11.9%. Regional markets, including Indonesia and Malaysia also registered positive change.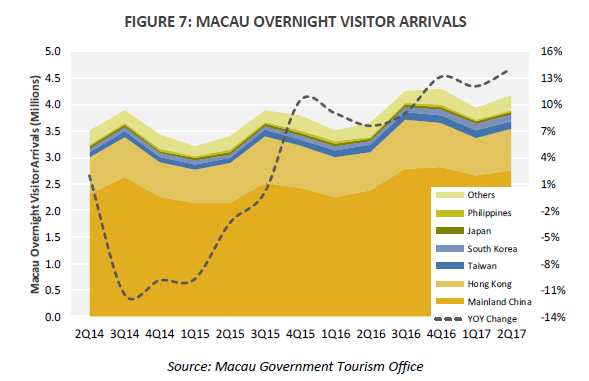 With a remarkable growth in visitors staying in Macau, the overall hotel performance recorded a 2.3%
growth in RevPar at MOP1,068 in the second quarter of 2017. Although average rate faced a negative 5.0% YoY change from MOP1,269 to MOP1,201, the overall occupancy posted a 6.6 percentage point YoY increase, which benefited the overall hotel industry in Macau.

Due to the regulatory policies enforced by the Chinese government, Macau's gross gaming revenue had fallen by a three-year compound annual growth rate (CAGR) of -14.8% from 2013 to 2016. However, the overall market still expanded in the last ten years from 2006 to 2016 with a strong ten-year CAGR of 14.5%. For the second quarter of 2017, gaming revenue registered a 21.9% YoY increase to MOP 62.9 billion, suggesting that the Macau gaming industry has bottomed out. Continuing forward from this trend, the gaming industry in Macau seems optimistic as it continues its focus on attracting more mass-market guests.

With the growth of international visitor arrivals, Macau is diversifying its economy to serve both tourists
and leisure gamblers as well. The largest two revenue-driving games, VIP Baccarat and Standard
Baccarat, recorded positive signs of recovery. VIP Baccarat increased 35% YoY to MOP 36 billion; while
Standard Baccarat witnessed a 5.7% increase to MOP 19.7 billion. This stronger quarter may have been
influenced by a newly added casino by S.J.M., Casino Hotel Legend Palace, in February 2017. Overall, the
number of gaming tables posted a 6.9% YoY increase to 6,413 and slot machines a 18.2% increase to
16,204. Compared with the first half of last year, overall casino winnings registered a 10.5% YoY increase
to MOP 9.4 million per gaming table unit per day.