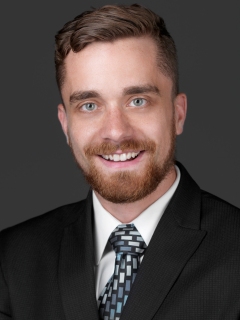 Indiana's capital city, Indianapolis, is the state's largest and the third-largest city in the Midwest. The city is a primary industrial, commercial, and transportation center for the Midwest, as the most centrally located of the largest 100 cities in the United States. The city is well served by four interstates, six railroads, an international airport, and a foreign trade zone. Historically known for its concentration of major manufacturing operations and logistics, the city has evolved as a hub for advanced manufacturing, digital technology, and life science/healthcare, as well as amateur and professional sporting events, which have brought Indianapolis broader recognition. The area is most well known for hosting the Grand Prix of Indianapolis and Indianapolis 500 each spring.

The following HVS Market Pulse report provides a look at the key industries, economy, hotel demand generators, and recent performance dynamics of the hotel industry in Indianapolis.
Key Industries and Business Development
Indianapolis remains one of the largest bio-medical and pharmaceutical hubs in the United States. In fact, according to a recent industry report from BioCrossroads, Indiana's life sciences exports totaled $9.8 billion, the second highest in the U.S. For example, Eli Lilly and Company, which was founded in Indianapolis in 1876, has grown to become one of the top-ten-largest pharmaceutical companies in the world. Eli Lilly recently completed an 80,000-square-foot expansion of its insulin-manufacturing plant in Indianapolis; the $140-million investment added 100 new high-paying jobs in 2015. Most recently, company officials announced in March 2017 that the firm would invest $850 million in its U.S. operations, including $85 million for a new manufacturing facility in Indianapolis. Other notable biomedical and pharmaceutical companies in Indianapolis include Roche Diagnostics, Anthem, Apria Healthcare, Endocyte, Harlan Laboratories, ImmuneWorks, and The Medicines Company.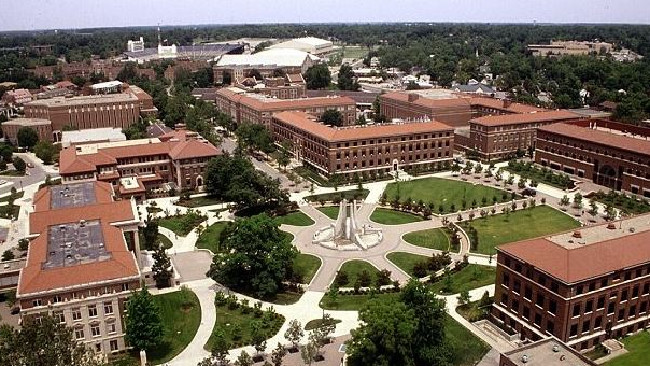 Located on the east bank of the White River in Downtown Indianapolis, Indiana University-Purdue University Indianapolis (IUPUI) enrolls over 30,000 students and collects millions of dollars in research funds for its medical, nursing, and dental schools. The campus is part of the economic triangle that links Bloomington and West Lafayette to Indianapolis. The 1.3-million-square-foot Eskenazi Health complex opened on IUPUI's campus in December 2013; the $754-million facility includes a 315-bed hospital with 19 operating rooms, 12 labor and delivery rooms, a 90-bed emergency department, and an Adult Level I Trauma Center. In addition, Indiana University Health is in the process of developing a new $1-billion medical center at 16th Street and Capitol Avenue as part of a major project that will tear down two century-old buildings, while renovating the middle part of the hospital. Moreover, the "16 Tech" economic development initiative is currently underway in Downtown Indianapolis to establish a master-planned development near Downtown, the IUPUI campus, and the Indiana University School of Medicine. The project is intended to attract research firms, contract service providers, and high-tech companies in industries including information technology, health information technology, motorsports, biotechnology, and clean energy.
Additionally, Indiana has more manufacturing jobs per capita than any other state, and Central Indiana is a leader in engineering electric car and truck components. A major area employer in this industry, Rolls-Royce, opened a $42-million advanced aerospace production and repair facility in March 2015, and it is currently undergoing a five-year, $600-million renovation to its Indianapolis facilities. Indianapolis is also home to major operations of Allison Transmission, United Technologies Carrier Corporation, The Adidas Group, and Raytheon Technical Services. In August 2016, Raytheon was awarded a $92-million contract for development of the Enterprise Air Surveillance Radar (EASR), with contract options that could increase the value of the project to $723 million by completion.
Moreover, given its central U.S. location, the city serves as a major distribution and logistics hub. Further boosting its profile, Interstate 69 will be extended north from Evansville by mid-year 2018, connecting to Interstate 74/465 at State Highway 37 in South Indianapolis, and eventually opening a direct trade route stretching from Canada to Mexico. Joining major distribution operations of FedEx, Toyota Motor Corporation, PepsiCo, DHL, and Amazon.com, Walmart.com and Tempur Sealy International recently opened large new distribution facilities in Plainfield, creating over 600 new jobs since 2015. In addition, John Morrell Food Group recently opened a new $43.5-million distribution center in the Access 70 Business Park, which created over 250 additional new jobs in 2016. Lastly, UPS recently announced its intentions to build a $260-million new logistics hub in Plainfield that will create as many as 578 jobs by the end of 2023.
Indianapolis's diverse economy, united with its growing retail and residential sectors, low cost of living, and attractive business climate, continue to boost its profile as a top choice for corporate relocation and expansion.
Downtown Expansion
Indianapolis's well-balanced economic base has allowed its economy to weather the recession better than most Midwest and secondary markets. A short downturn has been followed by years of economic growth and revitalization. Furthermore, downtown development continues to pick up momentum, led by the technology sector, with an anticipated $2.8 billion in investments planned through 2022, and 1.2 million of commercial space to be renovated or added by year-end 2018. Most notably, Salesforce.com Inc. relocated to the former 950,000-square-foot, 48-story Chase Tower (now Salesforce Tower) in 2016 to consolidate its operations in 400,000 square feet of space, creating 800 new staff positions by 2021, adding an additional 500 apprentice positions by 2020, and investing $40 million over ten years as part of its expansion. Subsequently, India-based Infosys announced in May 2017 that it would open a tech hub in OneAmerica Tower, adding 100 workers by year-end 2017 and 400 additional employees next year, with a potential of creating up to 2,000 new jobs by 2021. Moreover, Octiv, formerly known as TinderBox, also plans to expand its downtown operations, creating 224 new high-wage jobs and investing $3.2 million by 2021. Lastly, we note the state's newest tech hub, The Union 525, recently relocated into the Brougher Building in Downtown Indianapolis in February 2017; the hub, which offers space for startup and scale-up companies, was created to appeal to tech startups on the brink of serious growth.
Additionally, Cummins Inc. recently moved into its new, ten-story, global distribution business headquarters office building in early 2017, including a parking garage, 15,000 square feet of retail space, and a large public plaza on the former site of the Market Square Arena; the building is expected to house up to 400 Cummins employees, with 250 employees upon opening and an additional 200 in the next several years.
Lastly, two new TIF districts are under consideration to spur redevelopment, which should benefit Downtown Indianapolis. On the west side of the White River along West Washington Street, the site of the 103-acre former GM plant (closed 2011) is under consideration for a $550-million mixed-use redevelopment initiative, while efforts to develop the Market East District are underway at Alabama and Market Streets.
Meetings and Conventions
Conventions and events held at the Indiana Convention Center produce the bulk of meeting and group demand in Indianapolis, predominantly representing the association, corporate, and SMERFE segments; however, notable meeting demand is also booked directly with hotels and coporate events, as well as sports tournaments and social events.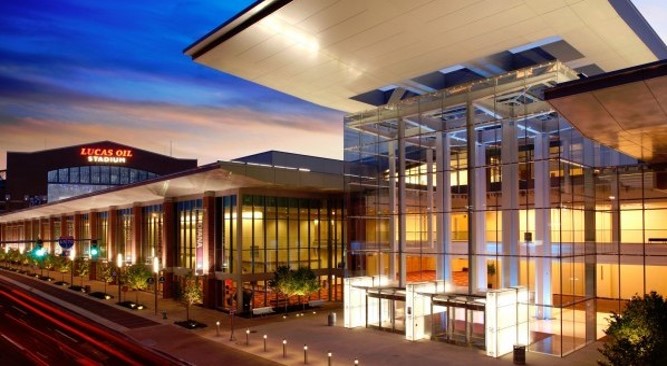 Located in the heart of Downtown Indianapolis, the Indiana Convention Center currently houses 566,000 square feet of contiguous exhibit space. The facility has historically been associated with and connected to the RCA Dome, which was demolished in 2008 to make way for the expansion of the convention center. The convention center is now connected to Lucas Oil Stadium, a multi-use facility that can accommodate a variety of events, including sporting events, concerts, conventions, and tradeshows. In January 2011, the Indiana Convention Center completed a $275-million, two-level expansion, which included the construction of 254,00 square feet of exhibit space, 63,000 square feet of meeting space, and approximately 103,000 square feet of pre-function and registration space. A three-level, glass-entry pavilion was also created as the focal point of the center. In total, exhibit space in the combined facilities equates to approximately 750,000 square feet, plus additional meeting, ballroom, and pre-function space.
The Indiana Sports Corporation brings major sporting events to the area, including Olympic, NCAA, Big Ten, and professional All-Star events. During these major events, hotel rooms are in demand and sellout situations are experienced throughout the greater metropolitan area. Area hotels benefit from these sports group blocks, which constitute hundreds of guestrooms. Demand for Indiana Sports Corporation events are spread throughout the year for various sports.
Indianapolis has emerged as a premier youth and amateur sports destination, led by the opening of the $45-million Grand Park sports campus in nearby Westfield in the spring of 2014. The 400-acre sports "mega park" features 26 diamonds for baseball and softball; 31 multipurpose fields for soccer, lacrosse, football, rugby, and field hockey; 2 large indoor facilities to accommodate off-season play and training; and more than ten miles of paved trails. Moreover, the complex added an indoor soccer and basketball/volleyball facility in January 2016.
Leisure Attractions
Indianapolis benefits from a variety of tourist and leisure attractions in the area. According to the Downtown Indy Partnership, tourism generates over $4.4 billion in economic impact for Central Indiana. In fact, Indianapolis attracts over 26 million visitors annually, with a typical traveler spending an average of $169 per day. Leisure demand comprises visitors to the area's universities and colleges; interstate motorists; medical patients; and regional travelers attending local concerts, festivals, and sporting events. The peak season for tourism in this area constitutes the warmer months, from May to September. Notable local attractions include:
The Indianapolis Motor Speedway is the world's largest spectator facility and the only racetrack to host the Indy Racing League, NASCAR, and Formula One. Most notably, the Indianapolis Motor Speedway annually hosts the Indy 500 in May and the Brickyard 400 in July. Furthermore, the Red Bull Air Race was held for the first time at the track in early October 2016.
Lucas Oil Stadium, the home of the NFL's Indianapolis Colts, opened in the fall of 2008, and basketball fans can enjoy Indiana Pacers home games at Bankers Life Fieldhouse. Moreover, the Indianapolis-based NCAA organizes the Final Four collegiate basketball championship every spring, and this event is periodically held at Lucas Oil Stadium; the Final Four, which was last held in Indianapolis in April 2015, is slated to return in 2021. Victory Field is a minor-league ballpark that is home to the Indianapolis Indians of the International League.
Indianapolis is home to several museums, including the NCAA Hall of Champions, the Children's Museum of Indianapolis, and many more. Additionally, the Indianapolis Zoo hosts approximately one million visitors each year and plays a major role in worldwide conservation and research.
Market Performance & Supply
There are approximately 280 hotels and over 30,000 rooms in Indianapolis MSA, while Indianapolis itself offers approximately 175 hotels totaling more than 23,000 rooms.
Since 2005, the greater Indianapolis market has realized an increase of approximately 7,625 new hotel rooms, representing a 24% increase in supply, with roughly 2,500 of those rooms in the downtown area. However, between 2012 and mid-year 2017, supply increases slowed to a rate of just 5.7%, as illustrated in the corresponding table.
Supply Increases in Indianapolis

Source: HVS
Furthermore, since 2012, approximately 15 hotels have closed in the metropolitan area. This loss of available room nights has contributed to the slowed supply rate growth and has assisted in mitigating the impact of the new rooms that have and will be added across the market.
According to our interviews with market participants, market-wide demand growth has generally well outpaced supply increases in recent years, leading to market-wide occupancy levels not experienced since prior to the Great Recession. Demand improvements have primarily been driven by continued strength in meeting and group demand from the expansion of the Indiana Convention Center in 2011 and the opening of Grand Park in 2014. Subsequently, average rate and RevPAR have also reportedly climbed to new peaks in recent years.
Citywide meeting and group lodging demand was buoyed with the 2011 expansion of the Indiana Convention Center (ICC), coupled with the 2010/11 opening of Marriott Place, which added 1,626 downtown guestrooms. The combination of the additional meeting space and guestrooms has allowed the ICC to accommodate much larger groups. Moreover, the center's flexible configuration and sky bridge access allows it the capability to host two significant groups simultaneously.
The timing of the last expansion somewhat insulated the market from the last recession, as the market did not realize as severe of an economic downturn as many comparable markets. The number of meetings at the newly expanded ICC continued to grow through 2013; however, attendance contracted in 2013, before climbing to a new peak in 2014. Following the state's passing of the controversial Religious Freedom Restoration Act (RFRA) in early 2015, both the number of events and attendees declined, as select events were canceled. However, according to convention officials, convention attendance and room-night bookings rebounded strongly, suggesting mitigation of RFRA's impact
Convention Center Stats

Source: Indiana Convention Center & Lucas Oil Stadium
Citywide meeting and group demand has also benefited from the opening of Grand Park in the spring of 2011, which has injected an estimated 40,000 additional room nights each year through year-round sporting events at the youth, high school, and collegiate levels. Although Grand Park produces a majority of its demand in the spring and summer months, the addition of its indoor soccer and basketball/volleyball facility in January 2016 has helped supplement demand in seasonally slow winter months.
Indiana Convention Center's increased group capacity and Grand Park's abundant success have renewed hotel-development interest across the market, especially in the downtown and northern submarkets of Indianapolis, as illustrated in the table below. As of October 2017, 10 new hotels, representing approximately 1,750 additional rooms, were under construction in the Indianapolis MSA. However, many other hotel projects were in the early development stages, and as such, were not listed.
Proposed Supply throughout Greater Indianapolis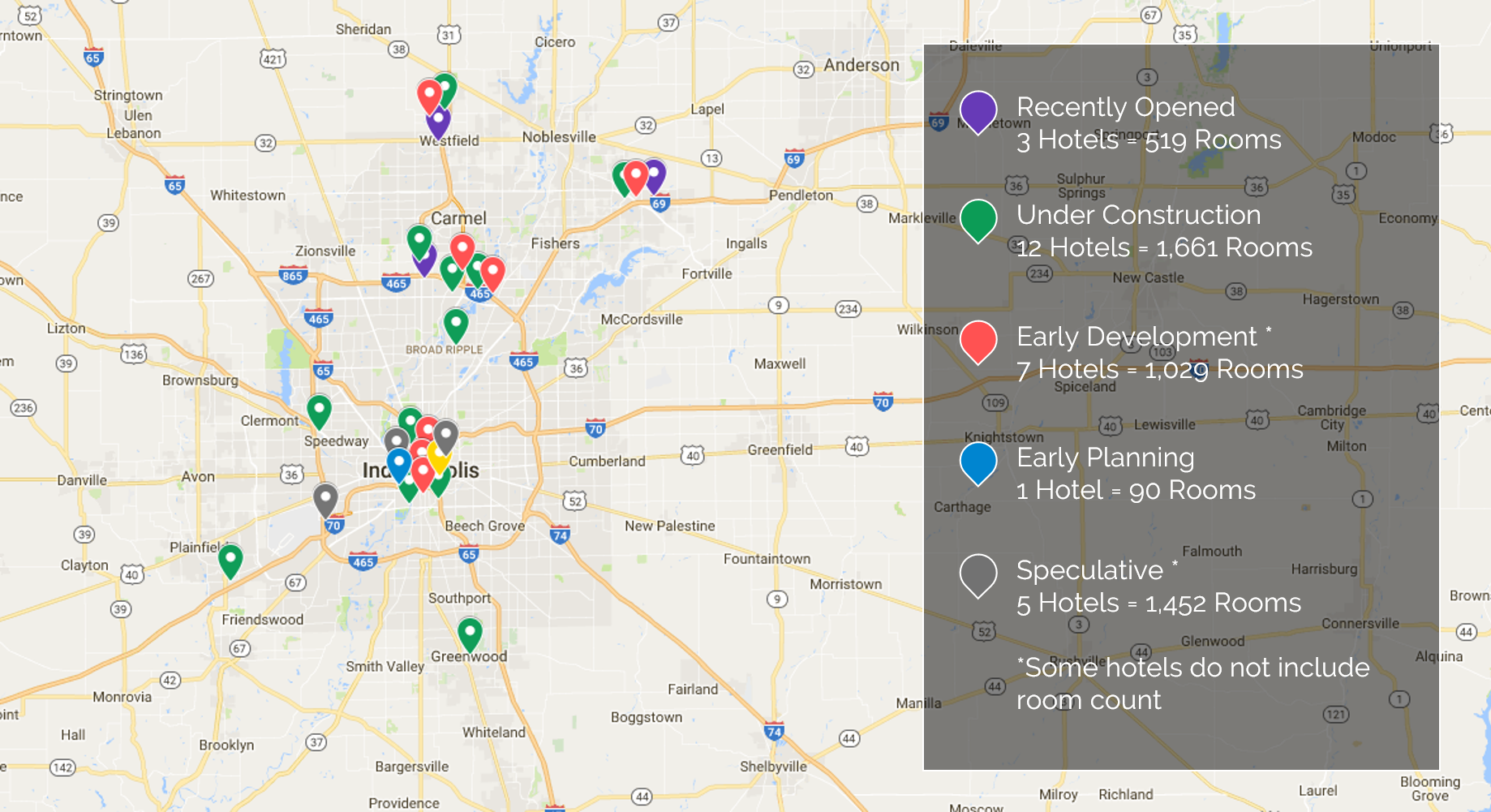 Source: HVS
Outlook
Favorable supply and demand dynamics have kept Indianapolis's hotel industry roaring in recent years. However, many new hotels are scheduled to open in 2017, including nine additional hotels by year-end, representing over 1,000 rooms. The supply changes will make the hotel environment more competitive, though the exact impact on average rates and overall occupancy remains to be determined. Through 2016, hoteliers continued to achieve rates unprecedented for this market, as hotel operators and entities, such as Visit Indy and the Indiana Sports Corporation, successfully raised the city's competitiveness to regional and national peer markets.
HVS anticipates continued average rate growth in 2017 and 2018; however, occupancy rates are expected to soften as new supply comes online. Moreover, given the anticipated reopening of the newly expanded Kentucky International Convention Center in Louisville mid-year 2018, which competes with Indianapolis for conventions, as well as the near-term openings of several new convention center hotels in competitive convention destinations, we expect meeting and group demand associated with the ICC to be somewhat subdued in the coming years. Market upside is anticipated given the pent-up demand for high-level sports events and a reported lack of metro-area hotel rooms during peak periods, in conjunction with Indianapolis's strong reputation as a sports hub, which should bolster leisure travel in the area over the long term. Additionally, company expansions and relocations, particularly in the technology sector, are expected to continue to fuel strong commercial demand growth in the near term. Taken together, these dynamics support a generally positive outlook for the Indianapolis hotel market over the next several years.
Justin Kaminski, a Vice President with HVS Chicago, has managed food & beverage operations and revenues for full-service resorts, Downtown Chicago hotels, and at McDonald's famous Hamburger University. Prior to joining HVS, Justin worked for Kimpton Hotels as an Area Revenue Analyst, examining new opportunities for revenue generation and effective yield management for four of the company's luxury hotels in Chicago. Justin earned a BS in Hospitality and Tourism Management from Purdue University. For more information, contact Justin at