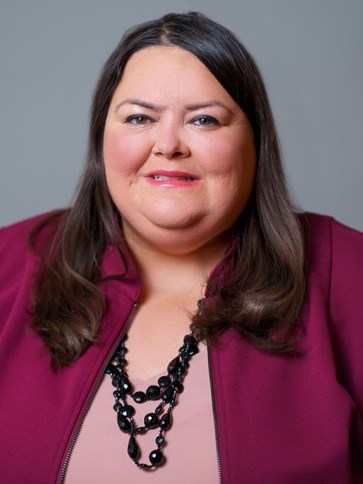 Anchoring the west end of the Dallas/Fort Worth Metroplex, Fort Worth features the old and the new. Also known as "Cowtown," the cattle industry initially spurred economic development in the city. Today, glass and steel skyscrapers share the sidewalks of Downtown with renovated historic districts, such as the Fort Worth Stockyards National Historic District and Sundance Square.
The following article details new developments in and around Fort Worth's primary neighborhoods that affect the area's hotel industry.

Fort Worth's Economy
Despite plummeting oil and gas prices and increased activity in other parts of Texas and across the country, the energy industry continues to provide ongoing benefits to Fort Worth's economy. AllianceTexas, an 18,000-acre industrial, office, and retail development has also become a primary economic engine. Boasting a diverse workforce, Fort Worth has grown from a dusty town along the famed Chisholm Trail to the fifth-largest city in Texas and the sixteenth-largest city in the nation.
Military
Naval Air Station Joint Reserve Base Fort Worth (NAS Fort Worth JRB) lies five miles west of Fort Worth's Central Business District and is home to a variety of Navy, Marine Corps, Air Force, Army, and Texas Air National Guard units. Lockheed Martin Corporation, based in Bethesda, Maryland, has extensive operations in Fort Worth. Lockheed Martin's Fort Worth plant produces the F-35, the nation's most sophisticated fighter jet.
Energy Production
Slick-water fracking, which traces its origins back twenty years to an area just north of Fort Worth, has lent a massive boost to the production of oil and gas from shale. The Barnett Shale is a natural gas deposit that may contain up to 30 trillion cubic feet of gas. The shale play covers 17 counties, extending west and south of Tarrant County, and is a major force for production.
Local officials report that employment has stabilized at energy companies in Fort Worth, and oil and gas production started ramping up again across Texas in 2016, a trend that has continued at a slow but steady pace. Companies are also becoming involved with alternative forms of energy, with several plants in operation in small towns throughout the greater Fort Worth area.
Transportation
Airlines Group Inc. has its headquarters campus in the far eastern city limits of Fort Worth; a new, 1.8-million-square-foot, five-building office headquarters complex is scheduled to open in 2019. Along with its headquarters offices and ample operations throughout Dallas/Fort Worth International Airport, American Airlines Group Inc. also executes most its training operations at its DFW facilities.
Burlington Northern Santa Fe (BNSF) Railway, the second-largest freight transportation company in North America, maintains its corporate headquarters in the Fossil Creek area of Fort Worth. BNSF operates a rail network of 32,500 route miles in 28 states and three Canadian provinces. In April 2016, BNSF partnered with AllianceTexas developer Hillwood and plastics logistics firm Packwell to build a new plastics export-packaging facility in Alliance Westport, the rail-connected industrial sector of AllianceTexas, a master-planned, mixed-use community located on 18,000 acres in northern Fort Worth.
Owned by the City of Fort Worth and managed by privately held Alliance Air Services, Fort Worth Alliance Airport (AFW) is the world's first 100% industrial airport designed for cargo and corporate aviation. AFW also anchors the nation's fastest-growing industrial complex, Alliance Global Logistics Hub, which has roughly 9,600 acres designated as Foreign-Trade Zone (FTZ) No. 196—a major advantage in attracting importers.
Alliance Global Logistics Hub is among the top FTZs in the nation. Shipping by air is reliable and quick, but also costly. Hence, air freight usually consists of highly perishable or particularly valuable goods. Dallas/Fort Worth International Airport and Alliance Airport combine to make the region one of the nation's leaders in air cargo shipments.
Revitalization and Growth
A master plan that began in 1988 has since created new developments in Downtown Fort Worth that include Sundance West, Sundance East, the Nancy Lee and Perry R. Bass Performance Hall, and the Chase Bank Building. The final project, the renovation of Sundance Square, was completed in 2013. Moreover, a major catalyst that changed the infrastructure and economic landscape of the city was the Fort Worth Tornado in 2000 that devastated the downtown area, but also ultimately helped transform the face of the city's core.
The January 2009 opening of the Omni Convention Center hotel changed the both the hotel landscape and the city's skyline; the 34-story luxury hotel boasts a unique structural design. Ongoing hotel development in Fort Worth includes both ground-up construction projects and the rehabilitation and adaptive reuse of existing buildings.
Much of the last-decade's development of Class-A office space in Fort Worth came from the conversion of existing Class-B office space. By far the largest new development in the Downtown Fort Worth office market is the Frost Tower project, a 25-story, Class-A office building with approximately 278,000 square feet of rentable area, with Frost Bank as the largest tenant. Other tenants include Jetta Operating Company Inc. and Anthracite. This tower topped out in the fourth quarter of 2017.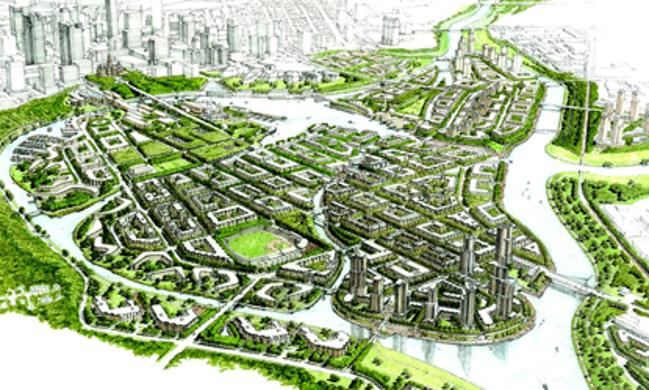 The Trinity River Vision, an 800-acre project directly north of Downtown Fort Worth, will effectively double the size of the downtown area. The Army Corps of Engineers has been tasked with redirecting a portion of the Trinity River to add roughly twelve miles of waterfront property, creating what will be known as Central City, but commonly referred to as Panther Island. The project will correct some flooding areas and expand Gateway Park into one of the largest urban-programmed parks in the nation.
Ultimately, $526 million of a massive $10-billion federal bill will be spent on Fort Worth's Trinity River Vision. This project has already sparked development interest in the area, as construction on a 300-unit residential building started in 2017. Upon completion, this $909.9-million project is estimated to create an annual economic impact of more than $1 billion dollars.
Conventions
A 2014 study of convention demand, completed by Hunden Strategic Partners, recommended a renovation of the aging Fort Worth Convention Center, as well as an increase in hotel supply to support additional convention demand. This has since spawned a collection of tax abatements and incentives. Portions of the western area of the convention center facility have been refreshed to encourage usage; however, a detailed renovation plan has not been announced.
The City of Fort Worth is also considering building a second convention center from the ground up, either on the new Panther Island or in the Stockyards area. Once the money is recouped from the City's investment in the new arena at Will Rogers Coliseum, local officials believe that the next major investment will be in this proposed convention center.
With the interest in expanding convention facilities, local officials are concerned with the number of hotel rooms available to convention attendants. Hotel supply has already run short, relative to demand from the existing convention center. Hence, the development of an additional convention center would likely be in tandem with a significant increase in hotel supply in Fort Worth.
As with Downtown, the City seeks to maintain the historic look of the Fort Worth Stockyards while simultaneously encouraging development efforts in the area. Spearheaded by a partnership of Fort Worth's Hickman family and Majestic Realty Group, a $175-million development plan for the Stockyards will include redevelopment of vacant land and the rehabilitation of existing historical buildings.
Dickies Arena
Construction began on the first phase of the $540-million, 14,000-seat multipurpose Dickies Arena in April 2017. Voters approved $225 million for the $540-million project in 2014. Dickies Arena is expected to open by 2020. The arena will host the first and second rounds of the NCAA Division I Men's Basketball National Championship in 2022, the first NCAA men's basketball tournament held in Fort Worth since 1970.
Other Developments
The Clearfork project, located farther west, along the Chisholm Trail Parkway, is a 270-acre development on the Edwards Ranch property. This mixed-use project includes luxury retail, restaurants, office, and entertainment. The open-air shopping center has been compared to the Metroplex's most upscale retail destinations, such NorthPark Center and the Galleria Dallas.
The Chisholm Trail Parkway has promoted commercial and residential development in southwest Fort Worth, and the new roadway quickly links the Hulen Mall area to Downtown Fort Worth.
Northern Fort Worth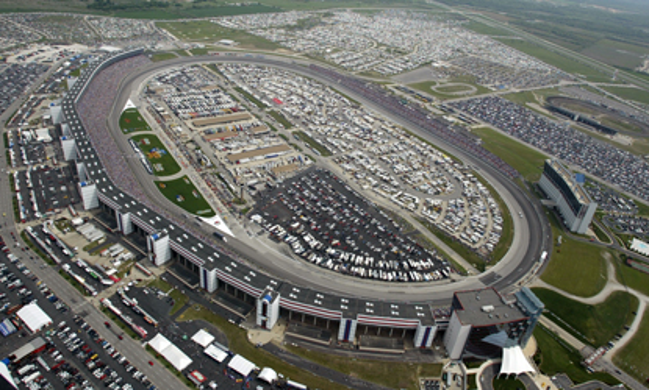 Texas Motor Speedway occupies a large site in the north side of Fort Worth, where other major land uses include the Fort Worth Alliance Airport, the mixed-use community AllianceTexas, a Cabela's retail store, and the Alliance Town Center. A Buc-ee's travel center southwest of Interstate 35W and State Highway 114 opened in May 2016. A Tanger Outlet mall opened in October 2017 near the Texas Motor Speedway; the 350,000-square-foot center is the chain's fourth location in Texas. While a handful of stores are still under construction, brands such as Brooks Brothers, Cole Haan, Steve Madden, Nike, and Michael Kors, for example, are all represented. In February 2017, IKEA announced plans for a 289,000-square-foot store at the southwest corner of Interstate 35W and North Tarrant Parkway.
In October 2015, construction began on a $250-million, multi-year project to extend runways at the north end of Fort Worth Alliance Airport. The expansion will allow greater flight capability and enable long-haul flights to take off fully fueled under almost any weather conditions, as well as allow FedEx to offer direct air-cargo service to Europe and Asia. The project should be completed during the first quarter of 2018.
Hotel Trends
Downtown Fort Worth
The newest full-service property in Downtown Fort Worth is the Omni Convention Center hotel, which opened in January 2009. The most notable recent sale was the Ashton Hotel in July 2014; the 39-unit boutique hotel traded for just over $205,000 per room. Since 2014, estimated occupancy for the aggregate of full-service hotel supply in the CBD has held close to the 70% mark. Similarly, the strength of the local economy has allowed for consistent average rate (ADR) growth over the past three years, registering aggregate gains of roughly 3% per year.
The aforementioned redevelopments in the city's core have also spurred interest in hotel development, and developers have aimed to bring more modern brand concepts to Downtown.
In October 2017, both the 210-room Hampton Inn & Suites by Hilton and the 114-room Fairfield Inn & Suites by Marriott opened, the latter the result of a massive renovation of the former Park Central Hotel. Moreover, construction recently commenced on a 162-room, ground-up Hilton Garden Inn, while two additional hotel projects are nearly complete: the redevelopment of the Sinclair Building, to house a 164-unit Autograph Collection hotel, and the development of a 180-room Aloft hotel within the existing One City Place building. Plans are also underway for an AC Hotel by Marriott on the parking lot adjacent to the historic Kress Building; since the latest published room count of 218, the developers have announced that an additional floor would be added to the project. Other planned hotel projects in Downtown Fort Worth include a Residence Inn by Marriott, a Canopy by Hilton, and a Hyatt House.
Ten New Hotels Recently Opened or Proposed for Downtown Fort Worth

Sources: Hotel Brands, City of Fort Worth, HVS
The significant influx of supply is likely to offset occupancy growth in Fort Worth over the next few years. The number of convention events and attendees, however, are on track for banner years in 2017 and 2018. The slow and steady return of demand related to the energy sector is a positive sign for both occupancy and average rate, as area hotel managers hope to capture this highly rated source of corporate transient demand. Finally, the upscale and upper-upscale nature of the incoming supply bodes well for ADR growth in the long term given the elevated quality level of guestroom product at these hotels.
Hotel Trends in the Stockyards, West 7th, and the Cultural District Submarkets
Prior to 2017, only a few hotels were located within Fort Worth's Stockyards, West 7th, and Cultural District submarkets. Once viewed as periphery markets to Downtown Fort Worth, these areas continue to gain popularity for commercial office space, retail outlets, restaurants, and entertainment venues. The success of the Hilton Garden Inn and Homewood Suites by Hilton in the periphery Near Southside/Medical District, which opened in 2012 and 2013, respectively, has further encouraged developers to target submarkets outside the core of Downtown Fort Worth.
The Stockyards are expected to experience a resurgence like that of Downtown following the completion of the redevelopment efforts. However, there are some regulatory design efforts by the City that may constrict some potential hotel developments in the area. The Trinity River Vision, however, has the potential to create an unparalleled amount of hotel development activity in Fort Worth. As one of the more popular destinations for nightlife, West 7th represents an appealing opportunity for developers given its significant retail, restaurant, and residential components.
In February 2017, the 124-room Courtyard by Marriott opened in the Stockyards. Other planned hotel projects in the Stockyards include a SpringHill Suites by Marriott and The Armour, a boutique hotel to be located on the site of the former Armour Meat Packing Plant.
In early 2017, Heart of America Group announced plans for a full-service boutique hotel, to be called Hotel Renevo, at the northwest corner of Camp Bowie Boulevard and Van Cliburn Way, among this neighborhood's many museums. The Left Bank Mixed-Use Development includes a hotel aspect, likely consisting of a 200-unit boutique hotel. A TownePlace Suites by Marriott is nearing completion at a site west of the Chisholm Trail Parkway/University Drive interchange. Boasting high-end retail and office space, as well as a variety of restaurants and outdoor space, The Clearfork development is rumored to have a boutique lodging product planned. Moreover, an extended-stay property also appears to be in the early stages of development within the Cultural District neighborhood, though no details on branding or room count have been announced.
Six New Recently Opened or Proposed Hotels in Fort Worth's Stockyards, West 7th District, Cultural District, and Clearfork/University Area

Sources: Hotel Brands, City of Fort Worth, HVS
Similar to Downtown, incoming supply in these submarkets is expected to decrease occupancy over the next few years. Unlike Downtown, however, these markets do not have a large, diverse supply of existing hotels. As such, the new supply represents proportionally larger increases for these submarkets, which could be a concern. Construction of the new Dickies Arena, however, and the major events it will host once open, bode well for attracting hotel demand.
Fossil Creek and AllianceTexas
Despite the 2016 opening of the SpringHill Suites by Marriott, the Fossil Creek market has maintained strong occupancy and ADR levels, registering aggregate RevPAR growth of roughly 6% since 2013. This recent trend has been heavily influenced by increased commercial demand in the Alliance area, which has outpaced current guestroom supply. A new Sleep Inn Hotel & Suites is slated for completion by mid-year 2018, just south of the Holiday Inn Express Hotel & Suites Fort Worth I-35 Western Center.
Explosive commercial development along Interstate 35W, particularly focused in the Alliance developments, has drawn the attention of hotel developers. A Home2 Suites by Hilton opened by the Texas Motor Speedway in August 2017, and a Fairfield Inn & Suites by Marriott is under construction. A Courtyard by Marriott at Alliance Town Center, currently one of only two select-service hotels in Alliance, is anticipated to be joined by an Aloft hotel in 2019.
Four Recently Opened or New Proposed Hotels in Fossil Creek and AllianceTexas

Sources: Hotel Brands, City of Fort Worth, HVS
HVS expects demand trends in the Fossil Creek area to increase modestly. However, reconstruction efforts along Interstate 35W are anticipated to end by the close of 2017, shutting off a major source of demand for lower-rated hotels in the Fossil Creek market.
Although the long-term outlook for the Alliance submarket is positive, supply increases in the short term may prove difficult for area hotel managers, as this submarket's supply is expected to more than double over the next few years.
The area's master-planned community, however, is home to some of the strongest commercial demand generators in the greater Fort Worth area. As such, the incoming hotels are anticipated to capitalize on existing demand that had previously been captured by neighboring submarkets.
Wrap-Up
Between multimillion-dollar, mixed-use developments, either in the works or up-and-running, and major upcoming events like the NCAA basketball tournament, which promises to draw tens of thousands, the outlook for Fort Worth's hotel industry is strong from a demand perspective. Developments like Panther Island are literally moving the earth, and AllianceTexas continues to extend its influence on the economy and hotel industry in the northern parts of the city.
This demand generation makes the expansion of proposed hotels into some of Fort Worth's outlying submarkets opportune. While occupancy may decline somewhat over the next several years as the new hotels are absorbed, the strength of Fort Worth's fundamental economic drivers and hotel generators should keep the market moving in a positive direction over the long term.