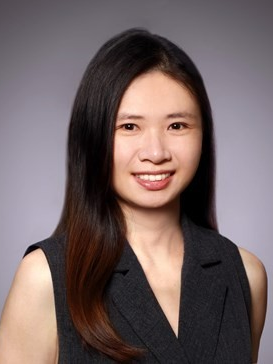 Country Overview
Vietnam is a coastal country located on the eastern edge of the Indochina Peninsula by the Pacific Coast of the Southeast Asian Region. It boasts 3,260 kilometres of coastline, which does not include the few offshore islands along its coastline. The country shares border with China to the north, and Laos and Cambodia to the west, equating to about 4550 kilometres of border. It is surrounded by the East Sea in the east and Southeast, and the bay of Thailand in the Southwest. Vietnam is home to more than 95.5 million people, making it the world's 15th most populous country. The Doi Moi (economic reforms) initiated in 1986 and accession to the World Trade Organisation in 2007 has led to giant leaps in Vietnam's economy.


Vietnam's Ten Leading Provinces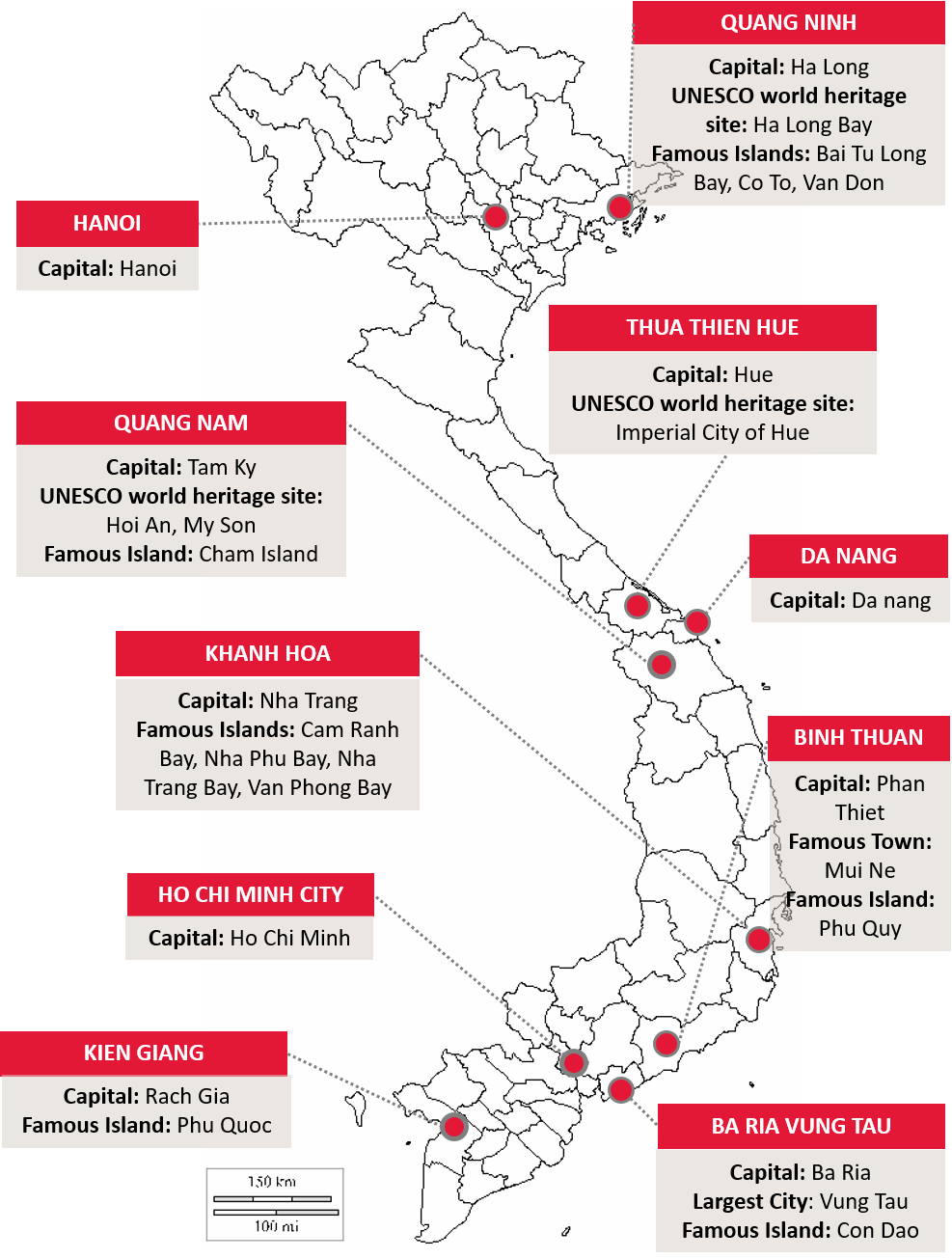 According to the World Travel & Tourism Council (WTTC) Travel and Tourism Economic Impact 2018 report, the direct and total contribution of Travel & Tourism to Vietnam's Gross Domestic Product (GDP) was 5.9% and 9.4% respectively, making tourism one of the key supporting industries for the economy.
In 2018, Vietnam's real GDP grew by 7.1%, from 2017's growth of 6.8%. Looking ahead, healthy domestic demand supported by strong private credit growth and rapid income growth will partly offset dimmer external demand conditions.
Underpinned by robust arrivals from South Korea and China, Vietnam's tourism sector have achieved a double-digit growth for the third consecutive year to reach a record high of 15.5 million in 2018, up 20% year-on-year (y-o-y) in international visitor arrivals (IVA).
Under Vietnam's Socio-Economic Development Strategy (2011-2020), the government seeks to focus on several key priorities for the year of 2019, including macroeconomic stability, quality and pace of economic growth, inflation control, productivity, trade, investment, and increasing the economy's competitiveness.
Macro-Overview
Vietnam's growth momentum remained robust in 2018 despite being a turbulent year globally. According to the World Bank, global economic growth is projected to lower for the next two years (2.6% in 2019 and 2.7% in 2020), gradually rising to 2.8% in 2021. Driven by the escalating trade tensions between US and China as well as rising production costs in China, Vietnam will remain as one of the low-cost alternatives for export manufacturing and fastest-growing Southeast Asia economies.
Figure 1: Economic Outlook

Source: Economist Intelligence Unit, September 2019
Economic Performance and Outlook
Vietnam's economy ended 2018 stronger than expected, recording a 7.1% real GDP growth for the year. The growth was supported by the export-focused manufacturing and processing sectors. Moving forward, the Economist Intelligence Unit (EIU) forecasts Vietnam's economy growth to soften to 6.9% in 2019. This is due to weaker global demand and rising trade protectionism.
Currency Exchange Outlook
EIU expects Vietnamese dong to continue the pattern of annual average of depreciation against the dollar in the near term due to the loosening of monetary policy by the US Federal Reserve and a slowdown in the US economy. The gradual tightening of monetary policy by The State Bank of Vietnam (SBV) will support the currency to appreciate.
Foreign Direct Investment
Vietnam's foreign direct investment is expected to register stronger inflows, anchored by the country's participation in several major free-trade agreements, the implementation of the Association of Southeast Asian Nations (ASEAN) Economic Community and several ASEAN-led bilateral deals. This is coupled with the recent entry as one of the eleven countries that will benefit from the Comprehensive and Progressive Agreement for Trans-Pacific Partnership.
Interest Rates
SBV is anticipated to follow a pro-active and flexible monetary policy in order to control inflation and support economic growth in 2019. Amidst higher inflation and stronger external sector growth, EIU expects SBV to raise interest rates from 2021.
Inflation
Vietnam's inflation rate remained at 3.5% in 2018 and is expected to subdue in the following two years. This is being driven by a downward trend in global oil prices. EIU expects inflation to moderate to an annual average of 3.3% in the next five years.
Infrastructure Developments
According to the World Economic Forum (WEF)'s Global Competitiveness Report 2017-2018, Vietnam ranked 75th out of 140 economies in terms of infrastructure development, 22th for airport connectivity, 107th for road connectivity and 109th for quality of roads. In 2017, the Vietnamese government has approved to invest VND30 trillion (USD1.32) billion to develop tourism and transport infrastructure at major tourist destinations. These various key projects will be highlighted below:
Air Infrastructure
Vietnam currently has 22 airports in operation with a combined annual capacity of approximately 77.5 million passengers, including the recently opened Van Don International Airport (Quang Ninh). Under the national aviation development plan until 2020, with a vision to 2030, Vietnam will spend USD3.7 billion to develop 23 airports with a design capacity of 144 million passengers by 2020 and another USD15.4 billion to develop 28 airports with a design capacity of 308 million passengers by 2030, including 10 to 13 international airports.
Key airport development projects include upgrading and expanding Noi Bai Airport (Hanoi) and Tan Son Nhat International Airport (HCMC). Some other airports to be upgraded under the plan include Cat Bi International Airport (Hai Phong), Chu Lai International Airport (Quang Nam), Phu Bai Airport (Thua Thien Hue), Phu Cat Airport (Binh Dinh), Vinh International Airport (Nghe An) and Tho Xuan Airport (Thanh Hoa). Most of these plans are expected to be completed by Q3 2019. Below highlights the project details of four main international airports:
Airports in Vietnam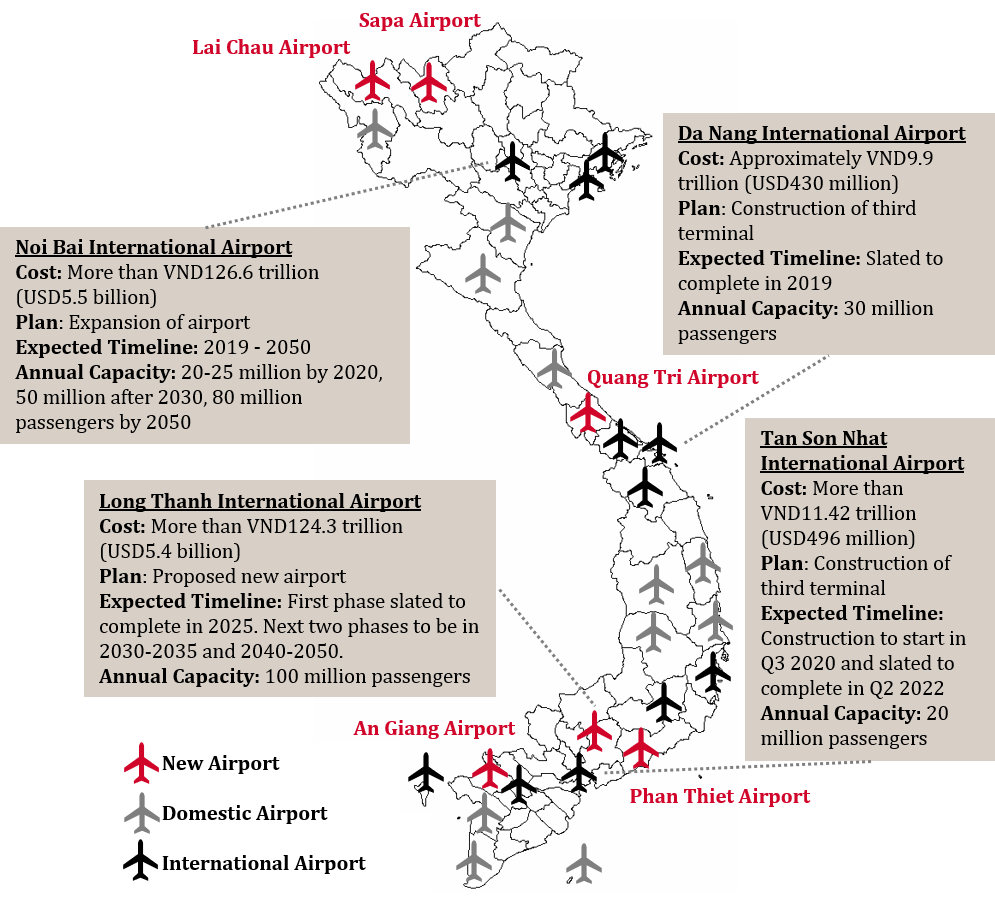 Source: Civil Aviation Authority of Vietnam, HVS Research
Rail Infrastructure
Based on Current Status and Development Strategy for Vietnam's Railway Transport up to 2020, vision to 2050, there are plans to renovate and upgrade seven existing railways. In addition, several railway lines have been proposed for construction in Vietnam including the North-South Express Railway, HCMC-Can Tho Express Railway, HCMC-Vung Tau Express Railway, Lao Cai-Ha Noi-Hai Phong Railway, Ha Noi-Dong Dang Railway, Hai Phong-Lach Huyen Railway, Di An-Loc Ninh Railway and Da Lat-Thap Cham Express Railway.
The governments of Laos and Vietnam have pledged to work together in the realization of the planned 555km railway line to link Lao's capital, Vientiane with Vung Ang Seaport in Vietnam. The feasibility study of the railway has been completed in 2017 and is expected to cost USD5 billion. In 2018, Cambodia and Vietnam have agreed to push forward the 255km Bavet-HCMC railway project. The new link will be part of a region-wide network under the Trans-Asia Railway (TAR) project by United Nations Economic and Social Commission for Asia and the Pacific (UNESCAP) to connect Asia and Europe. A plan for an expressway linking Phnom Penh with HCMC is also under discussion. Below highlights project details of new and upgrading railways:

Railways in Vietnam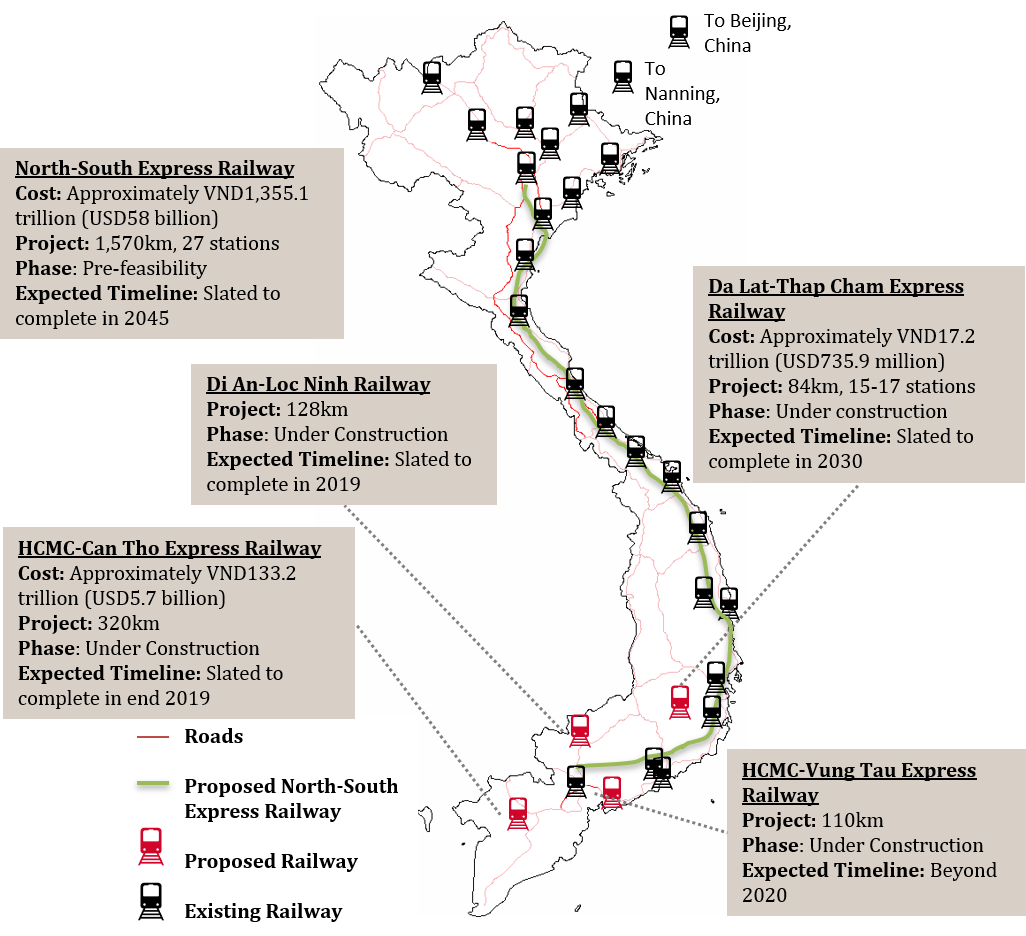 Source: Vietnam Railway Authority, HVS Research
Cruise Port Infrastructure
By 2020, Vietnam is expected to have 20 passenger ports with an estimated capacity of 5.52 million passengers per year. The larger ports of Vietnam includes Chan May Port (Thua Thien Hue), Halong Bay Port (Quang Ninh), Nha Trang Port (Khanh Hoa) and Tien Sa Port (Da Nang). Future ports under development includes My Thuy International Seaport, Lien Chieu Seaport, and Lach Huyen International Gateway Port. Vietnam National Administration of Tourism (VNAT) has recently expressed the urgency to upgrade its cruise port facilities to end the practice of ships berthing at unattractive container ports in order to compete with other cruise destinations in Asia. Below are some of the major ports in Vietnam:

Major Ports in Vietnam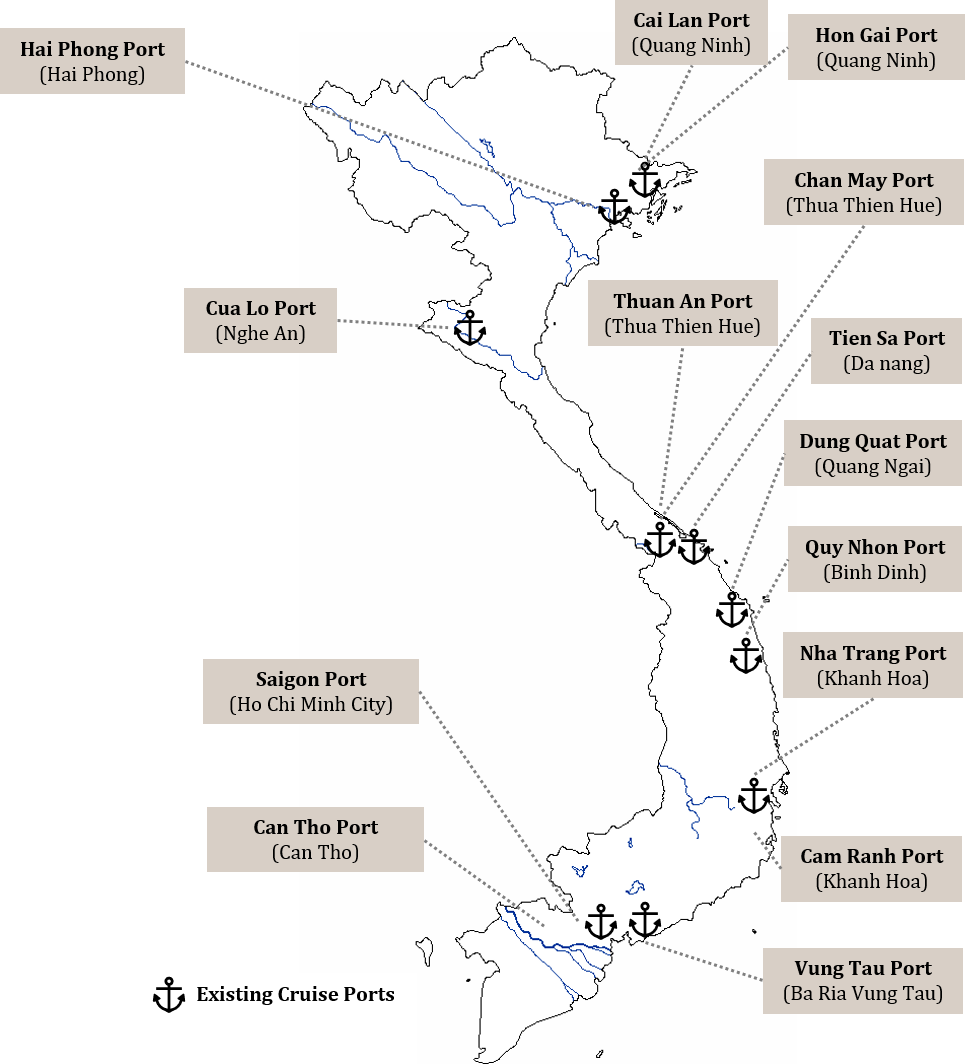 Source: Vietnam Inland Waterway's Administration, HVS Research
Tourism Market Overview
Vietnam, characterized by its coastlines and diverse terrains, attracted 15.5 million international tourists and 80 million domestic tourists in 2018. IVA and tourism receipts (TR) increased by 19.9% and 21.4% respectively, mainly attributed to large-scale promotion efforts by tourism authorities, an increase in flight connectivity and travel demand. In early December 2018, a plan has been approved to restructure Vietnam's tourism industry into a spearhead economic sector. The plan involves an effort to create a digital database of tour guides, travel agencies, lodging providers nationwide, as well as tourist destinations and tourists by 2020. From 2020, Vietnam International Tourism Fair will be held in April annually, in either Hanoi or Ho Chi Minh City to showcase Vietnam's destinations.
International Visitor Arrivals and Tourism Receipts
The consistent positive growth in arrivals from 2013 to 2018 has translated to a five-year compounded annual growth rate (CAGR) of 15.4%. In 2018, TR rose by 21.4% to VND620 trillion (USD27 billion).
The Tourism Ministry aims to achieve 18 million arrivals and generate a target of USD30 billion in TR by 2019, which translates to a y-o-y increase of 16.1% and 11.3% from 2018 respectively.
Tourism strategies outlined in Vietnam's tourism development vision includes the development of tourism products, development of infrastructure and technical facilities, training of human resource for tourism, boosting tourism promotion, development of tourism brands and tourist markets, supporting investments and policies, expanding international cooperation and strengthening state management.
Figure 2: International Visitor Arrivals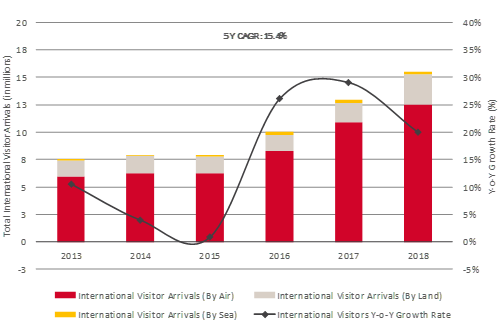 Source: VNAT
International Source Market
Vietnam's top five international source markets in 2018 remained similar to 2017. The top five source markets made up 68.9% of all IVA in 2018, with China (32.0%) as the largest in-bound market, followed by South Korea (22.5%), Japan (5.3%), Taiwan (4.6%), and USA (4.4%). Boosted by increased flight connectivity, South Korea has showcased robust performance with the highest growth rate of 44.3% in 2018. As a result, tourist arrivals from the top five source markets increased by 26.4% y-o-y. Among the top 5 source markets, China and Taiwan have also registered strong growth of 23.9% and 15.9% respectively. Visitors from Hong Kong registered a record high in y-o-y growth of 30.4% in 2018. An increasing number of direct flights between Vietnam to major Chinese cities is expected to continue to spur travel demand.

Figure 3: Top Five Source Markets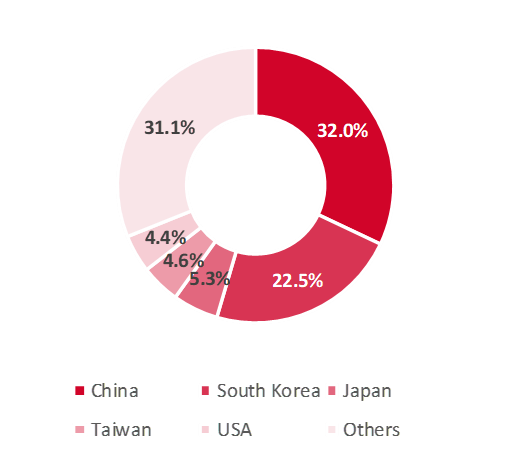 Source: VNAT
Hotel Market Overview
Tourist Accommodation Establishments Supply
In 2018, Vietnam counted a total supply of 28,000 tourist accommodation establishments with 550,000 rooms. The growth rate of room supply from 2014 to 2018 has translated to a four-year compounded annual growth rate (CAGR) of 13.5%.
Compared over the past 5 years, the supply of 5-star hotel rooms in Vietnam has registered the highest y-o-y growth rate of 40.4% to reach 48,370 rooms in 2018 while the supply of 4-star hotel rooms has recorded a y-o-y growth rate of 8.3% to reach 36,555 rooms.
In 2018, Vietnam's hotel market has experienced a decline in occupancy rate (-2.5 p.p.). This is mainly attributed to the huge supply over the past few years. Approximately 88,000 rooms (+20.95%) and 42,000 rooms (+8.27%) came into supply for 2017 and 2018, respectively.
Figure 4: Tourist Accommodation Establishment Supply (2014-2018)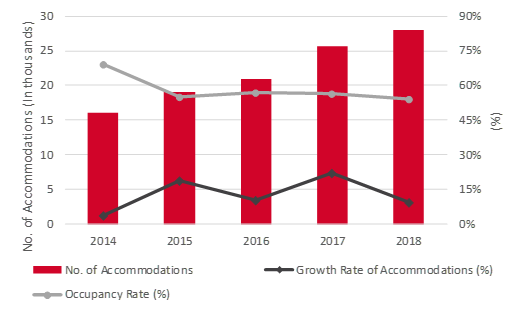 Source: VNAT
Rated-Hotel Room Supply in the Ten Leading Provinces
In Vietnam, hotel rooms are divided into two categories: classified and non-classified. The classified hotels will be rated between 1- and 3-star by respective tourism authorities in each province while 4- and 5-star will be rated by VNAT.
While non-rated hotel rooms still dominate the existing supply throughout the provinces, there have been a concerted effort from tourism authorities to attract international hotel brands. Furthermore, there have also been an increasing interest from these hotel operators in Vietnam's growing market.
In 2018, rated-hotel rooms in the 1-, 2- and 3-star hotel segment dominated the existing supply throughout the ten provinces, while the 4-star hotel segment accounted for 16.9% of total room supply, ranking last.

Figure 5: Existing Rated-Hotel Room Supply – Ten Leading Provinces
Source: VNAT
*Quang Nam Province: Includes 4- and 5-star existing rated-hotel room supply only
Future Supply
HVS tracks that the future hotel supply in Vietnam is expected to grow significantly by 125 hotels with approximately 44,880 rooms for the next five years.
This is mainly led by the ten leading provinces as analysed in this report. The future hotel supply in these provinces will increase by approximately 40,686 rooms distributed amongst 107 hotels.
With an anticipated CAGR of 10.0% from 2018 to 2023, the upscale segment shows the highest upcoming room supply with approximately 22,250 rooms in Vietnam. However, looking at absolute numbers however, the midscale segment will continue to be dominant.
Figure 6: Future Hotel Supply by Segment (2019-2023)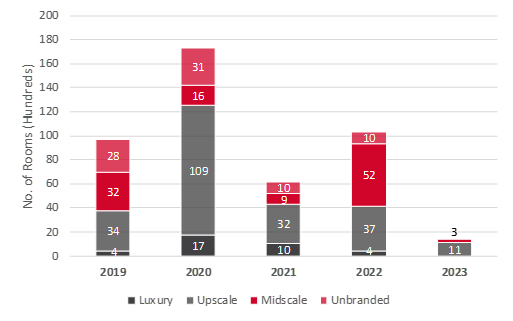 Source: HVS Research
Figure 7 highlights the strong increase in room supply in Vietnam's leading provinces. Ba Ria Vung Tau province registered the highest five-year CAGR of 11.6% from 2018 to 2023 while Khanh Hoa province reflected the highest absolute number of additional rooms (9,071) with a CAGR of 5.6%.
Branded hotel supply represents 80.7% of the total new room supply, with majority being in the upscale and upper upscale segments. An increasing number of branded hotel operators such as Absolute Hotel Services, AccorHotels, Hilton Worldwide and Marriott Worldwide in particular, are gearing up for the rise in travel demand. The table below depicts the five-year CAGR of hotel room supply for each provinces:

Figure 7: Future Hotel Supply – Ten Leading Provinces (2019-2023)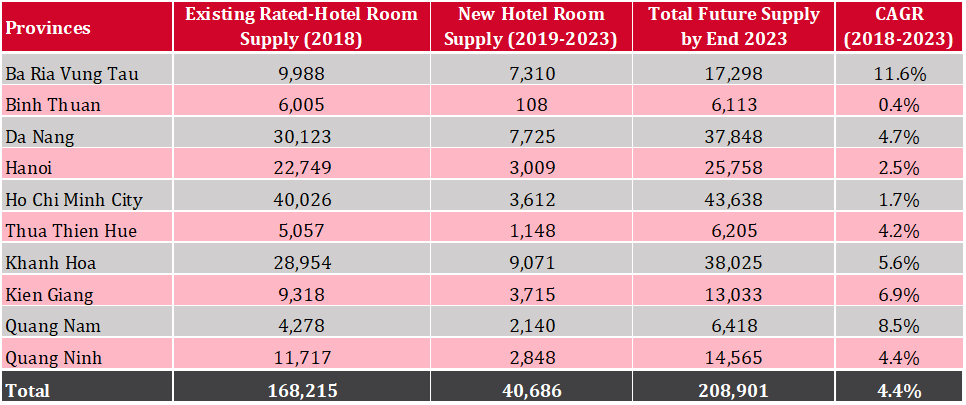 Source: HVS Research, VNAT
*Quang Nam Province: Includes 4- and 5-star existing rated-hotel room supply only

Figure 8: Overview of the Ten Leading Provinces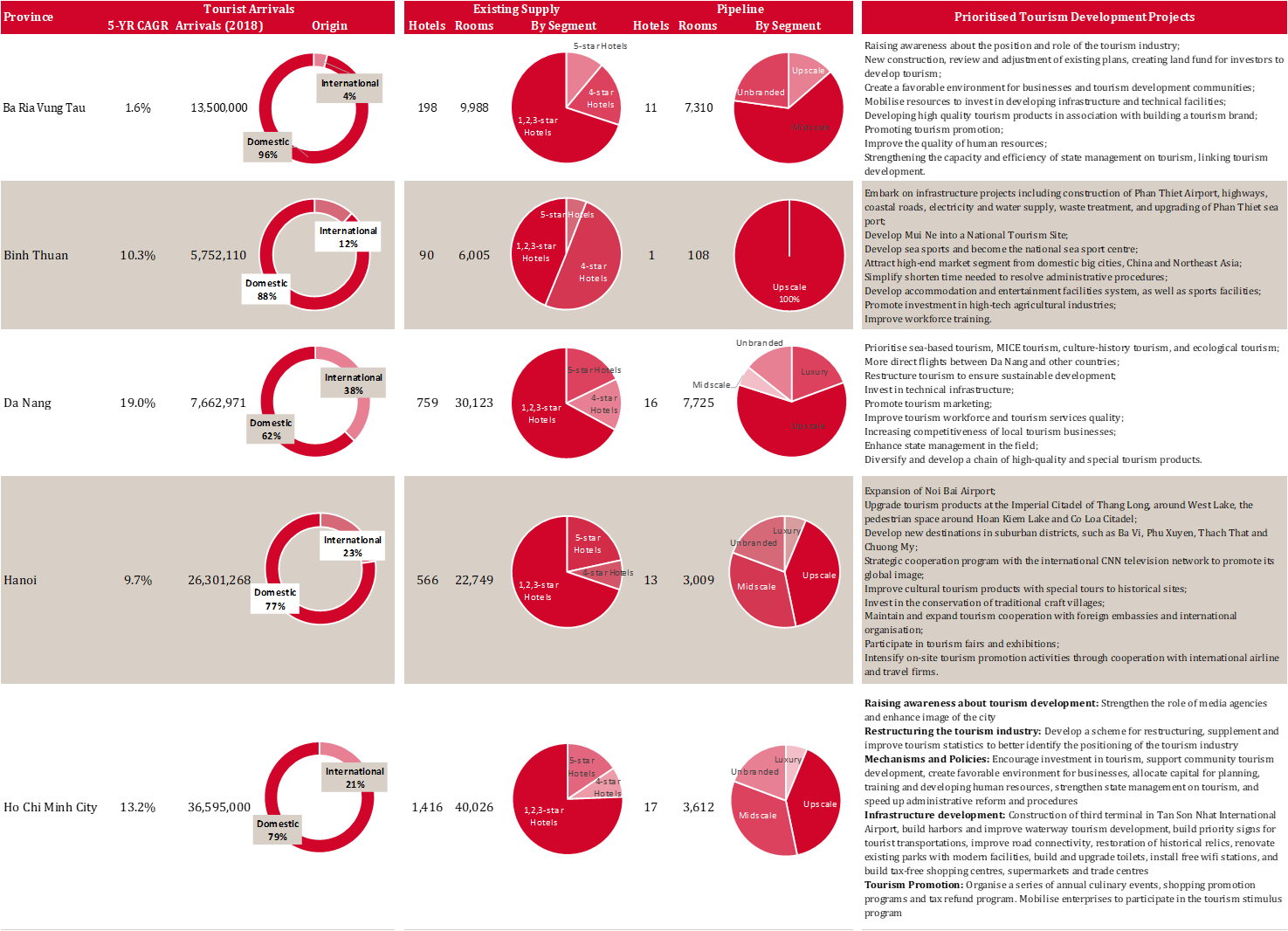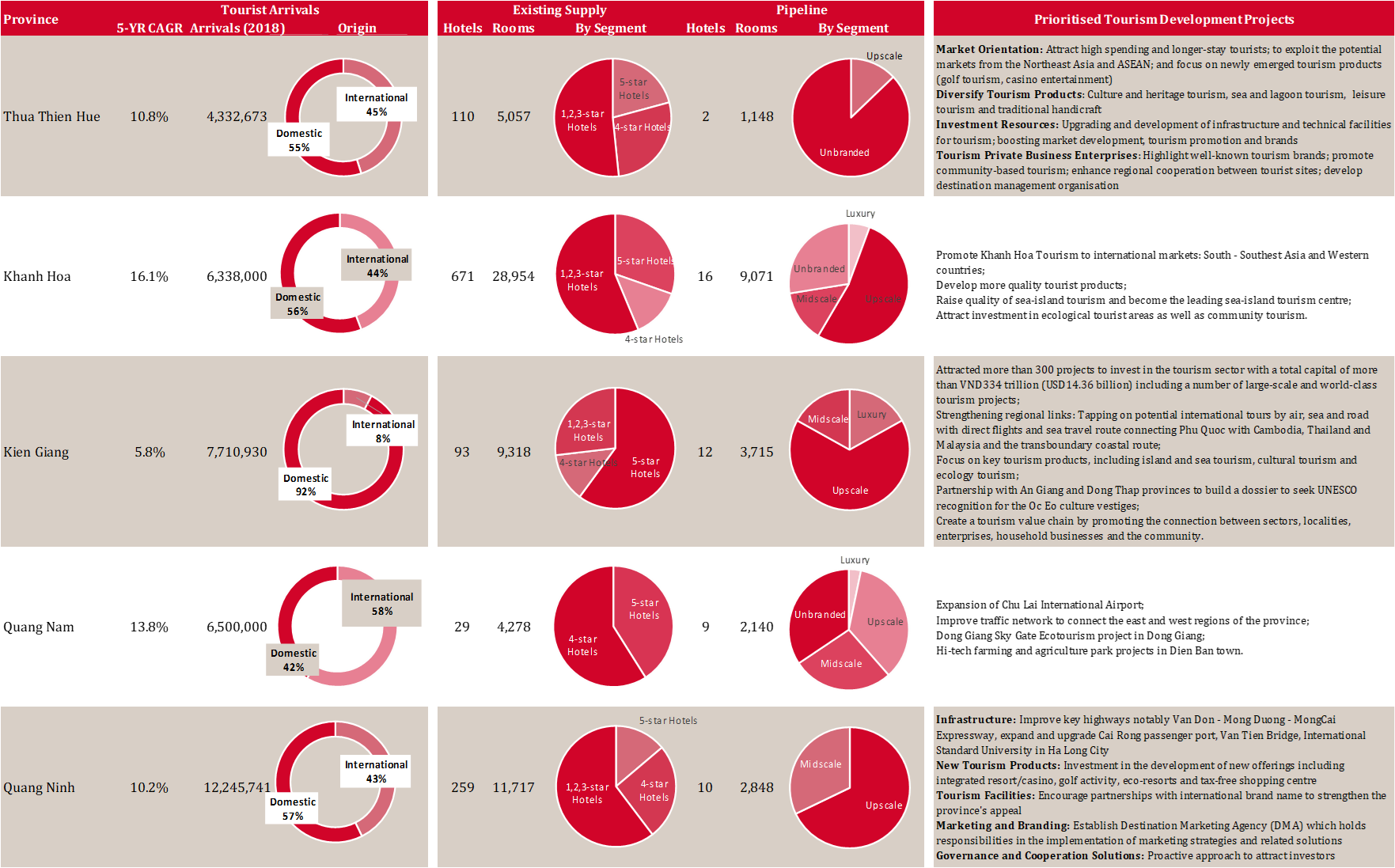 Source: HVS Research, VNAT
Hotel Transactions and Investment
Since the record high of hotel transaction volume in 2016, hotel investment has been limited in 2017 and 2018. Based on publicly available information, HVS notes that there are a total of eight, three and one hotel transactions in 2016, 2017 and 2018, respectively. However, two of these properties in 2017 and one property in 2018 were transacted at an undisclosed sum.
Transactions in Year-To-Date (YTD) September were:
Long Beach Resort Phu Quoc at VND476.07 million (VND4.03 billion per key)
Intercontinental Hanoi West Lake Hotel at VND1.66 trillion (VND5.22 billion per key)
While new hotel developments are on the rise with increasing interest from investors in the market, hotel transactions in Vietnam remained limited in 2018. This is due to the scarcity of hotel supply and the unwillingness of owners to dispose properties. Over the past five years, hotel transactions have been fairly distributed among domestic and foreign buyers. Strong economic growth, expanding middle class, rapid urbanisation and growth as a tourism destination are some of the factors that have fuelled the appetites of foreign investors from Malaysia, Japan, Singapore, South Korea and Thailand.
Figure 9: Vietnam Hotel Transactions (2014 - YTD Sep 2019)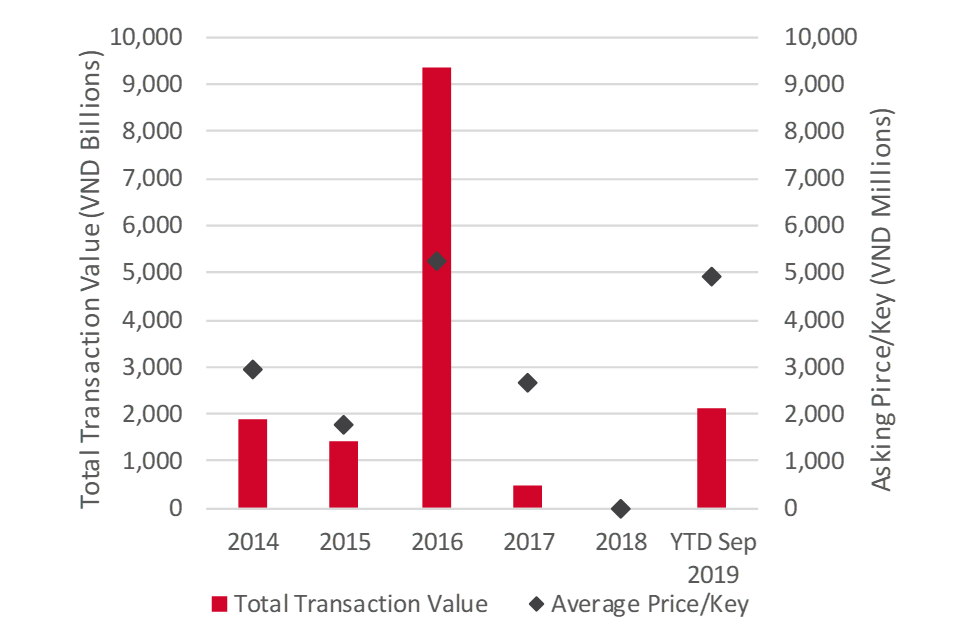 Source: HVS Research & Real Capital Analytics (RCA)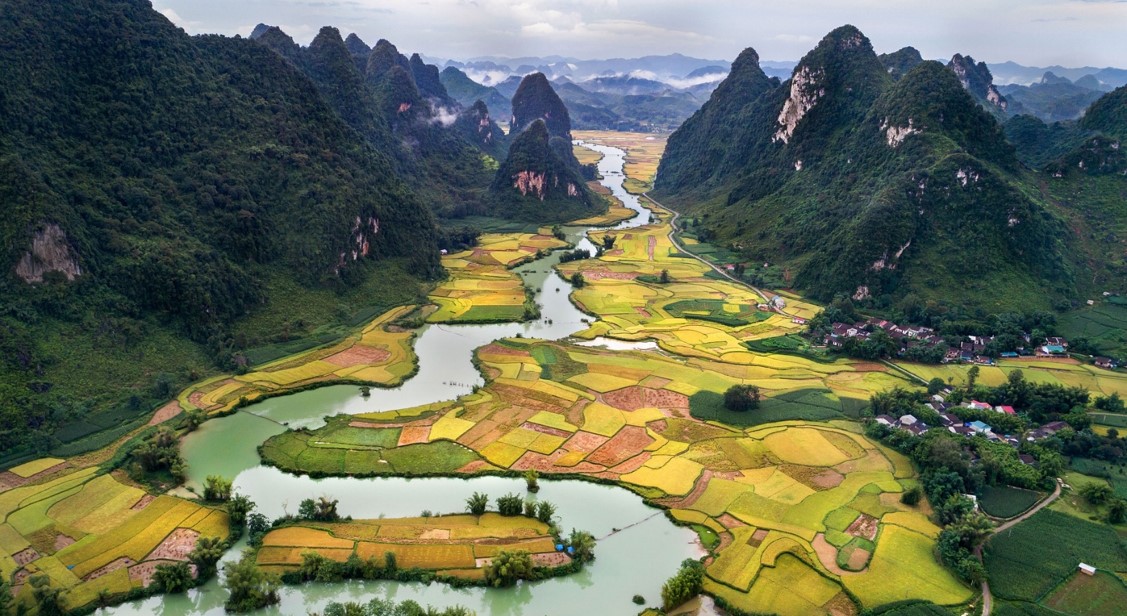 Outlook
Tourism authorities' joint efforts including diversification into international hotel brands, promotion of ecotourism, environmental protection, development of new tourism products, new market orientation towards higher spending tourists, infrastructure improvements, increased tourism awareness, improvement in quality of human resources and easing in regulations for investing in tourism-related business will prove to be an attractive sector for potential investors.
To drive the tourism sector, the government has approved the establishment of a VND300 billion (USD12.9 million) tourism development fund for promotional activities, national strategy and development planning.
In addition to funding activities, the government has also relaxed visa policies by extending their existing policy of allowing visitors from 46 countries to enter Vietnam for 30 days with a single-entry electronic visa until 2021.
Overall, growth in international visitors is expected to continue in the midst of rapid progression and transformation.
Development of Vietnam's tourism through 2020, with a vision toward 2030
Market Orientation
Strongly develop domestic tourist markets by encouraging expansion of specialised tourism markets and business tourism.
Strongly develop international tourist markets such as:
Northeast Asia (China, Hong Kong, Japan, Republic of Korea and Taiwan)
ASEAN (Thailand, Malaysia, Indonesia, Singapore, Laos and Cambodia)
High-class traditional markets (Europe, North America, Oceania)
New Markets (India and Middle East)
Tourism Product Development
Strongly develop main products such as:
Marine tourist products and coastal islands
Cultural tourist products and culinary tourism
Eco-tourist products
Integrated tourist destinations
Diversify products such as:
MICE (Meeting, Incentive, Convention and Exhibition) tourism
Urban tourism
Educational tourism
Sports tourism
Medical tourism
Cruise tourism
Aesthetic tourism
Investment Priorities
Modernise tourism infrastructure
Develop competitive tourist products and national tourist brands
Tourism human resources
Natural resources and protection of tourist environment
Enhance travel services by stepping up tours linking tourist attractions
Expand and improve the quality of tourist accommodation establishments
Expand and develop high-class recreational and entertainment services
Raise status of Vietnamese culinary culture with chains of branded restaurants in international market
Tourism Space Development
Further develop less well-known tourist sites in seven regions including:
The northern midland and mountainous region (Xin Man, Sin Ho, Na Hang reservoir, Cam Son reservoir, Son La reservoir)
The Red River delta and northeastern coastal region (Xuan Thuy national park, Dong Chau, Bach Long Vi)
The northern central region (Cam Luong fish cave, Ben En national park, Pu Mat national park, Huong temple, Con Co, etc.
The southern central coast
The central highlands region (An Khe pass relics and Buon Me Thuot city and its vicinity)
The southeastern region (Thac Mo -Ba Ra, Binh Chau, Phuoc Buu and Dinh mount)
The Mekong River Delta area (Ba Dong and Vinh Long)
Policies
Provide soft loans for approved priority projects
Offer incentives applicable to export production and business lines to international tourism business
Adopt appropriate tax policies
Provide budget funds for market research activities
Increase budget funds for tourism promotion and advertisement activities
Reform entry and exit procedures to be more convenient for tourists
Develop community tourism, responsible tourism and green tourism
Encourage intra-regional and inter-regional association
Concentrating funds for building infrastructure in tourist zones
Mobilizing capital sources to the fullest use
Develop a network of tourism training institutions
Formulate standards and associate training institutions with tourism businesses in providing training
Form tourism promotion and advertising centers in key tourist localities and overseas markets