"
We are proud to inform the world that the Caribbean region is open for business, both from a visitation and investment standpoint
," shares Mr. Parris E. Jordan, Chairman of the Caribbean Hotel Investment Conference & Operations Summit (CHICOS). Caribbean-wide visitation has increased every year since 2010 peaking in 2016, and the trend continues into 2017. Despite the impact of Hurricanes Irma and Maria, which exhibited a notable decline to arrivals in the month of September, the market has proven to be resilient. During the year to date period through September 2017, as compared to corresponding period in 2016, demand levels have increased 2.0% and average daily rate has also increased almost 2.0%. In light of the recent hurricanes Maria, Irma, and Harvey, some key speakers at CHICOS expressed that the effect will be short term and the market will rebound despite the impact of the storms that hit the region.
Jordan along with Leading Property Group's George Spence, and STR's Jan Freitag shared these points and more during the Opening Caribbean Overview Presentation at the CHICOS Conference, November 9-10, 2017 at the Hamilton Princess in Bermuda. CHICOS welcomed nearly 300 attendees as well as 30+ sponsors which represented every major hotel brand in the region and several Caribbean island nations determined to connect with prospective investors and hospitality experts.
Based on the current market situation, discussion panels and workshops at CHICOS 2017 focused on key subjects impacting the investment climate in the Caribbean including available capital, financing of new projects, and new market opportunities for developers who are interested in pursuing deals in the region. Other key discussions included assessments of hurricanes and the Caribbean hotel industry, best practices to provide and market guest experiences, hotel design strategies, and the importance of public perception of Caribbean islands as individual entities, instead of a whole.
With the increasing level of news regarding uncertainty and instability in the Caribbean region, Spence and other key speakers contended that travel is growing faster than underlying GDP, making the sector significantly more attractive. Despite the storms, the Caribbean industry leaders take them as an opportunity for updating hotels and carrying out capex and renovations. From this, most hotels emerge months later in better condition than before. The region is serving as a viable prospect for new hotel developments in addition to the many that have already been completed. According to Spence, key players can "expect continued new-build development, re-positioning of existing hotels, and sales."
"
The Caribbean market maintained its average daily rate despite decreases to demand in September and appears to have learn lessons from prior times
." adds Jordan. "
The performance of all relevant metrics (ADR, Occupancy, and RevPAR) are still strong and the region will emerge better with renovated and new assets as well as improved infrastructure, welcoming tourists and investors
."
CHICOS 2017 panels and sessions were impressive as well. Among the notable speakers who attended:
The Honorable Premier of Bermuda E. David Burt, JP MP, and Minister of Finance
The Honorable Jamahl Simmons, JP, MP, Minister of Economic Development & Tourism – Government of Bermuda
Geoffrey Ballotti, President and CEO - Wyndham Worldwide
Alex Zozaya, CEO - Apple Leisure Group
Diego Lowenstein, CEO – Lionstone Development
David Pepper, Chief Development Officer – Choice Hotels International
Bill Stadler, Chief Investment Officer – Aimbridge Hospitality
Kevin Dallas, CEO - Bermuda Tourism Authority
Kevin Frid, COO, North America, Central America & the Caribbean – Accor Hotels Group
Alessandro Colantonio, Executive Vice President, Acquisitions & Capital Markets - Gencom
Isabel deCaires, Associate Director, Investment Banking - CIBC First Caribbean International Bank
Mark Durliat, CEO & Principal - Grace Bay Resorts
Erik Eveleigh, Director - Luxury Development USA, Canada & Caribbean - Hilton Worldwide
Alejandro Acevedo, Regional Vice President, Development, Mexico & the Caribbean - Marriott International
Adam Rosenberg, Global Head of Gaming & Leisure - Fortress Investment Group - Credit Funds
Shawn Sullivan, Public Policy, Caribbean and Latin America – AirBnB
Hari Nair, Global Senior Vice President – Expedia Media Solutions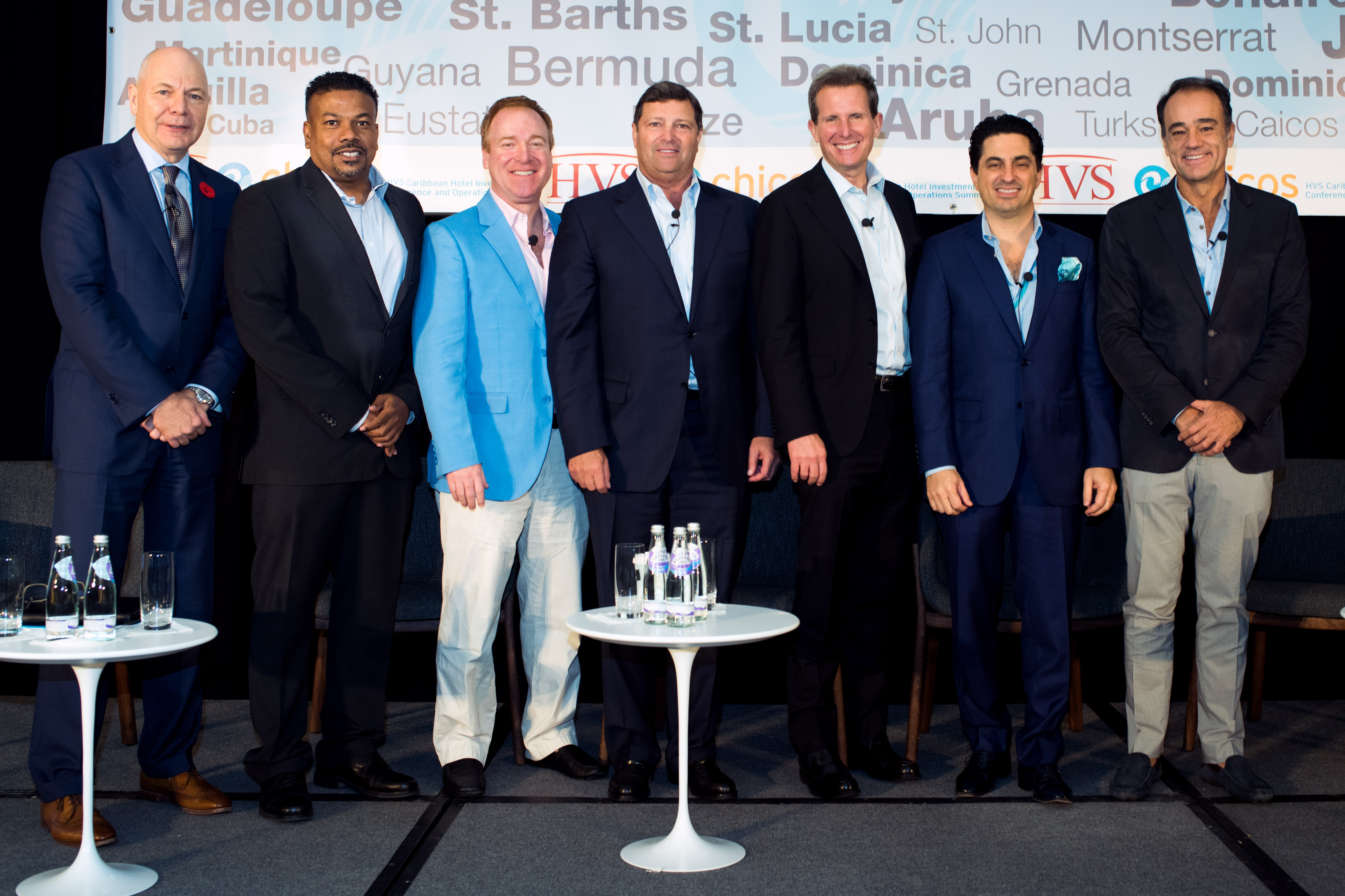 Pictured left to right: David Larone, Senior Managing Partner – CBRE Group, Parris Jordan, Chairman – CHICOS, David Pepper, Chief Development Officer – Choice Hotels International
Bill Stadler, Chief Investment Officer – Aimbridge Hospitality, Geoff Ballotti, President & CEO – Wyndham Worldwide. Diego Lowenstein, CEO – Lionstone Development, Alex Zozaya, CEO – Apple Leisure Group
CHICOS Media Contact:
Leora Halpern Lanz, Principal
LHL Communications, Inc
+1-516-680-8529
[email protected]
SKYPE: LeoraLanz