Southampton, Bermuda:
The 2018 edition of the Caribbean Hotel Investment Conference & Operations Summit (CHICOS) concluded last week with energetic and renewed interest in the region, as well as optimism, as displayed by a notable presence of lenders and banks eager to meet with developers.
As CHICOS Chairman Parris Jordan noted, "In 2017, our region was struck with two catastrophic weather events just after the fears of Zika were subsiding. In some markets, after severe storms, hotel values tend to decline, creating opportunities for buyers to make more affordable purchases; however, this was not the case for the Caribbean lodging market in 2018. Interestingly, we are seeing even greater interest among lenders to finance projects, more so than in the past ten years. This was evidenced in our equity and debt-financing panels.

The islands of Anguilla, British Virgin Islands, Puerto Rico, and St. Barts have demonstrated a relatively fast recovery and have most of their hotel and villa rental inventory available for this upcoming peak season. The islands of Dominica, St. Martin/Maarten, and the United States Virgin Islands continue their recovery efforts, albeit at a slower pace; limited inventory is still available on these islands as they continue to rebuild. Despite the challenges stemming primarily from the Zika Virus, which affected the region in 2015/16, as well as the 2017 hurricane season, the market continues to be resilient, as demonstrated by the strong hotel operating performance, occupancy, ADR, and RevPAR levels over the last few years.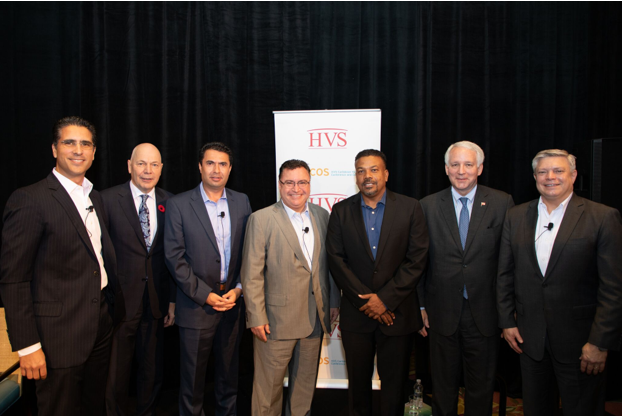 From left to right: Fernando Mulet, Senior Vice President – Playa Hotels & Resorts | David Larone, Senior Managing Director – CBRE Group | Alejandro Acevedo, Vice President of Development – Marriott International | Marco Roca, President Global Development & Chief Development Officer – Caesars Entertainment | Parris Jordan, Chairman – CHICOS | Phil Keb, Executive Vice President, Development – Gencom | Ken Greene, President, Americas – Radisson Hotel Group

Other takeaway messages from this year's CHICOS:
There is a noticeable uptick of interest in development of the all-inclusive model in the region, particularly in the Dominican Republic.
More capital is available for investor lending in the Caribbean region at this point in the development cycle.
Total revenue increased eight of the nine months reviewed during 2018, compared to the same period in 2017; occupancy increased slightly; ADR grew more than 5% for the last five months (May through September 2018); and RevPAR increased 3.8% over the same period last year.
Aruba, Curacao, Cayman Islands, Dominican Republic, Jamaica, and Puerto Rico are among the strongest performing islands in terms of year-to-date RevPAR growth, with the Cayman Islands leading the charge, up over 27% from the same period last year.
The first-ever CHICOS (soccer) Showdown was held on the first day of the conference. Executives from HVS, KPMG, global hotel brands, banks, and governments, as well as other attendees, participated in the hour-long match. With a final score of 3-2 (HVS taking the trophy), money for each goal was donated to the Rotary Foundation, an organization with a history of assisting Caribbean nations impacted by hurricanes. The Foundation provides necessities such as water, canned food, and clothing, and was named by CNBC as one of the Top 10 Charities in the World.
CHICOS 2019 is scheduled for November 14–15, 2019, at the Secrets Resort in Montego Bay, Jamaica.