New York, NY, June 4, 2020: HVS Executive Search announces the promotion of Rachel Levitt to Senior Vice President in North America. Rachel works with a diverse hospitality client base which includes hotel management, private equity, restaurant brands and hotel real estate companies and has had great success. Prior to joining HVS, her experience included finance, business development, and project management roles with companies ranging from Fortune 500 to entrepreneurial ventures.

Court Williams, CEO, HVS Executive Search shares, "Rachel has been a very strong contributor to the growth and success of HVS Executive Search since she joined us in 2012 and has proven to be a strategic advisor to our clients and a mentor to her colleagues. Rachel's business and emotional intelligence has enabled her to have great success in the challenging world of executive search. I could not be prouder to have Rachel on the HVS Executive Search team and look forward to working together for many more years to serve our clients and build our search practice."

Rachel graduated magna cum laude with a Bachelor of Arts from the University of Michigan and earned an MBA from Columbia Business School in Leadership and Management Strategy. She is a founding member of the school's Innovation and Creativity in Business Society and remains active in the Real Estate and Hospitality Alumni groups. Rachel is also passionate about helping students discover and pursue their career dreams and volunteers as a career coach and mentor.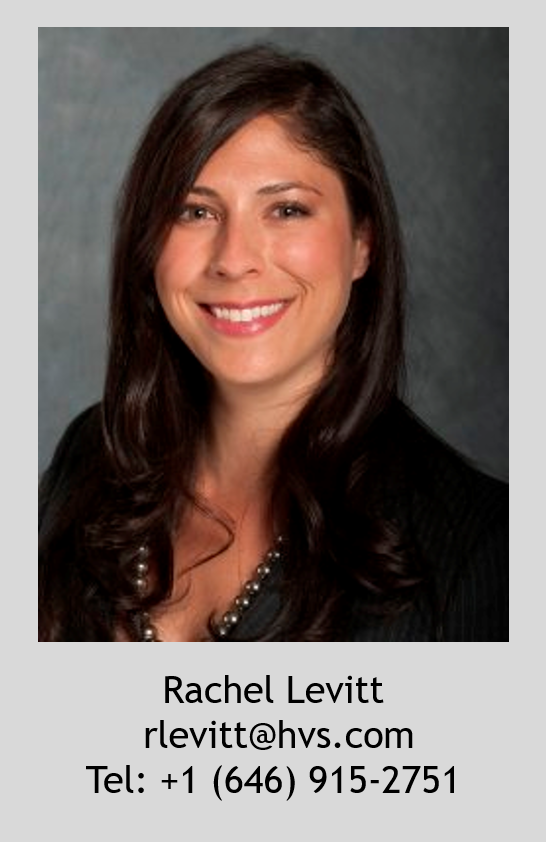 About HVS Executive Search
Over the years, HVS Executive Search has established its reputation as the premier human capital advisory services firm, specializing in senior-level executive search and mid-management recruitment as well as organizational development strategies for the hospitality industry. HVS Executive Search Partners are recognized and revered as being industry experts in their respective regions.
About HVS
Hotel owners, developers, investors, lenders, management companies, and public agencies around the globe rely on HVS's life-cycle consulting expertise to make informed business decisions. Our commitment to excellence and unrivaled hospitality intelligence is delivered by more than 300 people in over 50 offices around the world who specialize in a wide range of hospitality assets including hotels, restaurants, casinos, shared-ownership lodging, mixed-use developments, spas, and golf courses, as well as convention, sports, and entertainment facilities.
Media Contact:
Court Williams
CEO Executive Search
[email protected]