London-based Redefine International has purchased the DoubleTree by Hilton Hotel Edinburgh City Centre, in Scotland, for £25.27 million (£183,100 per room). The five-storey, 138-room hotel is to be let to Redefine Hotel Management Ltd. The sale, which also includes the separate heritable title of the Chanter public house in the building's ground and basement floors, represents a net initial yield of 6.9%. Commenting on the deal, Redefine International's chief executive officer, Mike Watters, said, "The transaction was structured on a conditional basis subject to a no vote in the Scottish referendum. Now that the uncertainty surrounding this has been removed we are very pleased to have secured this opportunistic investment…"
A consortium of investors has acquired the Savoy Hotel in Limerick, southwest Ireland, along with 84 residential apartments and six retail units, for more than €17 million (around €180,800 per room), €3 million above the asking price. The 94-room, purpose-built hotel, which first opened in 2007 as the Limerick Marriott, was put on the market in June. The consortium of buyers is said to include Ronan Brannigan and Michael Roche, who currently manage the five-star hotel.
HVS London has released two new articles this week. London associate Christof Bertschi has published Trends and Opportunities: Israel Hotel Market Overview, which reports that Israel's hotel market has shown encouraging growth with occupancy rising to 70% in 2013. Recent tension and conflict in the region will have an impact on this year's performance, but HVS is confident the hotel sector will show a swift recovery once international visitors return. Download the report here. Additionally, senior associate, Harry Douglass has released a study on European golf investment. In Focus: Golf Resort Investment – Doing the Rounds focuses on transactions across Europe since 2008, which demonstrate a structural change in the ownership market. The report reveals how hotel investors are renewing their interest in golf resorts, with 2014 seeing more than €386 million-worth of major single asset transactions. Click here to download the article in full.
New York-based Masterworks Development Corporation, the group behind the Club Quarters chain, has purchased the freehold interest in Bavaria House, the London headquarters of German bank, Bayern LB, for £50 million. Under the terms of the deal, Bayern are to lease back the building for one year, after which Masterworks will to redevelop the site, possibly into the city's fifth Club Quarters hotel. The group currently has 17 Club Quarters properties in operation across the USA and London.
InterContinental Hotels Group (IHG) has signed management agreements with Hotelgal SA, a subsidiary of Global Hotels & Resorts, for two new hotels in Portugal. The 331-room InterContinental Lisbon will open first, in just a few weeks' time. First built in 1984, the hotel started life as a Le Méridien property and became the Tiara Park Atlantic Lisbon Hotel in 2008; the building, which is to undergo a renovation of its lobby and public areas, is in a residential area, between Lisbon's historic Old Town and the financial district. The 232-room Crowne Plaza Porto will follow, opening later this autumn following a refurbishment. Formerly the Park Atlantic Hotel Porto, the property is in Porto's business area, on Avenida da Boavista.
After making its debut in Turkey earlier this year with the 134-room Clarion Hotel & Suites Istanbul Sisli, US-based Choice Hotels International is continuing its expansion across Europe by signing its second hotel in the country. The Clarion Hotel Istanbul Airport North is due to open in 2015. As with the Sisli property, the 237-room hotel is owned and will be operated by Aktas Turizm Insaat A.S.
Following its acquisition of Kingsmead House, in the city of Bath, southwest England, for an undisclosed sum, Edinburgh-based Apex Hotels plans to develop a 177-room hotel on the site. The building came with planning permission in place and Apex is to invest £35 million in the project, which will see the demolition of the existing empty building and the construction of an eight-storey, four-star hotel. Work is to start on the hotel in May 2015. "This is a rare and exciting growth opportunity for Apex to add to our portfolio and have a presence in a popular Unesco World Heritage Site," commented Apex's chairman, Norman Springford.
Spanish group NH Hoteles has signed an agreement with investment firm ATEMI SAS for a hotel in the port of Marseille, southeast France. The 176-room NH Collection Marseille will occupy a building on La rue de La République, in the city centre; the property is currently undergoing a renovation and the hotel is due to open in 2017 as the group's third hotel in France and its first in Marseille.
Wyndham Worldwide is to open its first Wyndham-branded hotel on the African continent and its second property in Kenya, East Africa. The group has signed a management agreement for the Wyndham Amboseli Golf Resort and Spa. The 290-room resort, set on a 400-acre site, is expected to open in 2017 on the border of Amboseli National Park, 160 km from the capital, Nairobi, and will include an 18-hole golf course, a conference centre and a spa. The group's first hotel in Kenya, the 89-room Ramada Nairobi, is due to open by the end of the year.
It was reported this week that Mauritian group Sun Resorts is to acquire a 50% stake in the 98-room Anahita Hotel, on Mauritius' east coast, for US$29.64 million. Sun Resorts currently operates six hotels – five on the island of Mauritius and one in the Maldives.
Carlson Rezidor Hotel Group has announced a new property for Dubai. The Park Inn by Radisson Residence Dubai Jumeirah Village Triangle is expected to open during the second quarter of 2017 on Sheikh Mohammad bin Zayed Road, as the group's 14th hotel in the emirate. The 29-storey hotel, which is being developed by UAE-based Aqua Properties, will have 261 studios and one- and two-bedroom apartments.
Minor Hotel Group is expanding its presence in the Middle East with a new luxury property in Dubai. The Thailand-based group has signed an agreement with Dubai Properties (DP) to operate a 270-room hotel in the emirate's Culture Village development. The hotel, DP's third project in Culture Village, is scheduled to open at the beginning of 2018. "With a well-established and well known portfolio of hotels in resorts in Dubai and Abu Dhabi, further growing our footprint in the UAE is of key strategic importance to Minor Hotel Group," said, Dillip Rajakarier, the group's chief executive officer.
Paramount Hotels & Resorts and Damac Properties have announced their fourth project in Dubai. The Paramount Hotel Dubai, Downtown is due to open in 2018. As well as three other hotels planned for Dubai (the four-tower Damac Towers by Paramount Hotels & Resorts, due to open in 2016; the Paramount Hotel, Jumeirah Waterfront; and the Damac Villas by Paramount Hotels & Resorts), the duo are also working on a project in Saudi Arabia (the Damac Tower by Paramount Hotels & Resorts, Riyadh). Dubai-based Paramount Hotels & Resorts was created in 2012 in order to establish a chain of Paramount-branded hotels and residences under a licensing agreement with Paramount Pictures film studios. The group now has six properties overall in its pipeline across the Middle East, China and Malaysia.
Mövenpick Hotels & Resorts has signed a management and operating agreement with El Housein Ltd for its seventh property in Dubai. The 246-unit Mövenpick Hotel Apartments Downtown Dubai is expected to open in 2017, in proximity to Dubai Mall.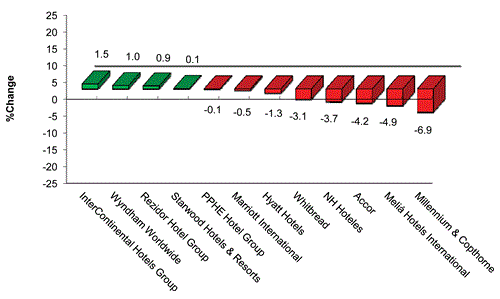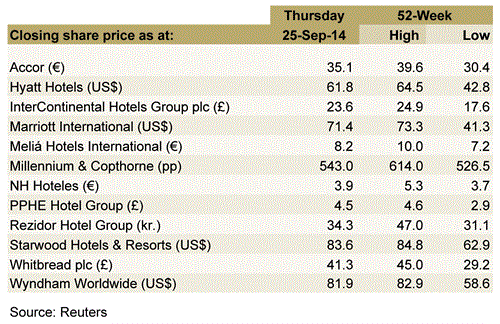 Accor – Increased its seven-year bond issue by €150 million.
Millennium & Copthorne – Listed in the Sunday Times' Top 200 Companies.
InterContinental Hotels Group – Dropped 2.1% on robust volume during the past week.
Superior Results through Unrivaled Hospitality Intelligence. Everywhere.
Stay current. Click here to receive free HVS newsletters
Looking for insights into the hospitality industry?
Discover unique hospitality intelligence at hvs.com/publications
Interested in a particular market?
Find hundreds of market overviews, all written by HVS experts, at hvs.com/marketresearch
Like to be in the know on hotel trends and predictions?
See our Hotel Valuation Index for dozens of cities at hvi.hvs.com