2020 will undeniably be a year to remember. Unfortunately, not for great reasons. The hospitality industry is going through arguably the worst crisis it has experienced in a generation. Every day we are inundated with news about COVID-19: case numbers, vaccine trials, lockdown restrictions and its impact on travel, tourism and the wider economy. So far, the picture has been quite discouraging, despite some green shoots during the summer months. This article is certainly not the place for a detailed recap and a minute-by-minute report of the evolution of the pandemic. However, we highlight that the serviced apartment sector, despite suffering alongside the traditional hotel sector, has been weathering the storm better owing to a few key factors that show a stronger resilience to a sudden and fundamental shift in demand in the current context.

Self-contained product. The serviced apartment product is geared towards longer-staying guests and thus lends itself to comply easily with COVID restrictions by offering more spacious, self-contained units including the ability to cook or prepare meals (kitchen or kitchenette) as well as appliances such as washers and dryers. Hence, the interaction a guest has with staff and other guests is minimal compared to a traditional hotel. This bodes well in times of social distancing and gives consumers additional confidence to stay at serviced apartments even with COVID restrictions in place.

Residence Inn by Marriott Studio, Munich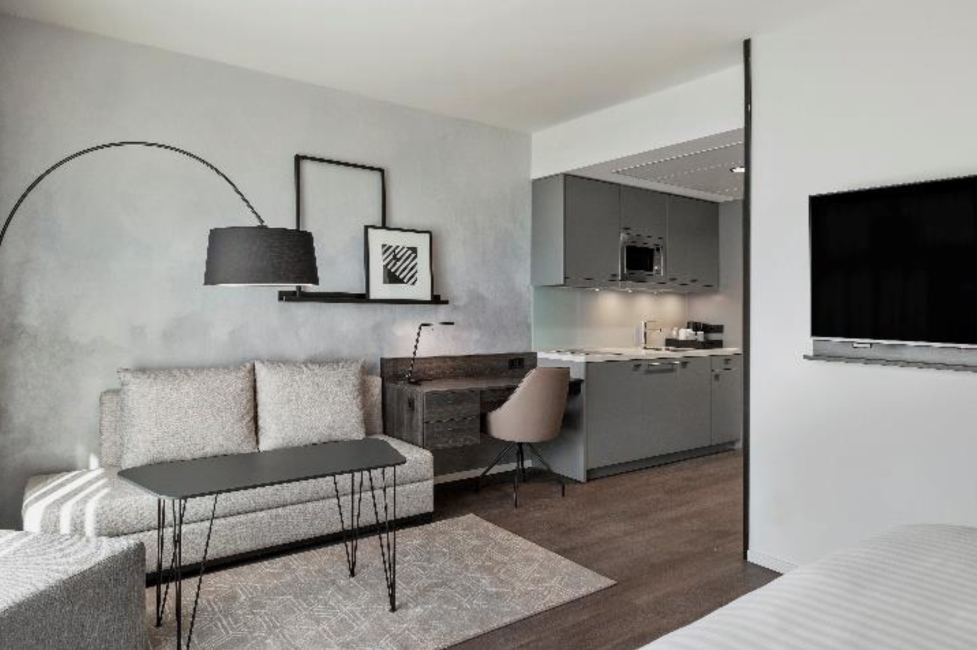 Source: Marriott


Lean operating structure. The underlying business model of the serviced apartment sector is characterised by limited staffing and services owing to a longer average stay, translating into a very lean operating structure and hence an attractive gross operating profit margin (usually around 45-65%). During a demand shock such as COVID-19, revenue can fluctuate significantly in a short period of time; a low operating expense structure helps to better absorb those demand shocks. Despite temporary furlough schemes that most European governments have put in place since the onset of the crisis, the hotel industry had to cut down on operating expenses much more severely in order to avoid gross operating margins and EBITDA levels turning significantly negative. A large number of serviced apartments continued trading through the lockdowns and, despite a decrease in revenue, were able to cover their cost base and break even during Q2 and Q3 2020, and some did better than that.

Young and dynamic players – ability to adjust. Most organisations in the serviced apartment sector are very young compared to their counterparts in the hotel sector, which means they have been able to react quickly to a changing market environment and shown a great deal of agility in these unprecedented times. Starting with the implementation of cleaning and safety protocols as well as further improving the technology for a contactless customer journey, they have been at the forefront of reinventing themselves and adapting the product to suit the needs of travellers in the current times. A flexible approach in regard to replacing segments that currently are falling away (such as international corporate or MICE, for example) with leisure demand and other sources (such as government, key and healthcare workers, and people self-isolating) as well as a wide range of short-term rentals to long-term tenancies highlight the spectrum this asset class can cater for. The fact that a large number of serviced apartments stayed open during 2020 also made it not only optional but essential to implement those changes quickly and effectively.
Seizing the Opportunity – Creativity at its Best
Despite the exceptional nature of the current situation, there have continued to be announcements in terms of product and brand expansion. And precisely because of the change in needs brought by the pandemic, this year has seen some rethinking and reshaping of the industry's offerings.
Zoku has shown a great deal of creativity in trying to adjust to the current circumstances. It announced Zoku WorkLofts: a private WorkLoft for the day with early check-in, an overnight stay plus access to all Zoku amenities and a complimentary breakfast, lunch and dinner throughout the stay. Zoku also puts together 'COVID-safe events' whereby, for example, it teams up with five pop-up food and beverage chefs for catering and cocktails as well as surprise entertainment all from the comfort of the guest room before a good night's sleep.
Locke has announced that it will open its first properties outside the UK. The boutique aparthotel brand – which currently operates sites in London, Edinburgh and Manchester – will expand internationally within Europe, with units set to open in Ireland, Germany, Portugal and Denmark in the next four years.
The family-owned real estate investment and development company Lamington Group has accelerated the launch of room2 lite. Under the room2 brand, the group created the hometel concept, described as a space between home and a hotel. With room2 lite, there is an opportunity to replicate the success in the budget sector.
The first extended stay product under the Radisson brand in Western Europe will open in Amsterdam in early 2021. The 227-suite Radisson Hotel & Suites, which will be operated by Cycas Hospitality, will offer studios, one- and two-bedroom apartments, all with fully equipped kitchens.
Hyatt recently announced the opening of its first dual-branded product in mainland Europe, Hyatt Place Paris Charles de Gaulle and Hyatt House Hotel, both to be managed by Cycas Hospitality. With 121 apartment-style suites, Hyatt House becomes the first extended-stay accommodation offering in the area.
Queensgate Investments and Rockwell have been given permission to redevelop the 906-room Holiday Inn Kensington Forum hotel, located in west London. The £1 billion plan will replace the existing hotel with a mixed-use complex comprising a hotel, serviced apartments, affordable homes, and a publicly accessible garden square.
CitizenM, a traditional hotel brand, has expanded its business model to adapt to the changing demands of business travellers, capturing some longer-stay guests during the pandemic. It now offers subscription-based reservations for remote workers and digital nomads: a corporate subscription which allows clients to work at the hotel, sleep for a number of nights a month and use other hotel facilities, and the global passport, a fixed rate for one-month stays.
A COVID-19 Update from Industry Players
We thank all the survey participants for their generous input into our study. Your opinions and experiences are crucial in facilitating understanding of this thriving sector. We urge more operators, investors and lenders in the sector to recognise the value of sharing data to enable serviced apartments to continue to gain more attention from potential investors.
To evaluate the impacts of the COVID-19 pandemic on the serviced apartments sector, HVS conducted a survey capturing the insights of 34 major industry players, including operators, lenders and investors. We highlight the main findings in the following paragraphs.
Operators – Changing Gears
The serviced apartment industry has not escaped the negative impacts caused by the COVID-19 pandemic and the resulting restrictions. However, there is no denying that the sector is proving more resilient than the traditional hospitality sector during these complicated times.

Flexibility to adapt to different demand segments allowed many properties to remain in operation throughout the lockdown period
While operators have reported a general decline in performance (as we detail in the Performance Update section later in this article), results are less impacted than for their hotel counterparts. Some operators that manage both hotels and serviced apartments point out that they are now focusing more on the unique offering of the latter. Additionally, despite numerous serviced apartment projects in the pipeline facing delays, very few have been cancelled (see the European Pipeline section). As Chart 1 shows, more than half of the operators surveyed reported that at least 75% of their portfolio remained open throughout the lockdown period, and only 5% said that the level of operation had been below 10%.
Share of the Portfolio that Continued Operating During Lockdown (%)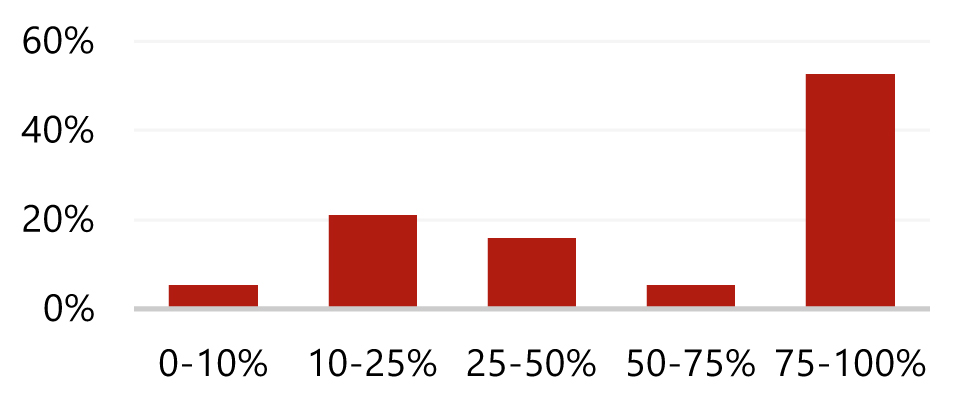 Source: HVS Research
A key factor that has enabled serviced apartments to stay open despite the travel restrictions imposed for several months of this year has been the ability to adapt fast to the new situation and cater for new types of demand. An astounding 80% of the operators that participated in our survey have experienced changes in the market segmentation, while only 20% reported that segmentation had remained the same but at lower levels. Unsurprisingly, market segmentation changes included an increase in leisure demand and the addition of key workers as a new source of demand. Additionally, while less demand from the corporate segment was reported by around 40% of respondents, a quarter reported to have benefited from increased corporate demand thanks to offering guests the option of using the aparthotel as an office.

Brera Serviced Apartment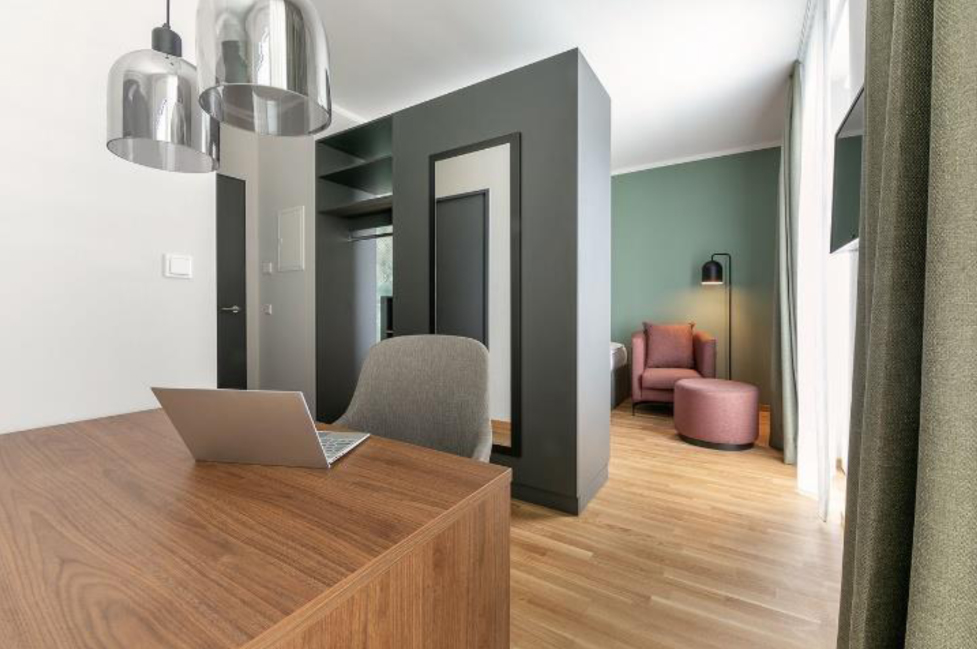 Source: Brera

In fact, more than 50% of the respondents have made unique modifications in the product offering following the changes in how people work and travel during and potentially after COVID-19. As business travellers can no longer go to the office or are forced to quarantine after travelling, a widespread add-on to the existing product amongst industry players has been offering rooms as office space during the day. Additionally, respondents reported that they are focusing more on the extended stay product as it has been the least impacted.
In addition to changes in the product offering, implementing operational measures has also been crucial to surviving the pandemic. When asked about the most important measures put in place, two common topics were flagged: cleaning and safety measures on the one hand and cost management on the other.
Enhanced cleaning and cost management are key measures to perform well during COVID-19
Enhanced security and cleaning procedures, including increased sanitation, social distancing measures, or technology solutions such as the keyless check-in, have been at the forefront of the hospitality industry operations throughout this pandemic in order to ensure safety amongst both guests and employees and have been mentioned as primary measures in our survey. A leaner cost structure, allowing for cost reductions and cash flow management has been key in times of reduced demand. Cost measures reported from Serviced Apartment operators include the renegotiation of rents on leased assets, personnel cost reduction through furlough schemes, increasing staff flexibility, employee redundancies, postponing investments, temporarily closing properties, and fixed cost savings.
Most Serviced Apartment operators expect business to return to pre-pandemic levels by 2023
These measures and changes are necessary to continue operating, yet when will the sector thrive again? The most optimistic survey participants forecast that business will return to pre-pandemic levels in 2022, with almost half of the survey participants expecting pre-pandemic performance from 2023 (see the chart below).

Expected Business Return to Pre-Pandemic Levels

Source: HVS Research

Investors – Embracing the Potential
All the investors surveyed consider that serviced apartments are better placed to weather the storm than the hotel sector. Reasons given were that they benefit from a less sensitive demand base, a leaner cost structure and a more flexible product. The sector's proven resilience in the recent past has resulted in a decline in the risk associated to serviced apartments by potential investors (around 60% of respondents confirmed this view), while the rest reported that the perception of risk in the sector had remained unchanged. Consequently, more than 70% of respondents stated that their appetite for future investments into the serviced apartment sector has increased over the course of 2020.
Reading the above, it comes as no surprise that all the investors that participated in our survey are actively looking for new serviced apartment deals. Preferred locations continue to be key markets such as major European cities, while the Nordics were also mentioned. In terms of investment preferences, acquisitions (all investors surveyed are interested), followed by new developments (71%) and renovations or expansions (57%) were the most favoured.
Appetite for future investment into the serviced apartment sector increased over the course of 2020 amongst investors
Despite the widespread interest for investment in the serviced apartments sector, most survey respondents feel that price expectations between sellers and buyers are not aligned. The general perception amongst investors is that while buyers are expecting a certain level of discount derived from the COVID-19 pandemic, sellers have not yet adjusted their pricing expectations. And while more than 40% of investors find that COVID‑19 is presenting them with new and exciting opportunities to invest in the sector, these mostly relate to future rather than present opportunities. For instance, the expectation that repositioning and conversion opportunities will arise or that transaction activity from stressed or distressed hotel and serviced apartment operators and owners will appear in the short term.

Stay Kooook Studio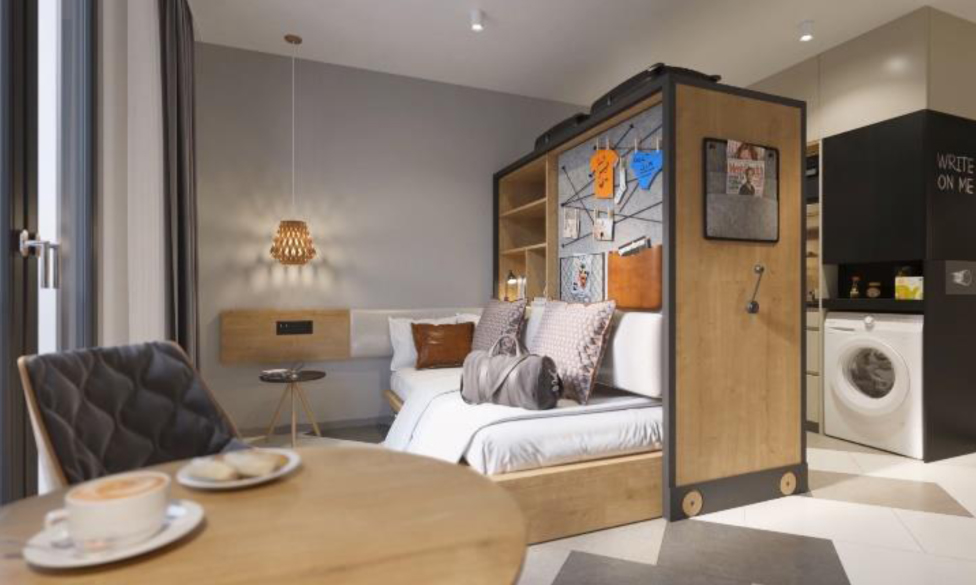 Source: Stay Kooook

Investors held mixed opinions regarding the moment when the transaction market for the serviced apartment sector will gain momentum, with the earliest respondents expecting momentum building from Q4 2020 and the most pessimistic Q2 2022. The most popular assumption was Q1 2021.
Lenders – Waiting and Weighing
Overall, lenders are taking a cautious approach to the uncertainty brought by COVID-19. Contrary to investors, appetite for lending in the sector has either remained the same (50% of respondents) or declined (50%) over the course of 2020. The inability to measure the impact of the pandemic on the serviced apartments sector and the generalised short-term uncertainty around hospitality-related demand and lending exposure are factors contributing to the decline in appetite for lending into the sector. In the absence of COVID-19, 75% of lenders surveyed consider their interest would have remained the same, with 25% expecting it to increase.

Lending remains cautious, awaiting a decrease in the hospitality market uncertainty
According to survey respondents that continued lending during 2020, loans were mostly used for refinancing, followed by loans granted for new developments and acquisitions. Lenders broadly agreed that COVID-19 has impacted the cost of capital, resulting in higher interest rates and lower LTV ratios.
The most important criteria for selecting which projects to fund relate to the operator's strength and its operating history and track record. Other aspects considered, to a lesser extent, are existing client relationships and the project's future business plan. Moreover, when determining the terms of the loan, lenders suggest that the most important external factors are the location of the asset, the re-usability of the property and its historical bottom-line performance (NOI). Some lenders also consider projected future performance, both top line (occupancy and ADR) and bottom line (NOI) to be relevant.

Lenders expect the overall number of loans to decrease and are cautiously assessing the sector
Going forward, three-quarters of lenders expect the overall number of loans to decrease. Moreover, they also forecast the amount per loan granted to either decrease (around 60% of respondents) or remain in line with historical loan sizes (around 40%). In terms of parameters, LTV ratios are expected to decline, while interest rates and the typical debt coverage ratio are forecast to increase.

Wilde by Staycity Aparthotel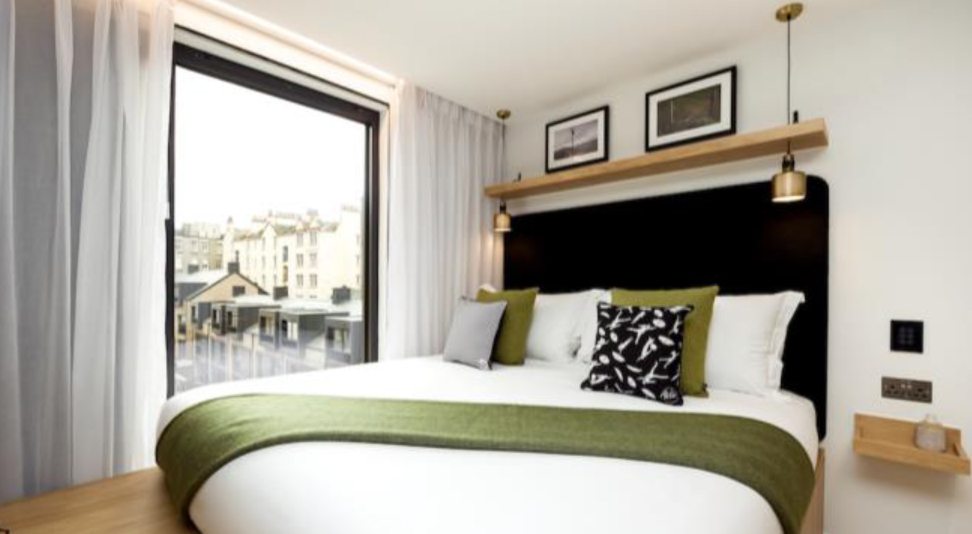 Source: Staycity

Changes in business models?
In times of reduced demand, when a lean operating cost structure becomes more important, one thing is clear: certain business models take a heavier toll on operators. A common finding across all surveyed groups is the liquidity issue associated to fixed lease agreements. As a result, it comes as no surprise that more than 80% of respondents expect operating models in the serviced apartment sector to change in the future. As Chart 3 depicts, a shift towards more variable lease agreements, more management agreements and more owner-operated units is envisaged going forward.

Expected Changes in Operating Business Models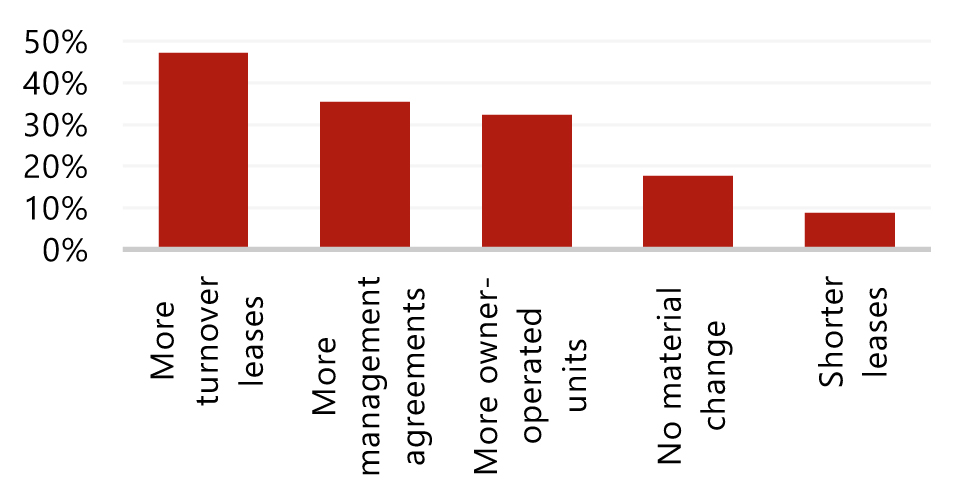 Source: HVS Research

Lessons learned
A selection of key lessons learned in recent months, shared by our survey respondents, is shown in the following chart.

Lessons Learned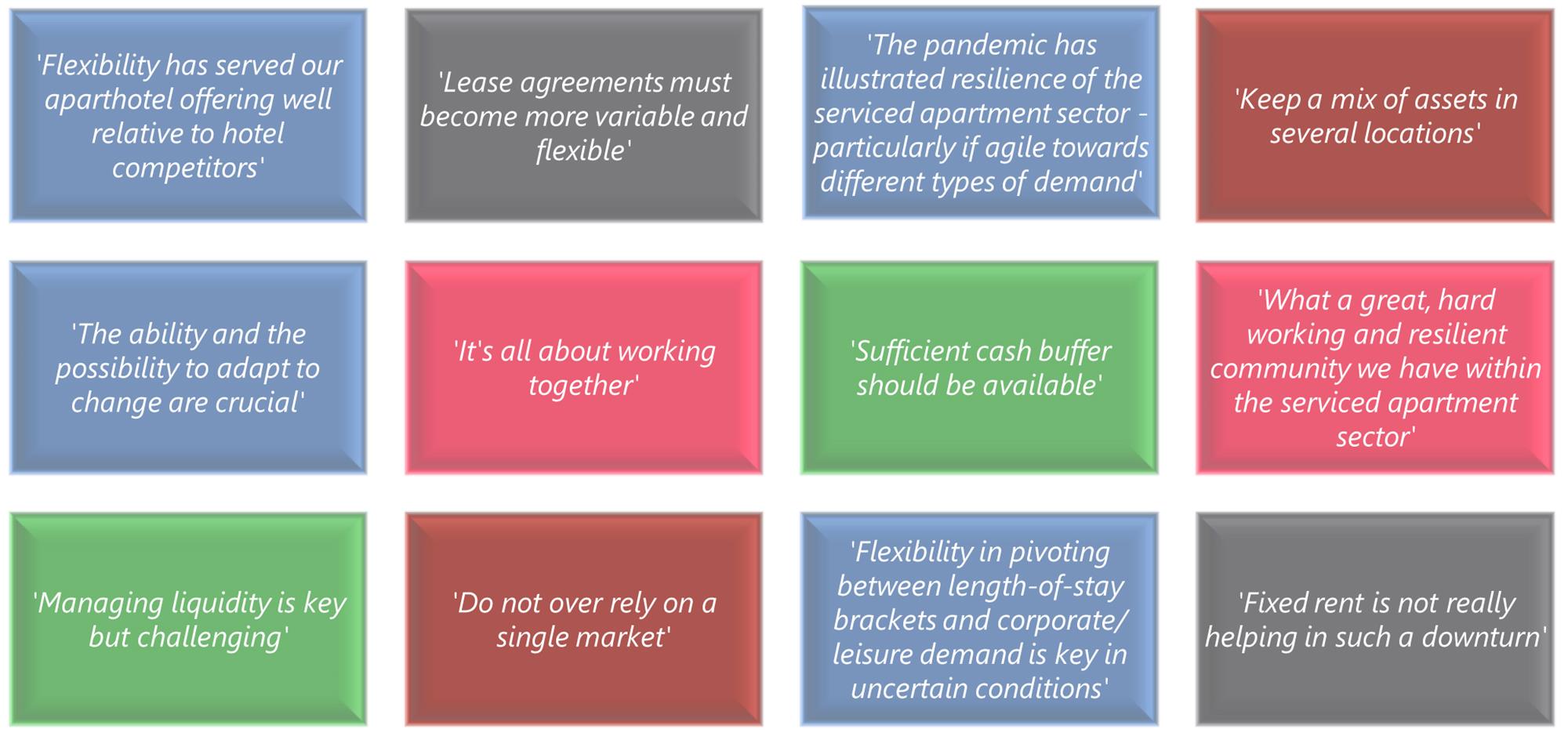 Source: HVS Research
Performance Update
The following charts present an overview of the recent occupancy and average rate performance in Europe, as provided by the main Serviced Apartment operators in the market.

Europe Performance Data (€)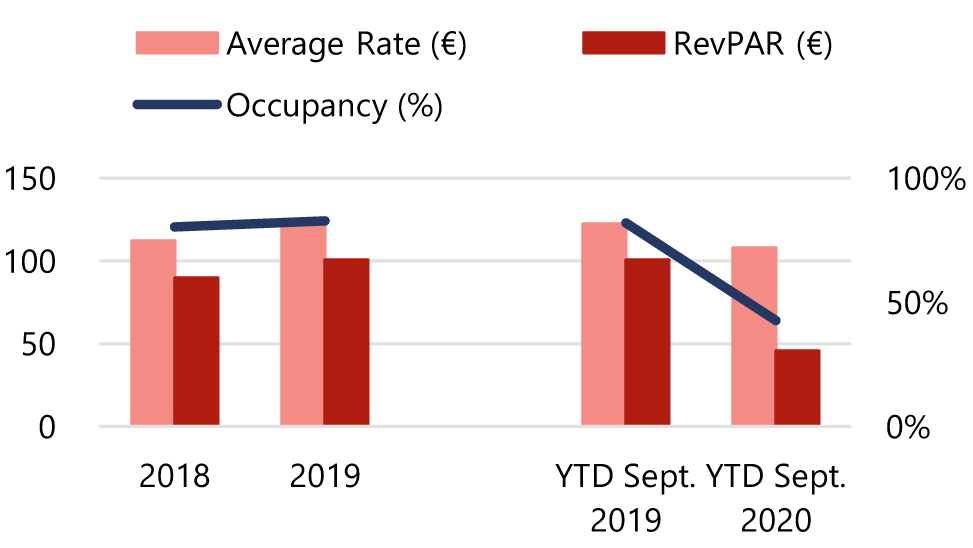 Source: HVS Research

Both occupancy and average rate recorded year-on-year growth in 2019, resulting in a double-digit increase in RevPAR at a substantially faster pace than the overall European hotel industry, indicating the continued expansion of the serviced apartment sector.

Decline in European Serviced Apartment Performance 2020 (survey results)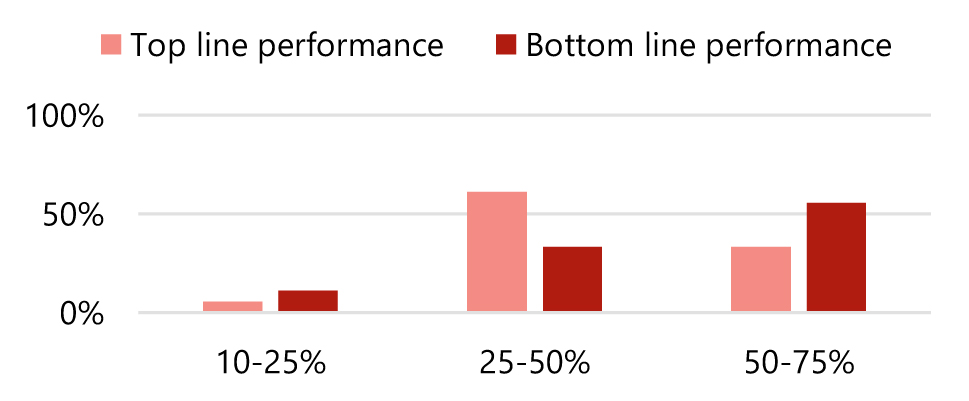 Source: HVS Research

While serviced apartments have proven to be more resilient than other hospitality products, the impact of COVID-19 in 2020 cannot be ignored, as shown in Chart 6. Our analysis of the performance of around 7,800 serviced apartment rooms across Europe shows a 48% decline in occupancy for the first three quarters of 2020, compared to the same period of 2019. Together with a fall in average rates of around 12%, RevPAR performance declined by 54% in the year-to-September 2020 compared to the same period of 2019.
The above results are in line with the operators' survey responses: around 60% of the participants stated that year-to-September top line performance across the portfolio had declined by between 25% and 50% in 2020 compared to the same period of 2019. Additionally, more than 30% reported a drop of 50% to 75%. When looking at the bottom line, around half of the operators mentioned declines of 50% to 75%. This, however, implies that operations are still profitable to a large extent, albeit by a much lower margin than before the pandemic.
European Pipeline
Around 20,000 serviced apartment units currently form the European pipeline for the coming five years. One of the impacts of the COVID-19 pandemic has been the delay or cancellation of some projects in the pipeline. Our survey results show that, while just a few projects have been cancelled, numerous developments in the pipeline are suffering delays. Generally, this article only considers developments that have been confirmed by the operators as at October 2020.
A relatively small amount of the pipeline units (around 6%) were expected to open during the last quarter of 2020. Some 37% of the units, around 7,400 units, are due to open in 2021, followed by 26% in 2022, 22% in 2023 and another 10% in 2024. The sizes of the planned projects vary from 40 to 479 units, with an average of 151 units.

Custom House Adagio, Glasgow (opening 2022)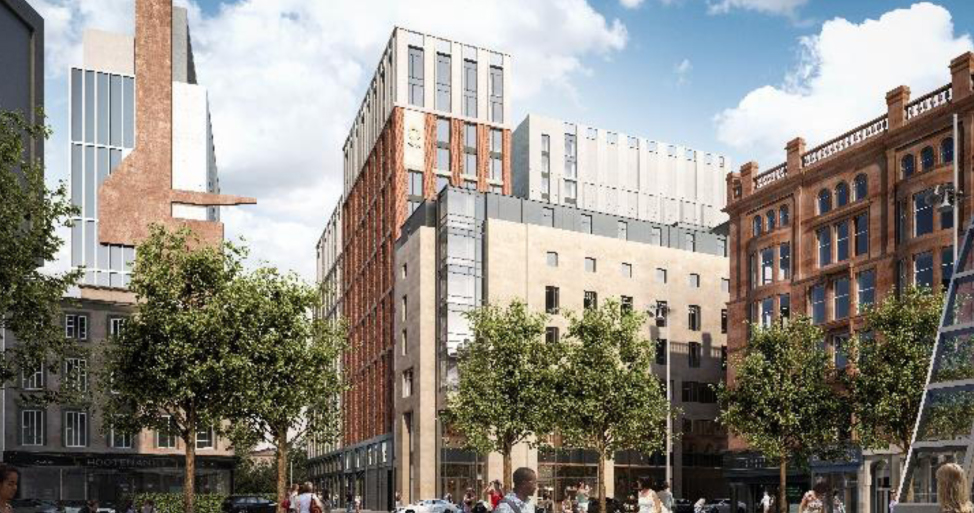 Source: Adagio

The UK and Germany lead the way, accounting for 29% and 22% of units in the total pipeline, respectively. Concentrating around 46% of units in the country's pipeline, London continues to be the top location for the development of serviced apartments in the UK, followed by the cities of Manchester and Cambridge, representing around 19% and 10% of the total pipeline units, respectively. In Germany, Munich captures 23% of the ongoing development units, while the rest are spread across different cities, including Frankfurt (12%), Hamburg (11%), Stuttgart (9%), Düsseldorf (7%) and Berlin (7%).

New Supply (Units) by Country ¹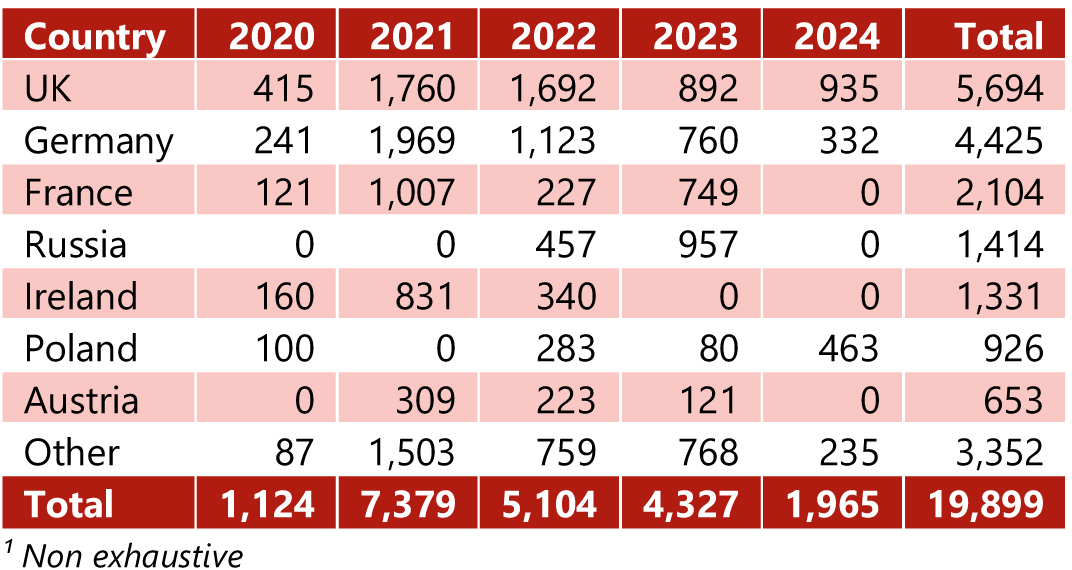 Source: HVS Research

Adagio has the largest pipeline across Europe with around 35 projects and just under 5,000 units. The UK (with more than 1,000 units), Russia (940 units) and Germany (800 units) concentrate the highest share of the brand's future supply. Notably, Adagio continues to expand its horizons outside of Europe (not accounted for in our analysis) with destinations such as the UAE, Qatar and the Ivory Coast. Staycity comes next, with 20 projects in the pipeline, ten of which expected to open in 2021. More than half of the units in the pipeline will be located in the UK, and the rest distributed between Ireland, France and Germany. The Edyn group, with the expansion of the Locke brand within the UK as well as its European expansion enjoys an impressive pipeline of more than 2,500 units. This is followed by Residence Inn by Marriott (1,900), Adina (1,300), and the extended stay Accor brands – excluding Adagio (1,200). Accor's extended stay offering has increased from just three brands in the midscale and economy segments in 2015 to 13 brands in 2020, ranging from economy to luxury.
A more detailed and extensive list of recently opened properties and planned new supply can be found in the charts at the end of this report.

New Supply (Units) by Brand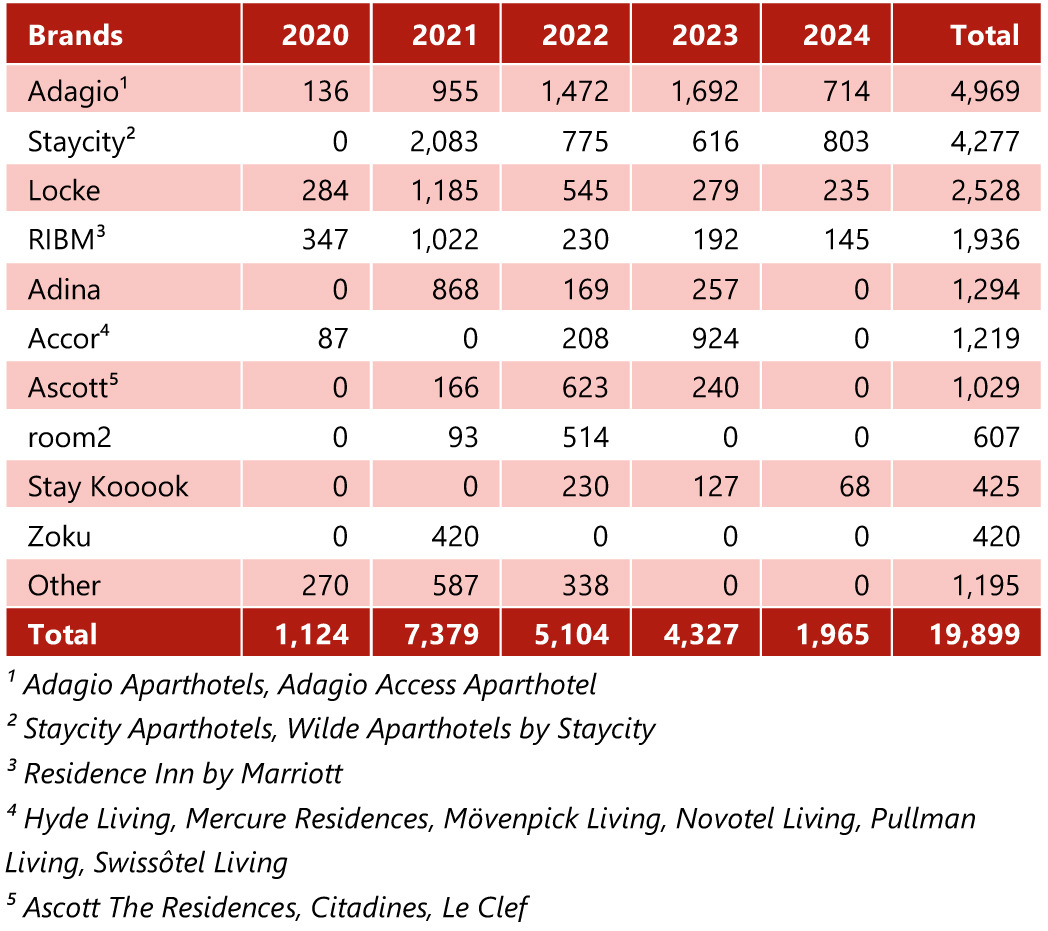 Source: HVS Research
Transactions Activity
In 2019, APG acquired a significant stake in City ID, one of the leading aparthotel chains in Amsterdam. In September 2020, APG and Aware Super announced their capital commitment to expand the City ID aparthotel offering to European capital cities. The equity commitments should enable City ID to build a portfolio with a gross asset value of more than €500 million in the next four years.
Additionally, this year saw apartment rental company Sonder raise US$170 million. The investment was led by Fidelity Funds, Westcap and Inovia Capital.

Ducie Street Warehouse, Native Manchester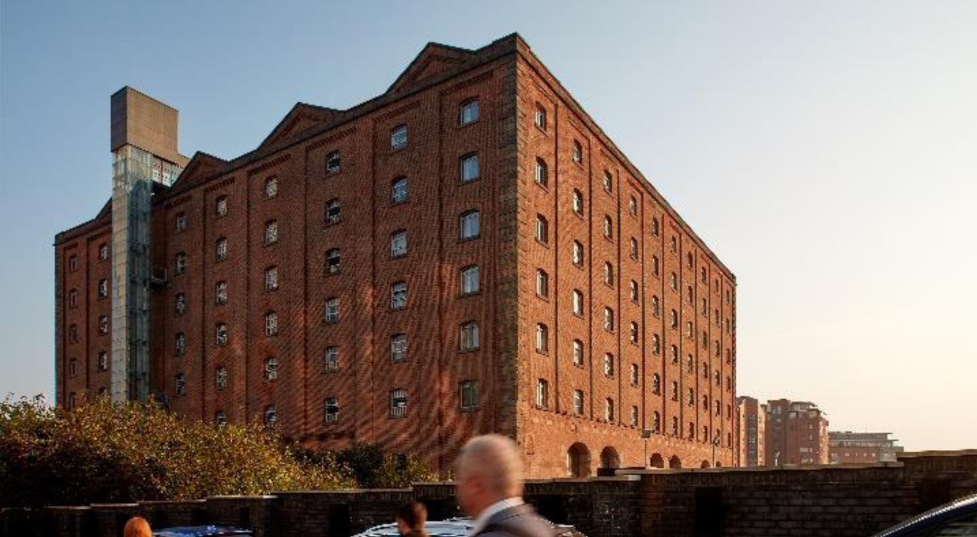 Source: Native

The following chart presents details of recent, single-asset, serviced apartment transactions in Europe over the last 18 months, which are available in the public domain. In terms of portfolio deals, there have not been any significant recent transactions. Instead, most deals relate to a few dual-branded assets that include a serviced apartment property.
For instance, Westmont Hospitality acquired the VEN Amsterdam, a business and entertainment complex. The transaction includes the new 476-room Park Inn Amsterdam City West, the 50-room B-Aparthotel Westgate, conference space, a casino and 6,000 m² of retail space.
The German real estate fund Deka Immobilien acquired a 749-room hotel portfolio, including the 175-room Staycity Venice Mestre in Venice's Mestre region, from Austrian developer MTK, for a reported price of approximately €200 million. All hotels were developed by the seller and are operated under 20-year leases.
Swedish real estate developer Serneke signed an agreement with Executive Property Development Europe AB and Fastighets AB Hemporten to sell and develop a site in Malmö, Sweden. The project will include a long-stay hotel with 65 rooms, which will be branded and leased to the 'Apartments by The More Hotel' brand, as well as 42 rental apartments.
LaSalle Investment Management, through its fund Encore+, acquired two hotel properties in Munich, an ibis Budget hotel (162-rooms) and an Adagio access aparthotel (160-units). The acquisition is the first hotel investment for Encore+, in line with its strategy to increase diversification by acquiring leased hotels in major cities in Western Europe.
Primonial acquired a 25,000 m² mixed-use property for €109 million, located on Irvy-sur-Seine, in the outskirts of Paris. In addition to student housing, a hotel, rooms for seniors and office space, the property will offer a 99-unit aparthotel.
German institutional investor BKV has acquired a two-property portfolio in Heidelberg, Germany from German developer GBI AG through its hotel fund, as a forward sale. The 162-room Adagio Aparthotel Heidelberg and the 198-room IntercityHotel Heidelberg are slated to be completed by Autumn 2022.

Recent Single Asset Transactions Across Europe (€)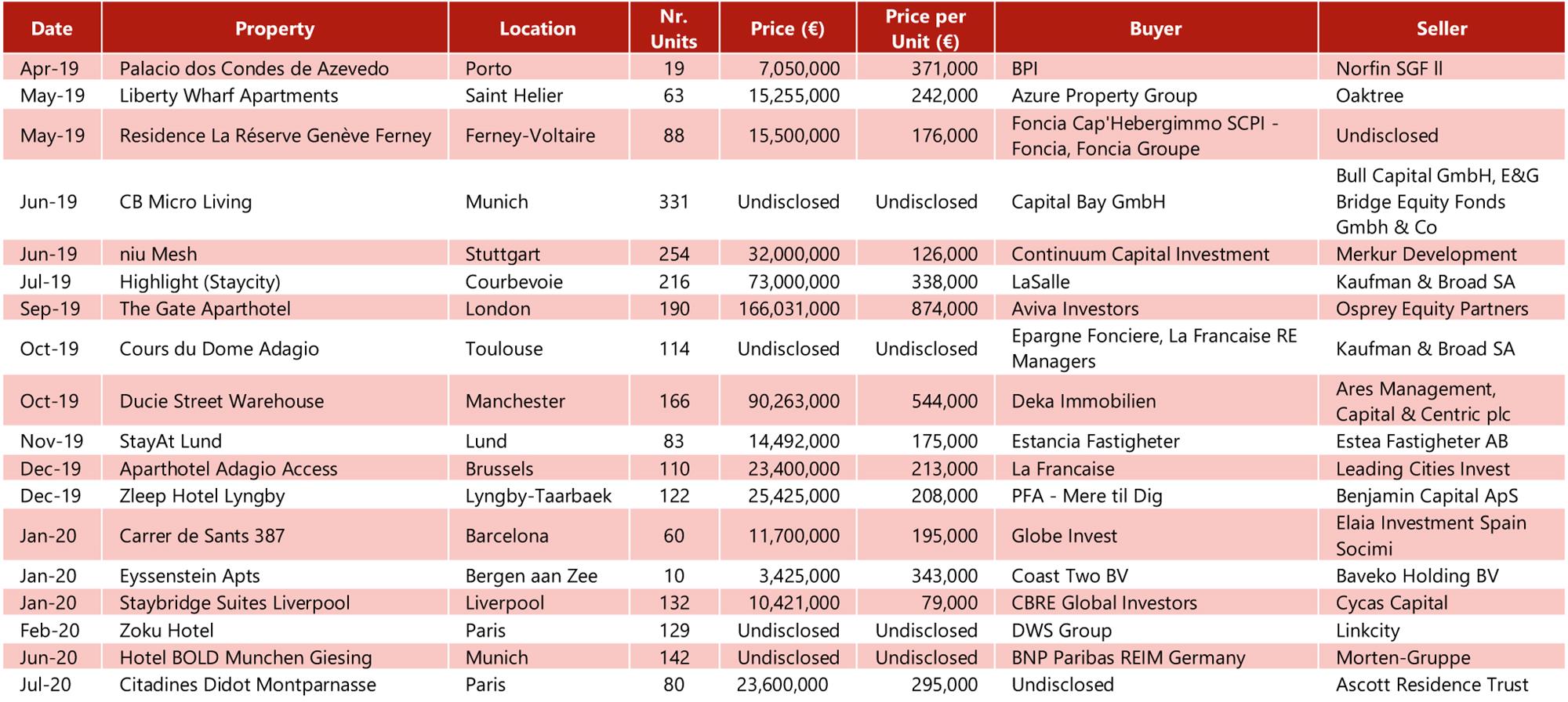 Source: HVS Research
Conclusion
Despite the continuing growth in awareness, the expansion of existing and new brands from large operators as well as completely new market entries in recent years, the serviced apartments sector itself is still relatively nascent. The encouraging resilience it has shown so far during the pandemic is a real and positive stress test for investors and lenders. Having seen the agility of the business model this year, we consider this sector is set to continue to grow even during the pandemic, as illustrated by the recently opened properties and new supply pipeline.

New Supply Pipeline Across Europe – 2020-24 Openings (as confirmed by operators)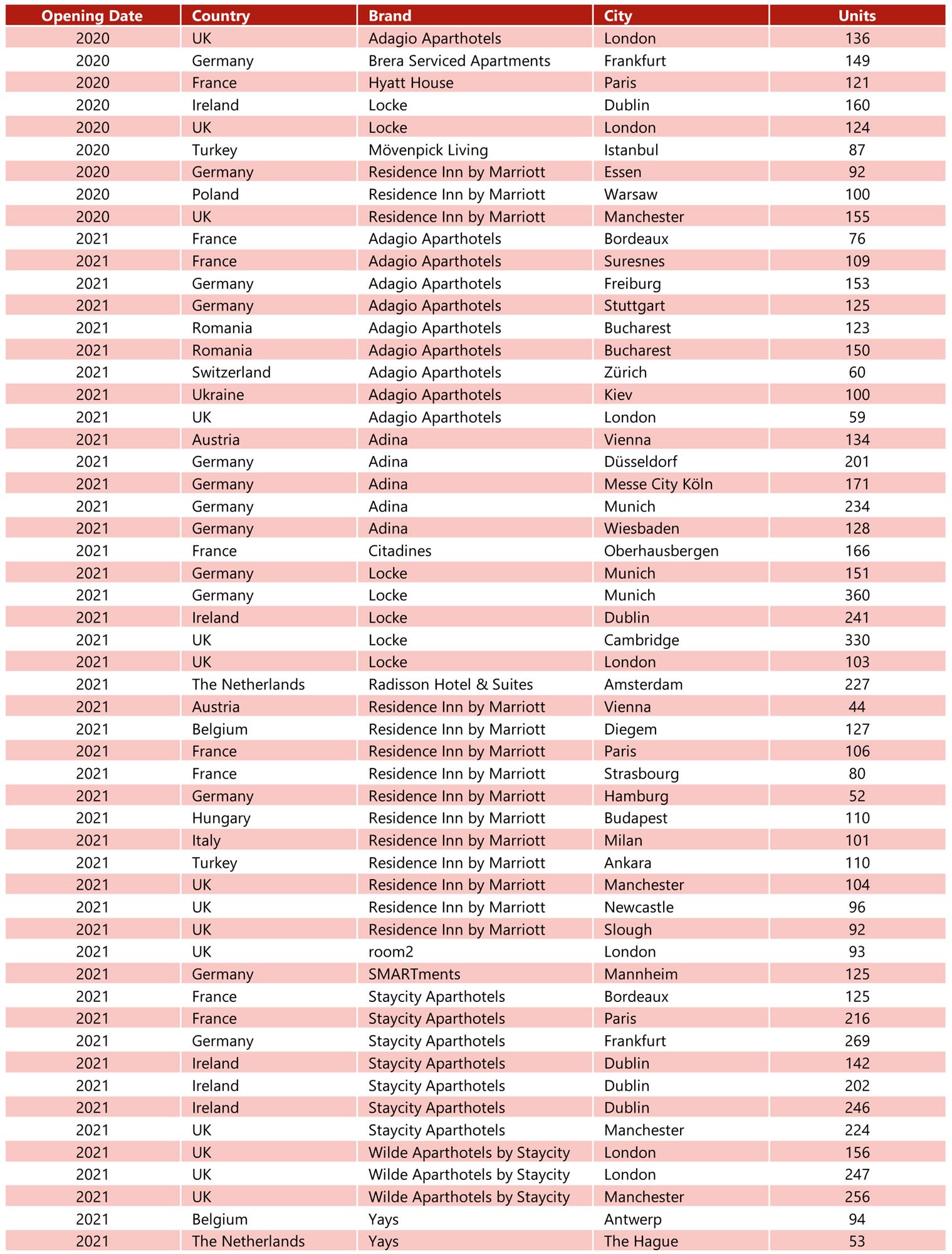 Please note that these lists are not exhaustive. Staybridge Suites development projects have not been confirmed.
Source: HVS Research
New Supply Pipeline Across Europe – 2020-24 Openings (continued)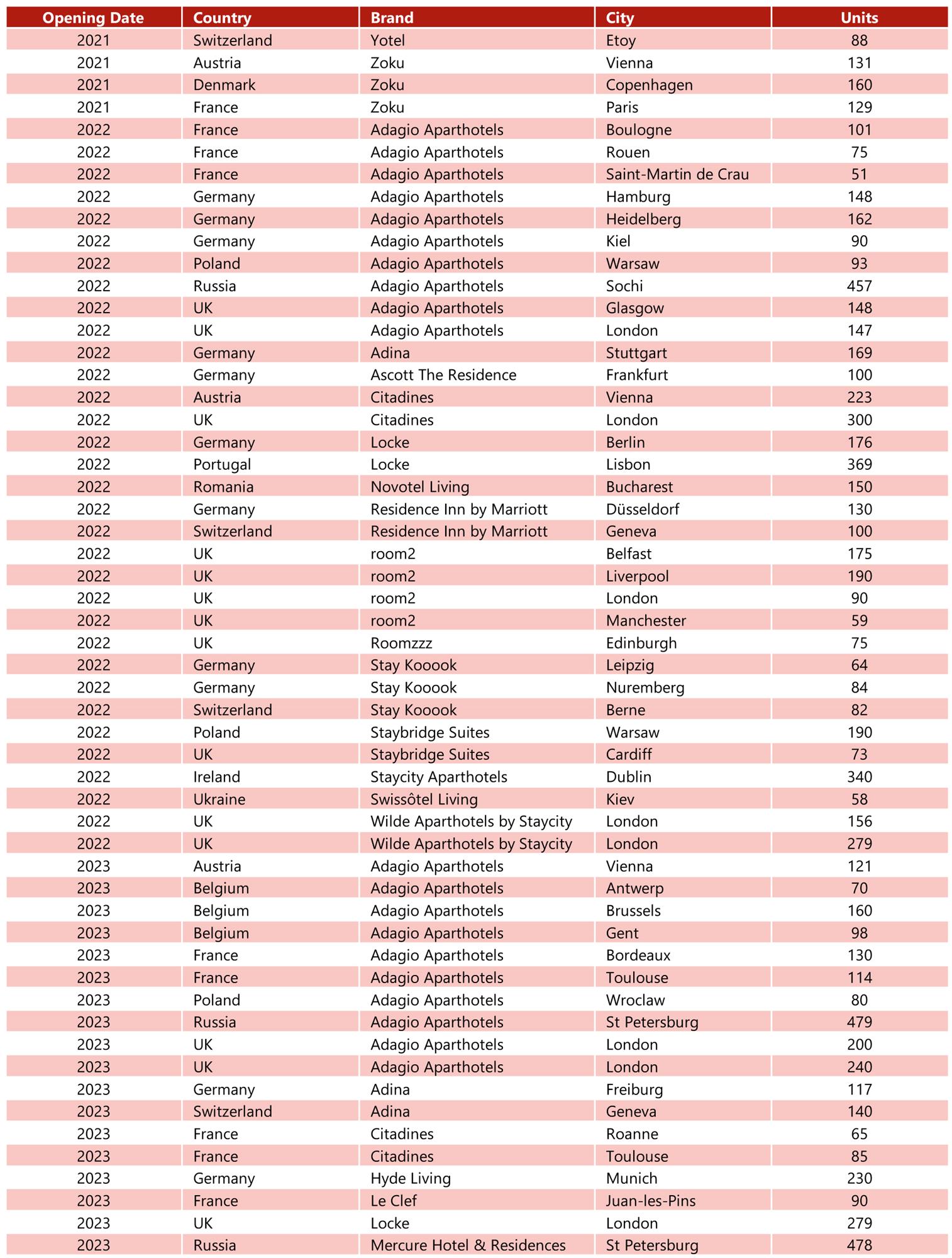 Please note that these lists are not exhaustive. Staybridge Suites development projects have not been confirmed.
Source: HVS Research
New Supply Pipeline Across Europe – 2020-24 Openings (continued)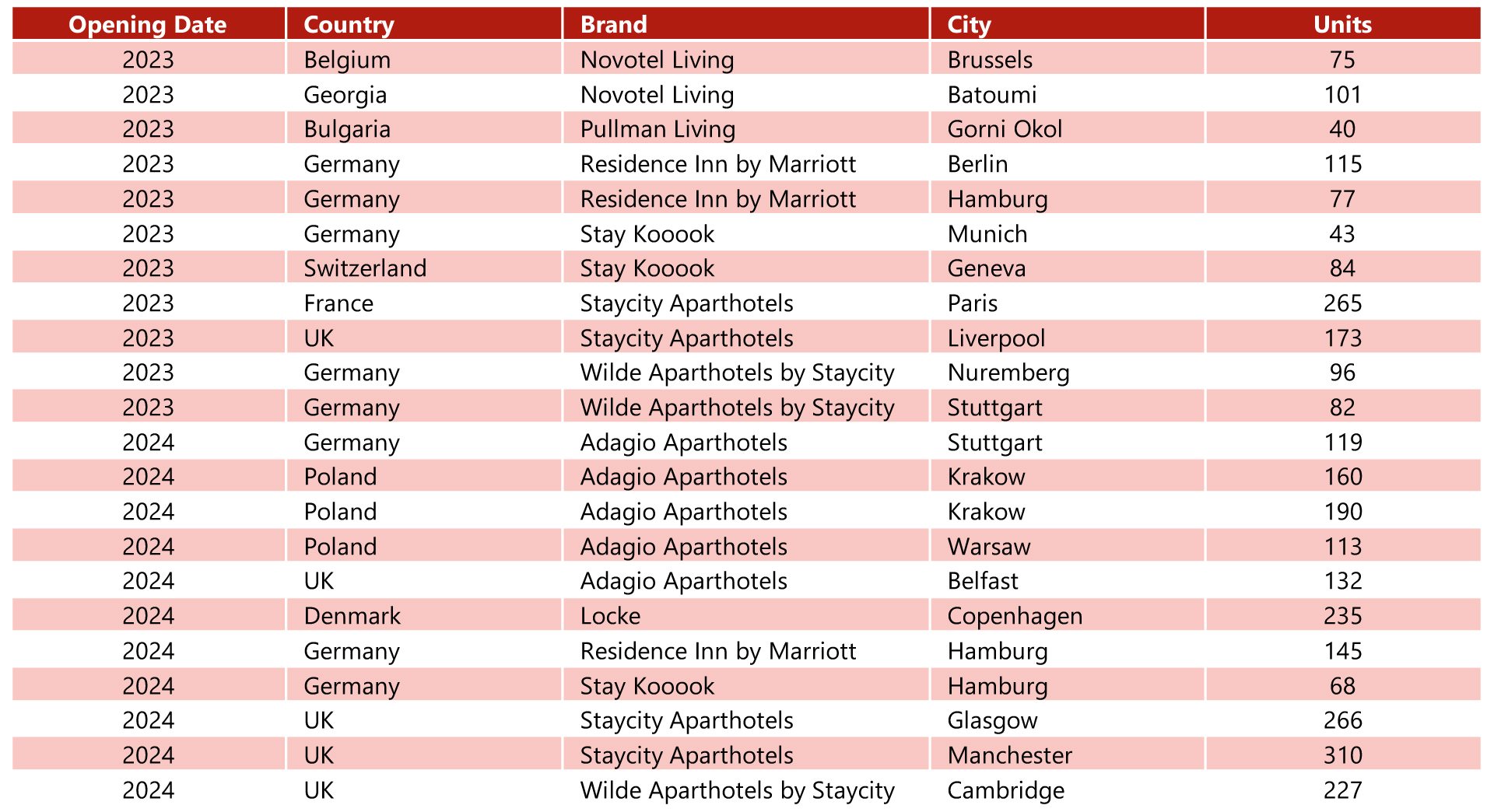 Please note that these lists are not exhaustive. Staybridge Suites development projects have not been confirmed.
Source: HVS Research